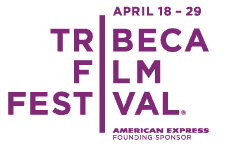 One of the more fun things to do at the Tribeca Film Festival is the Drive-In.  Not only is it free, but watching a classic movie outdoors by the water is just a great time.  I haven't been to one in a number of years, but did see Grease and another film I can't recall the following year.
With the space opening at 6pm and the movie not starting until dark, we brought our own food for a picnic, and they gave away popcorn for the movie.
Boy how things have changed.  Now you can have great food from some of the best food trucks in NYC while you wait for the movie to begin.
Click through for details.
Tonight they are showing the classic Steven Spielberg film Jaws.  If you haven't seen it, this is one of the films that made Speilberg's reputation.  After watching this movie, next time you're in the ocean and seaweed brushes against your leg, you'll jump out of your skin.
Before watching Jaws, settle down with dinner from Kimchi Taco Truck.  There will be other foodt rucks too, but not sure exactly which ones.
Tomorrow night is The Goonies, which was a big influence on many of our childhood's.  Dinner will be served by Gorilla Cheese and Eddie's Pizza, with dessert from Coolhaus.
The Tribeca Drive-In takes places on the World Financial Center Plaza at 200 Vesey St.  More details are here.