Cupcake Crew has been around the streets of NYC since late 2010, and are easy to spot with their distinctive black and pink truck.  But the nicest looking truck won't last if the food being served is not up to snuff, and Cupcake Crew delivers on that front.  They were Best Dessert Finalists at the 2011 Vendy Awards, and you're about to see why, if you haven't already tried them.
Their menu rotates on a daily basis, and you can see the selection and prices here from the day I visited last week.  In order to try a few, I usually get an assortment of 3 mini-cupcakes for $5.  I got 'smores, Brooklyn blackout and the very last red velvet mini-cupcake.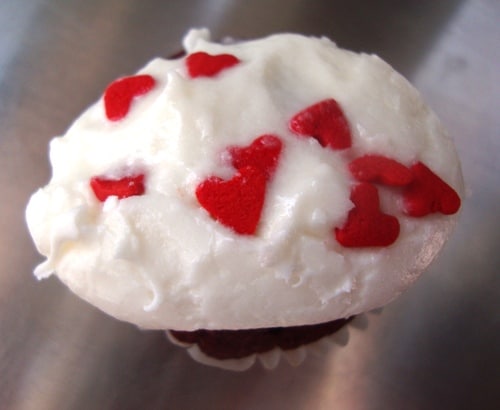 I started with the red velvet, which had that sweet cream cheese frosting found on red velvet cake.  Frankie put little candy hearts onto the frosting, which added sweet crunchiness, and the cake itself was moist and tasty.
Next up were the 'smores and Brooklyn blackout cupcakes.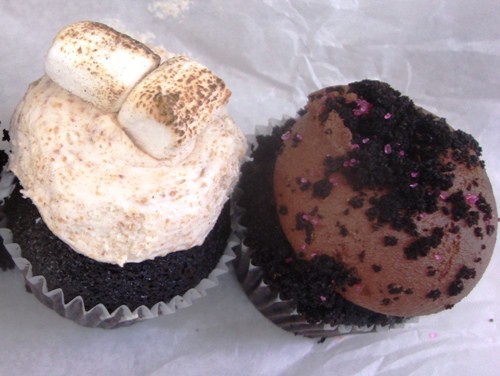 Both the 'smores and blackout cupcakes had dark chocolate cake that was delicious.  The 'smores had a couple of dusted marshmallows on top, and some ground graham cracker mixed into the frosting.
The blackout cupcake is a tribute to the blackout cake from the old Ebinger's Bakery in Brooklyn.  When I was a kid, my grandparents used to bring Ebinger's blackout cake from Brooklyn to our house, and it was amazing – dark chocolate cake with dark chocolate pudding frosting and chocolate crumbs!  Ebinger's Bakery is no longer around, but they were one of the best at the time.
Cupcake Crew's homage does not have chocolate pudding frosting, but it was still very good.  If you love chocolate, this one's for you.
I enjoyed the mini-cupcakes very much and was about to leave, when Frankie said I have to try a bacon maple cupcake, his most popular seller.  I didn't want to be rude, so what else could I do but accept his offer.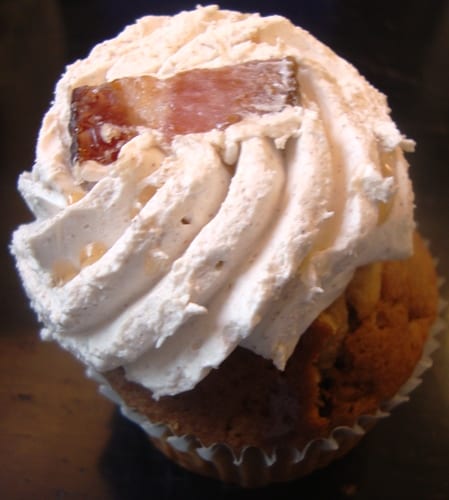 He didn't have any minis left, so I had to take a full-sized cupcake.  The sacrifices I make for NYSF are unbelievable!
The frosting was maple flavored with a small strip of bacon on top.  Just when I thought it couldn't get any better, I bit into the cake.  Not only was it maple flavored, but there were small pieces of bacon mixed into the batter. Yum!
Cupcake Crew make it around to different neighborhoods, and you can find them on twitter here or on our Mobile Munchies twitter feed.  Give them a try. You'll be glad you did.