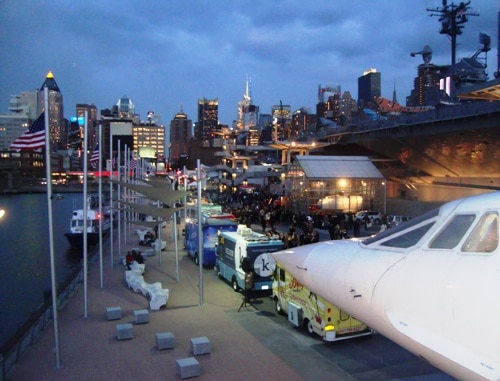 One of our favorite events last year was Choice Streets, the food truck version of Choice Eats, put on by the good folks at the Village Voice.
Not only were there great food trucks, but it was held on the USS Intrepid. We got a tour of the Concorde, sat in a flight simulator, and received a tour of the Intrepid, all included in the price. Very cool event!
Tickets are going on sale next week for this year's version, also being held on the Intrepid.
You can receive an exclusive pre-sale code. Click through for details.
All you have to do is to sign up for Village Voice Dining SMS Alerts between today and Sunday to receive an exclusive Village Voice Choice Streets Pre-Sale Code!
There will be over 25 of our favorite food trucks, set amid the backdrop of the USS Intrepid. Click here for the list of participating food trucks.
Now for the gory details:
TEXT "NYCFOOD" TO 61721 to receive an exclusive pre-sale code on 3/11/13 via a Village Voice SMS alert to purchase tickets before the regular on-sale date of 3/13/13!
Village Voice Choice Streets Food Truck Tasting Event
Tuesday, May 7th
7:00-10:00pm
Pier 86 of the The Intrepid Sea, Air & Space Museum
One Intrepid Square, 12th Avenue & 46th Street
New York, NY
www.villagevoice.com/choicestreets
Limited quantity available. Promotional code will be sent via text message on 3/11/13. Message and data rates may apply. To opt out at anytime, reply STOP NYCFOOD to 61721. For help, text HELP to 61721, call 1-877-291-1751 or email info@phaz2.com. View our privacy policy (link "privacy policy" to http://www.villagevoice.com/about/privacyPolicy/) and terms of service (link "terms of service" tohttp://www.villagevoice.com/about/terms/).