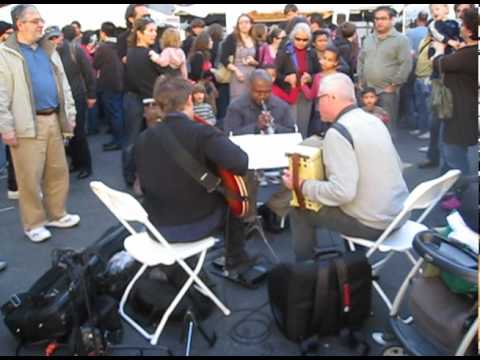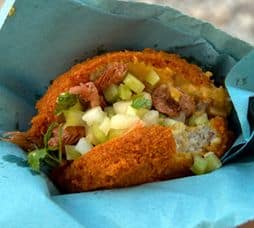 In the Brazilian state of Bahia, from Salvador down to Rio, there are Afro-Brasilian women in white cotton "puff" gowns and headscarves serving what has become the country's favorite street food, acaraje.   Virtually the same dish is still popular in Nigeria and Ghana, two countries from where slaves were brought.  This shows how much history and culture are connected to food.
Acarajé is a fritter made from black-eyed peas and deep-fried to a crisp golden brown in dendê (palm oil).  After being split in half like a sandwich, they are stuffed with vatapá and caruru—thick, spicy pastes made with cassava, cashews and okra.  Then fried shrimp, and a salad of tomatoes, onions and cilantro tops it all off.  To finish it off, a generous dousing of hot sauce made from malagueta peppers soaked in oil and vinegar. [The Sunday Leader]
R Dub's Southamerican Adventures has a video showing the making (and eating) of acaraje that's pretty descriptive.  It seems a bit silly at first with the animation and titles, but it's quite informative.