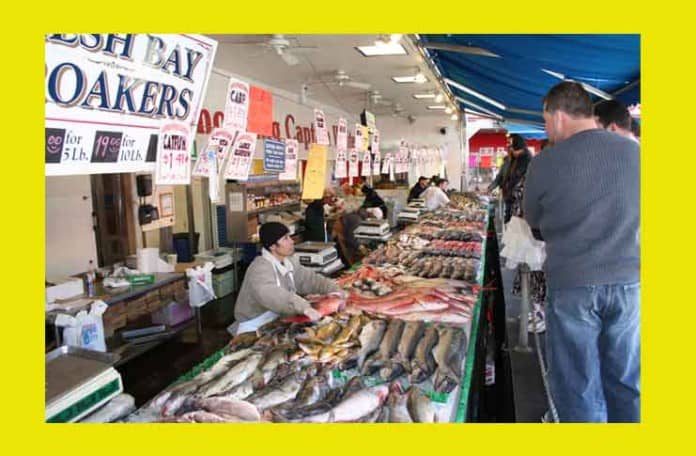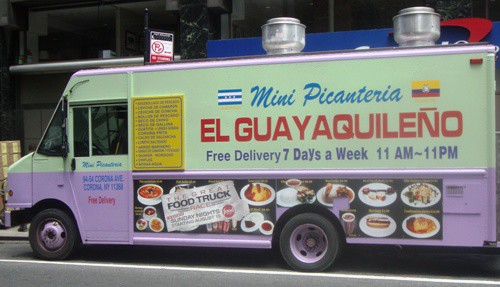 I've previously heard about El Guayaquileno, an Ecuadorean food truck that parks on 37th St just west of 6th Ave, but didn't have a chance to try them until today.  I'm not usually near the Garment District, but made my way over there today to try them out.
If you're expecting tacos and other Mexican-type food, you will be sorely disappointed.  But if you want interesting South American fare, definitely give them a shot.
A guayaquileno is someone from Guayaquil, the largest city in Ecuador, and the country's largest port.  This means they have several fish dishes, but there are also grilled meats and stews, including goat stew, which is not too common around here.
Today's Lunch is fish encebollado (stew) for $8.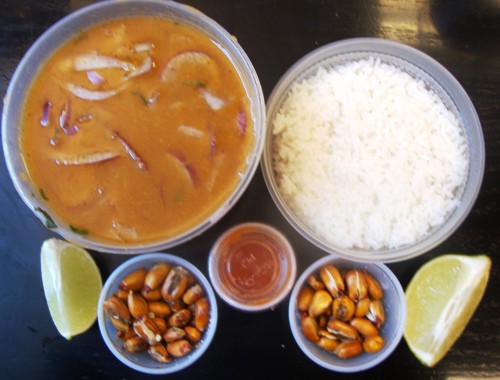 Besides the fish stew, they give you white rice, lime, hot sauce, and two small containers of salted, roasted maize. I got a bowl, put in the rice, and added the fish stew, some hot sauce and squeezed in some lime.
The fish stew had plenty of fish, but there was no shrimp or any other shellfish.  The fish was nice and meaty though.
There was a lot a red onion and yucca in the broth, as well as plenty of herbs and and spices.  I tasted the broth before adding the hot sauce, and it was liberally spiced, but wasn't spicy. There were a lot of flavors in the slightly vinegary, tomato-based broth, and the hot sauce added a nice kick.
The roasted maize was a nice touch.  They were starchy, and could easily be mistaken for a nut.  These would be good to munch on with a cold beer.
This was more of a cold weather dish, but I enjoyed it just fine it in my air-conditioned office.
I will definitely be going back to El Guayaquileno.  Their food was very flavorful and certainly filling.
I asked the girl serving what else she recommended, and she said grilled beef and fried fish.  Now those sound like two dishes worth going back for!