From soothing us when we're sick to feeding crowds at picnics and potlucks, even served alongside a sweet breakfast favorite – chicken is arguably one of the most accessible, versatile, and tasty proteins to incorporate into a balanced, fulfilling diet.
Highlighted in a wide array of worldly cuisines, the sky's the limit when it comes to assembling your own menu of "winner" chicken dinners. Here are some quick ideas to get you started.
1. Southern Fried Classic
Whether you're using a signature spice blend from a secret family recipe or you're set on replicating your partner's favorite fried chicken takeaway, you simply can't go wrong with crispy fried chicken.
Try it for breakfast beside syrup-topped waffles, or for dinner with a scoop of creamy mashed potatoes and steamed veggies to bring a touch of freshness to that glorious fried goodness.
2. Shredded In Salad
No outdoor gathering is complete without a big bowl of chilled chicken salad. Anyone can put their own spin on this filling, flavorful cold treat. Savor this marvelous mixture sandwiched in a sliced croissant for a decadent lunch to remember. This is also a great make-ahead option for quick, easy lunches throughout the week.
3. Pot Pie Perfection
Chicken pot pie tastes like home. Line your deepest baking dish with crescent roll dough, add a mix of vegetables, gravy, and generous chicken chunks, finish that crescent top, then bake to bubbly heaven.
This hearty dish doesn't even need sides, and it's unlikely you'll save room for dessert. The silver lining: plenty of leftovers.
4. Casserole Comfort
There's hardly a meal that offers more creative freedom than casserole. Combine pieces of cooked chicken, a grain or noodle, vegetables, and a creamy soup. Bonus points for a breadcrumb crust on top! What's especially great about casseroles is that they can be as healthy or indulgent as you wish.
5. Chicken Noodle Soup
There may be nothing cozier than the image of curling up with a bowl of warm chicken soup. It's the ultimate go-to in colder months, and some even swear by it in hotter seasons.
Scratch-made soup is simpler than you may think. Once you've discovered the depth of possibility and personalization in creating your own pot of soup, you'll soon say farewell to aluminum cans for good.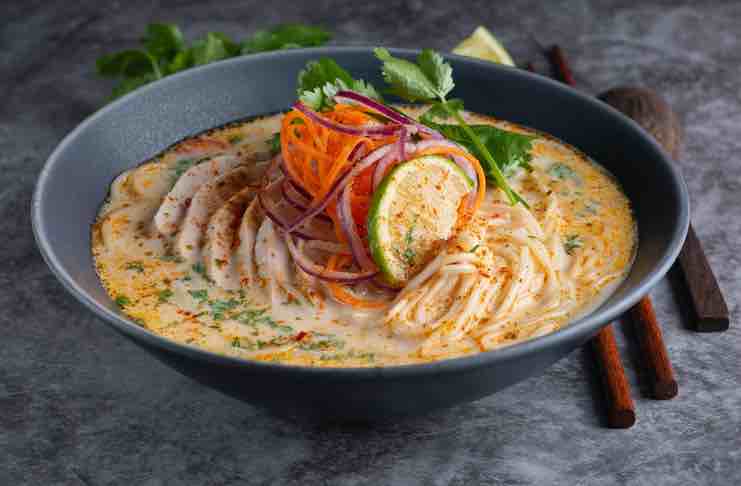 6. Penne Pasta
Rich and creamy, penne can be baked or made in a skillet on the stovetop. You can use Alfredo, pesto, or pink vodka sauce. Just remember, you can't have too much garlic.
Finish it with fresh herbs, a healthy coat of cracked pepper, and grated Parmesan. Serve with pull-apart garlic cheesy bread, and you'll have a household hit in high demand for weeks and months to come.
7. Sheet Pan Fajitas
When this sizzling sheet pan of sensational aromas slides out of the oven, heads will turn. Super easy to assemble – just toss all the ingredients in one pan, top with spices, and pop in the oven.
In just half an hour, the finished product will be muy fiesta-worthy. Serve with warm tortillas and salsa, plus rice, beans, chips, and guacamole.
In Conclusion
Chicken is a mealtime staple that's stood the test of time. Countless dishes feature this classic poultry, each provoking its own set of fond sensory memories. There are myriad ways to make a memorable dish starring chicken.
This popular, delicious bird makes for a satisfyingly simple yet wildly diverse main ingredient, and these are just a few of the most wonderful ways to prepare and savor it. Let these ideas inspire you to come up with your own creations!
Want to read more of our latest posts? Check out these specialty coffee shops in NYC that you MUST try.