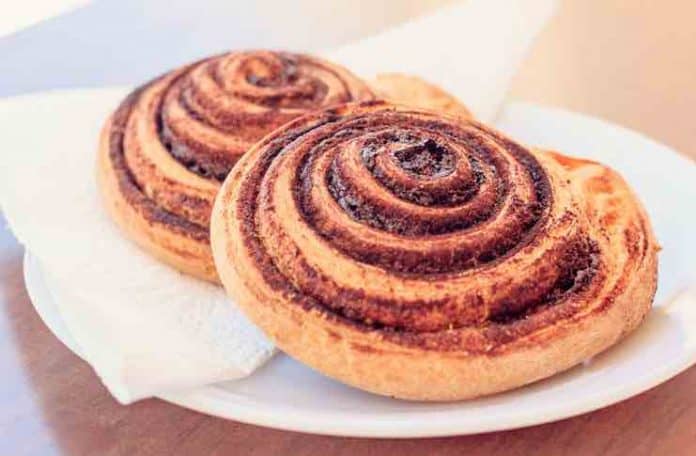 As it gets colder outside, we take our warm sweaters from the wardrobe and set our minds to spending charming evenings at home. It's not that hard to make those evenings the most magical ones. All you need is a great book, a cozy blanket, and something delicious to eat, preferably something easy to make. In this post, we'll be delving into a few autumn recipes with Cinnamon. Why cinnamon?
Well, to our opinion at the NYSF desk, Cinnamon is the taste of autumn! Just the smell of it around the house or office makes everyone comfortable and loved. There are lots of recipes with cinnamon, so you can add it to cakes, soups, hot drinks, and even dry dishes.
Imagine coming home in a rain-wet jacket when all you dream about is something warm and tasty that can help you forget about that ugly walk. Wouldn't a cup of hot chocolate with a cinnamon sprinkle do the job? Well, nothing improves the mood on a cloudy and rainy day like the smell of cinnamon!
Ceylon cinnamon is delicious and works great as an addition to cookies, chocolate or even coffee. After reading this post, you can search for the best place to buy ceylon cinnamon and surprise your guests with a few amazing combinations you can create in your kitchen. We assure you that they won't want to leave. So here we got with our autumn recipes with cinnamon thanks to which you will win the hearts of your guests:
3 Autumn Recipes with Cinnamon:
1. Apple Pie Flavored Coffee with Cinnamon
You love apple pie but care about your line and don't want to allow yourself small sins? Nothing is lost! Now you can combine two in one – a delicious coffee and your favorite cake. 
How to make apple pie flavored coffee?
Ingredients:
–       Espresso
–       Apple
–       spoon of honey
–       a handful of walnuts
–       a pinch of cinnamon
–       a glass of cow or plant milk (we recommend oat or soy milk)
Preparation:
Peel the apple, get rid of the seeds, and dice them. Fry in a pan, then blend it until it's smooth with a handful of walnuts. Pour the mixture into your favorite mug and add a spoonful of honey. Add the milk (we recommend frothed milk), and at the end pour the coffee. Don't forget to sprinkle the foam with cinnamon! 
2. Cinnamon Cookies
These cookies are very simple and quick to make. They are also crispy, with a strong cinnamon taste, and perfect for baking with children. Such a small prelude to the wholesale gingerbread production in the winter! 
Ingredients:
1 egg
1 teaspoon of baking powder
90 g of butter
250 g of flour
2 tablespoons of cinnamon
3/4 cup powdered sugar
cane sugar for sprinkling (optional)
Preparation:
Sift the flour with baking powder and combine with the butter (cut into smaller pieces). Add the remaining ingredients and knead until uniform. If the dough is too dry – you can add a little cream or water if it is too sticky – sprinkle it with flour.
Shape into a ball, wrap in cling film, and set aside in the refrigerator for 30 minutes. During this time, heat the oven to 180 C (top-bottom heating).
Roll out the cooled dough on a floured board to a thickness of 3-4 mm. Carve out any shapes and place them in small intervals on a baking tray lined with baking paper. Brush the top of the cookies with egg white and sprinkle with sugar and cinnamon. Bake for 10 – 12 minutes (180 C) until the cookies are golden. 
3. Hot Chocolate With Cinnamon and Chili
This is definitely one of our favorite autumn recipes with cinnamon. Thick, hot chocolate is perfect for long autumn evenings, and if you additionally season it with cinnamon and chili, it will gain a beautiful aroma and warming properties.
Ingredients: 
250 ml of milk
5 tbsp cream 30%
2 tablespoons of sugar
1/3 teaspoon of ground chili (or a piece of chili pepper)
1/3 teaspoon ground cinnamon (or a piece of cinnamon bark)
50 g of dark or dark chocolate
Preparation:
Pour the milk and cream into a saucepan. Add sugar, cinnamon, and hot pepper. Heat it over medium heat until the sugar dissolves and the milk starts to boil at the edges of the pot. Meanwhile, stir.
Chop the chocolate into small pieces and add it to hot milk. Heat over medium heat, stirring all the time until the chocolate is melted, bring to a boil. Simmer for a few minutes until the chocolate is smooth and creamy.
Serve in small cups. Garnish with whipped cream and sprinkle with chili flakes, cocoa, and cinnamon.
Conclusion
Proven recipes for cool autumn evenings are all you need. You can safely prepare easy-to-make cookies and hot chocolate. The whole process won't take you more time than preparing a sunny side up. 
When everything is ready, choose your favorite book (reading Harry Potter again doesn't sound stupid at all!). With a help of a few candles in the room,  the atmosphere can get magical! Ok, now you can sink into a warm blanket and spend the rest of the cozy evening there. Have fun!