Date Published: July 8, 2021
New York is a little frantic when it comes to food. Do you agree? Well, maybe that's the reason why every other block in the city has some of the other stellar fast-food joints and a plethora of vendors competing to rise, trend, and become the best food trucks in the town. So, no matter if you're looking for the best burgers or the best pizzas in town, we have rounded up Top Trending And Rising Fast Food Chains In New York City for you to locate your next favorite restaurant in no time.
Trending Fast Food In New York City:
1. Shake Shack
Celebrity chef Danny Meyer started Shake Shack in 2001 as a small hot-dog stand in  Madison Square Park in New York City. Now, Shake Shack has modestly turned itself into a multi-billion dollar international restaurant chain, being ubiquitously at its fans' disposal with more than 249 locations both domestically and internationally. 
Shake Shack's fiends are devoted to the classic Shack burger. The vegetarians cleave to its extremely impressive Shroom Burger and fans who can handle lactose have achieved ice-cream nirvana with Shake Shack's ice-cold custard concrete. This signifies that the restaurant has over the years built a sense of community and of course, a loyal following which it has justly capitalized on to offer gourmet burgers, crinkle fries, milkshakes, and other delicious items to its consumers across the world!
2. Sweetgreen
This is one of the healthiest fast food chains in New York City. Sweetgreen, a salad chain restaurant, originated 11 years ago as a very small restaurant in D.C. It was founded by three Georgetown University graduates- Nicolas Jammer, Nathaniel Ru, and Jonathan Neman. The chain very recently came into the spotlight when its valuation accelerated to $1 billion after Fidelity Investments, one of the largest asset management companies contributed $200 million to Sweetgreen's bank account. "The business is very healthy economically," said Nicolas in an interview when he was asked about Sweetgreen's success story. 
The restaurant chain can give any salad a drool-worthy twist, take the popular Red Thai for instance. It's totally stacked with Citrus shrimp, sprouts, and sunflower seeds, dressed in spicy cashew dressing. If you're a penchant for healthy food, you'll definitely find yourself crawling back here for a healthy and finger-licking lunch.
3. Ray's Pizza
There are a gazillion spots to grab a pizza or a chicken-parm sub in New York. isn't it? But at Ray's you are certain you'll never get disappointed no matter which item you pick. You know you're at the real Ray's if your pizza costs less than $3 and doesn't compromise on its quality. 
Cheese overflowing, and snappy crust, that's Ray's pizza for you! The name Ray has an interesting history but it has taught us one thing for sure- As long as there is Pizza in New York, there will always be a place called Ray's that will be serving it.
4. Wafels and Dinges
Wafels and Dinges have been saturating the New York streets with sugary smells of waffles, bacon, and fudge for a decade. This truck operation has successfully brought the best of Berlin to Gotham, subsequently becoming the "mother of all Waffles". Its history is as intriguing as the fluffy creations that are being served to this day. 
It all started a decade ago when King of Belgians Albert II found out about what was being circulated as Belgian Waffles in New York City. The King, in no time, commissioned the main forces of the Department of Culinary affairs to put an end to these "so-called" Belgian Waffles.
Post this, Waffles & Dinges was formed with a '68 Chevy truck roving around the streets of New York. Albert II then declared that Wafels and Dinges will give America's Belgian Waffles a serious upgrade! The rest is history and the retailer is continuing to make the king proud every day. With Wafels and Dinges, satisfaction is right around the corner for when you're craving something sweet.
5. Nathan's Famous
This brand is one of the most famous fast food chains in New York City. It really isn't easy to believe that a mere Coney Island frank stand has turned out to be such a juggernaut international institution, stretching itself to multiple locations besides New York, including Malaysia, Turkey, and Florida. New York City was the first to have Nathan's Famous but a century later, an impromptu hotdog-eating contest made Nathan's hot dogs popular and reliable throughout the world and it suddenly became a globally loved American fast-food restaurant chain.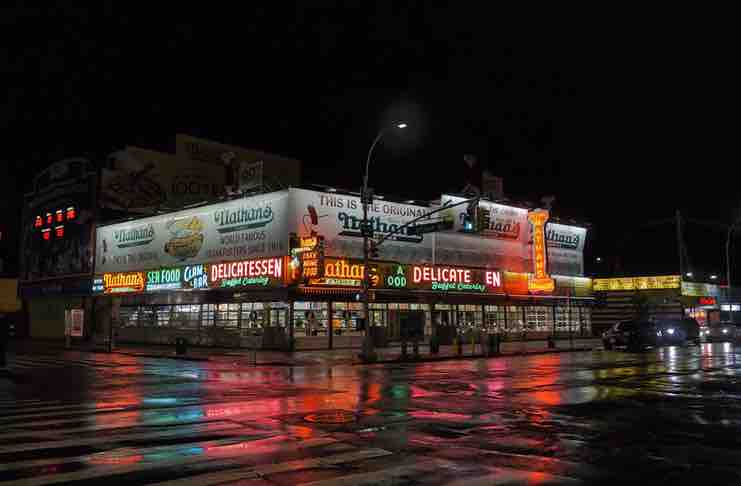 6. Jollibee
If you're a Manhattanite, we've got good news for you! You can now finally order the classic Chicken Joy or the Jollibee fried chicken from one of the most famous and beloved fast-food restaurants. There are various other Filipino offerings- Jolly Spaghetti, Burger steak, or Peach Mango Pie. So, visit the nearest Jollibee or simply order food online and enjoy the best dishes from one of the most trending restaurants while laying recumbent on your couches.
Order your favorites from any of the restaurants above and get flat 50% off via DoorDash promo code "GOBIG50" on your first two orders. Also, Postmates users get $5 off on 5 orders via Postmates promo code "5CREDIT". 
To get an even better value on your online food delivery, get yourself a DoorDash Annual Pass. This will help you save around $4-$5 and cut down on that pet-peeving delivery fee, with no minimum spend requirement. You can also avail of a free 3-months trial if you're skeptical in any way. Doordash is also rolling out Doordash Pass at 50% off the subscription fee today. 
Conclusion
New York City is gradually becoming the fast-food capital of the nation. New Yorkers love fast food so much that the fast-food chains are growing by leaps and bounds. These food chains have been successfully taking over physical dining and restaurants due to heightened rent and costs incurred. According to a recent analysis by the Department of Health, New York is home to 3,419 fast-food restaurant chains across a plethora of locations.
Want to read more of our latest posts? Check out our tips for throwing an office party, or our post about 4 types of Pizza you should know more about.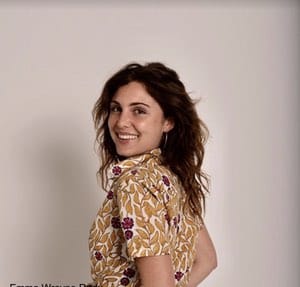 Emma Wrayne Rudy is a food connoisseur ready to indulge in every chance she gets to explore the beauty of New York City's endless food scene. Emma's writing style focuses on local hidden gems, food carts, food trucks, ma and pa joints, and eats that are affordable for everyone to try. With the diverse culture New York offers, she wants to emphasize on the foods that are less talked about and create a story behind each one. Growing up in Los Angeles at the age of seventeen Emma's curiosity for food started as she went to every restaurant she could and wrote reviews on her experience, the ambiance, and her meals. Moving to New York a year ago she is ready to take on the immense food culture New York City has to offer, and continues to dedicate her days to writing as much as she can to pursue her dream as a food writer and storyteller.