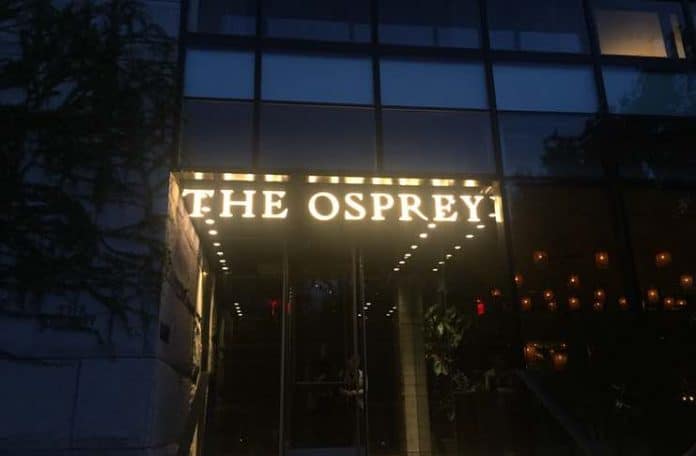 Brooklyn is maybe the most romantic borough of them all.
The setting of the Bridges at Sunset is many of my favorite Romcom scenes. Cher kicking her heels walking the streets of Brooklyn in Moonstruck. Not to mention the many gangster flicks and post-war immigrant stories.
Brooklyn accents are NYC, truth.
Dumbo, Down Under the Manhattan Bridge Overpass. The perfect setting for a night of romance and food.
This was my evening at The Osprey inside 1 Hotel Brooklyn Bridge.
You can stand near the pier next to the famous River Café across from the pizza corner on Brooklyn. Grimaldi's lines slowly easing. The hustle and bustle of the city is left across the bridge now you have the peace of sunset in Brooklyn.
Young couples, old couples, singles and generation after generation looking for a quieter peaceful life in NYC.
Dumbo has developed into a mecca of history and known to be up and coming. They have been up and coming for a while and now have arrived without losing any of the charm of the turn of the century.
Gorgeous loft apartments and condos line the streets along the highway with killer views.
The Osprey has found a home for comfortable decadence.
Inviting soft-lit entrance steps from the street as you enter a minimal designed lobby of the hotel. Sleek yet warm and welcoming.
The restaurant is set to the side to offer the water view and spectacular cityscape.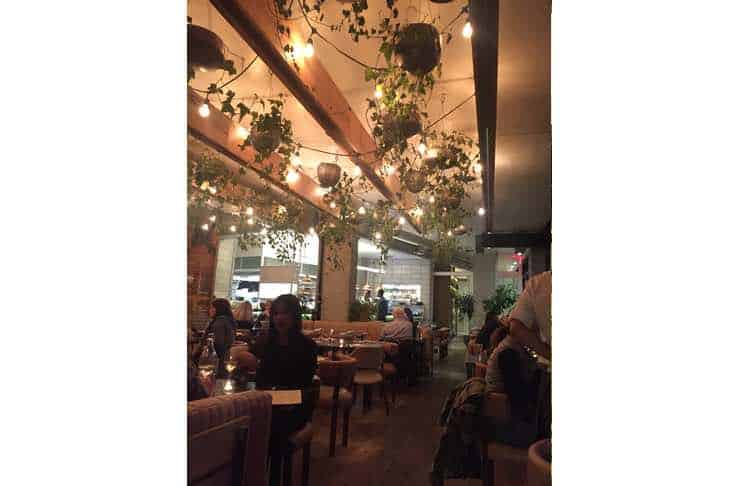 Mellow mood with warm light and gentle smooth music playing as you pass by the floor to ceiling bar. We were seated at a table with one of those breathtaking views.
This was a Tuesday in Brooklyn. Not a holiday or celebration. Not Valentine's or special occasions. Yet I felt like this was to be very special. I was not wrong.
Ronald our server greeted us warmly but not intrusive.
Service is key to my reviews. There is a thing as being over-served i.e. the waiter that fills your water glass after every sip.
Or the wait staff that lines up against a wall as if awaiting their sentence anticipating a dropped napkin.
It's not always a bad thing but can be off-putting when you just want to enjoy a meal peacefully. Helicopter Servers. They just hover.
I ask Ronald "what would like me to try. What must I have and what is your favorite".
Thank you, Ronald for making suggestions and not shying from the question.
I had the prettiest drink in beautiful fall colors leaving me warm and light.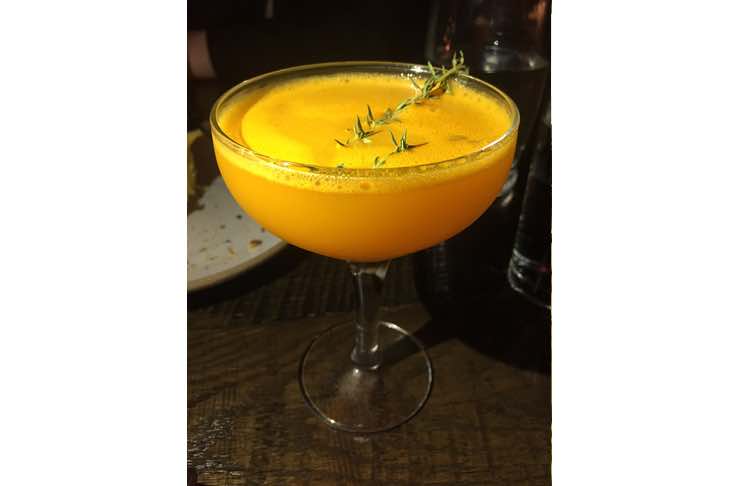 HEIRLOOM SPRITZ
Avion Reposado, Carrot, Ginger, Lemon.
Light and refreshing.
Michael my photographer had his usual Old Fashion. If you are a NYSF follower you should know that Michael is on a quest for the best Old Fashion in NYC. He has yet to find the one to compare with a bar he can't remember the name of but it was in Chicago.
Compliments of the chef .
SHISHITO PEPPERS
With Smoked Sea Salt, Lime.
One of my favorites and an easy dish to prepare. The dipping sauces are the make or break the taste test. This was a light dipping sauce.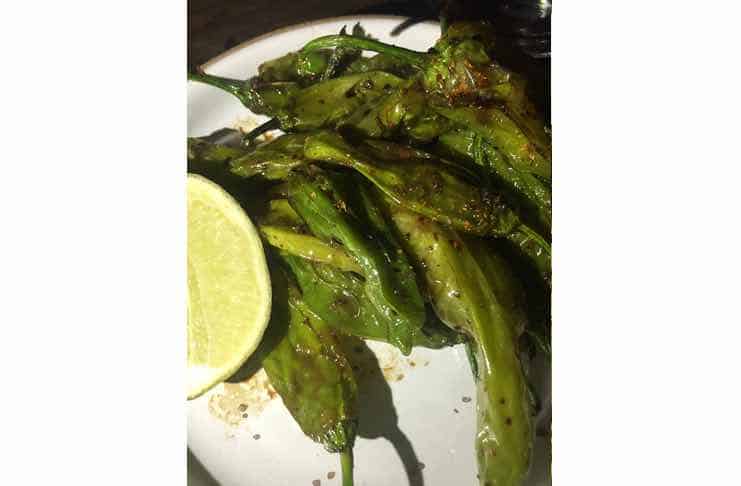 JOJO'S BARBEQUE SKEWERS
Filipino Style Marinated Beef, House Pickles, Steamed Buns. This was a must-have. Perfectly prepared beef. Tender and moist. Fun food. It can be eaten as served directly off the skewers or as suggested to make your own taco in a steamed bun. Always my choice. I don't like to just eat I like to cook…and this kind of fun activity is always welcomed. Even in a romantic setting using your hands for food is always fun and this was finger-licking good.
NANTUCKET SCALLOPS
Chorizo, Smoked Corn Mousse, Sofrito, Heirloom Baby Popcorn
Michael was presented with this plate that was drop-dead gorgeous. Scallops were a perfect sear. The corn mousse with the sofrito drizzled through was a taste sensation I still recall. That food memory that you get that makes you salivate with the mere mention.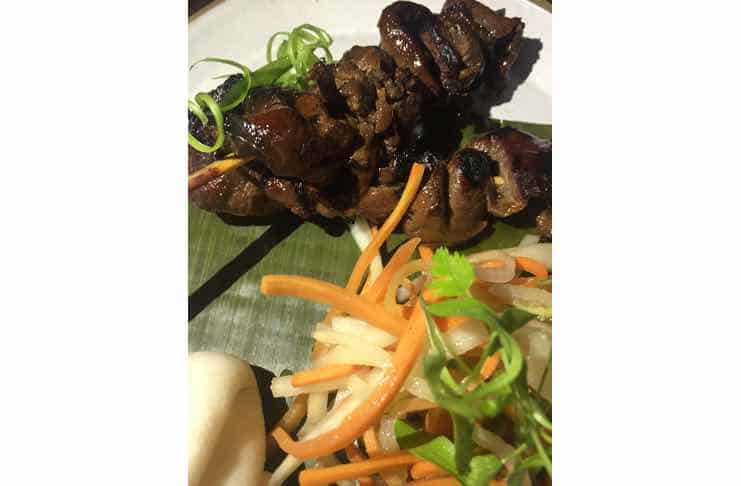 LONG ISLAND DUCK
Creamed Leeks, Coffee Rub, Duck Jus, Cherries
This was strongly suggested, almost insisting and I am so glad.
Use of the entire duck in a variety of ways and every which way was better than the other.
I am not a big duck fan. It can be very difficult to do duck. Or maybe it's that food memory I had when my mother insisted on making duck one-holiday meal and it sat on a plate of fat.
Well, this was an experience I loved. I love my Mom but sorry this was what duck is supposed to taste like.
It could have been the cranberry sauce or the cherries or the creamed leeks with a scatter of the house-made popcorn. Duck Jus should be served in a cocktail glass. Another beautiful plate by the gifted Denevin Miranda, Chef De Cuisine.
Denevin looks to be barely legal to drink yet his hand and craftsmanship in the kitchen is one of the best I have experienced this year.
Ronald asked him to stop by our table. Denevin took the time to say hello and was more than gracious sharing his love of this amazing Fall menu.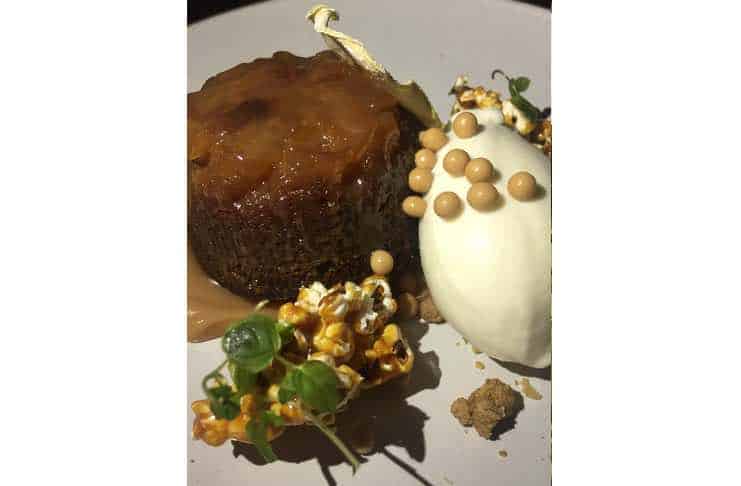 A young chef taking his time to spend with guests is a sign of confidence and professional attitude. He truly is an artist as a chef. His youth is overshadowed by his skill and personality. He is a chef to watch.
The Osprey evening was spectacular.
Put this on your MUST list. Then tell me about it or better yet…tell everyone you know. Best kept Not so Secret, Secret is the place to be in Brooklyn.
The Osprey at One hotel, Brooklyn Bridge
(347) 696-2505 • 60 FURMAN ST. BROOKLYN, NY 11201
Living and loving in NYC, food has been a passion of hers. East Coast to West, Faith's goal is to explore and learn with the contribution of other like-minded foodies. Faith Rein has written for 2Girlsfromabar@blogspot.com. Youtube channel – faith.rein, love food love faith. You can find her @: Faith.rein/facebook (always looking to add friends) / faith rein@twitter / faith.rein@instagram / faith.rein@gmail.com