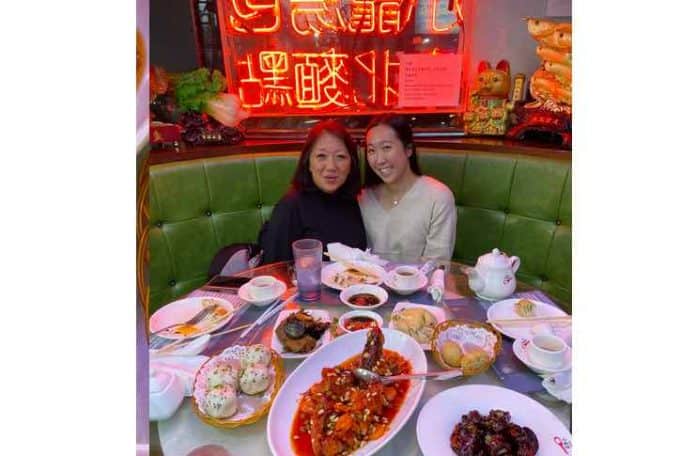 There are many dreams and goals you have throughout your life. They can change as you grow older and find other interests.
Making your way through this world can be exciting and challenging. Goals should never stop.
My goal right now is to find the best dumplings in Flushings.
What do you do when all your dreams come true? You celebrate and tell everyone about Shanghai Garden.
Flushing is THE place to go for Asian cuisine. Actually it's Queens in general. Murray Hill has Korean BBQ down. Flushing the Chinese. From Cantonese to Mandarin, etc. Shanghai is something a bit newer for me.
Queens is becoming cooler than Brooklyn.
Real and authentic and super cool.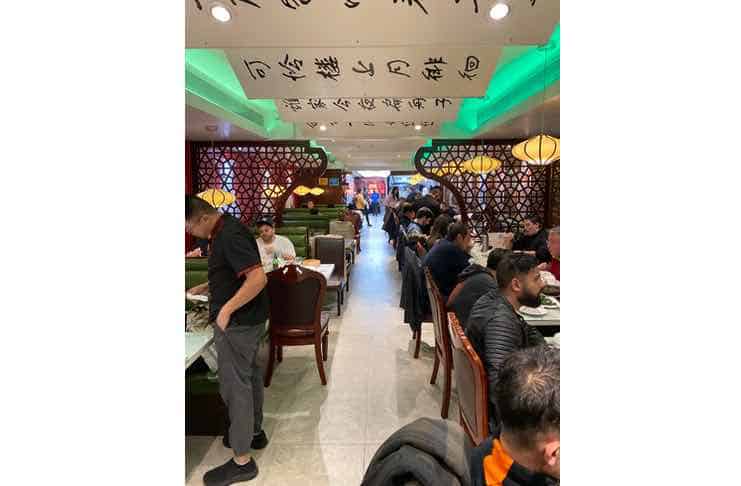 It's the Asian's. As an Asian American, I didn't always feel that way about Queens. Growing up on Long Island we already had those labels and ridiculous impressions of an LI accent. Yet spot on, really did I sound like that?
Brooklyn had character, the Bronx had soul…LI just seemed either dumb or clique. Or both.
Looking back now there is a lot of beauty and pride in being from LI. Gorgeous real estate. Plush grounds and gardens. Natural water inlets throughout. Amazing food. A sense of family and loyalty.
Friends that you grow up with and remain friends are family. I am so fortunate to have all of that.
Queens was where my Aunt Elizabeth and Uncle Bill lived. Flushing will always be home of my NY Mets. It also was where Archie and Edith lived. The Jefferson's moved on up from. Doug and Carrie and Arthur had a house with occasional visits from the Barone's from where else LI.
Now I find myself living in Astoria but riding the 7 train often to the best food destinations in a borough.
A short walk from the last stop on the 7 train leads to you Shanghai You Garden. Be careful not to walk past. When you enter you walk into a charming larger than it seems home of the best soup dumplings.
Greeted by Victoria we were seated at the VIP table in the front. A beautiful round nook that made us feel immediately like we were home.
Victoria explained to us the history of the restaurant. As a first-generation Chinese her family came from China and arrived in NYC to create the thing they knew and knew best. Food.
We chatted about the many changes in Flushing and discussed the "street food" presence.
Slowly the abundance of street vendors in Flushing is diminishing to the chagrin of the community. High rises and higher-end restaurants. The street vendors scrambling to find space at the indoor malls. Flushing is becoming a banker's location and the real estate reflects that.
As we got to know each other and shared thoughts of world peace and food the parade of plates began to arrive at our table.
Fried Bean Gluten (vegetarian cold dish) a surprise. The appearance had me guessing as to what the texture would be. The flavor was refreshing and woke up my palate. The texture had me thinking it was meat but no…. it's vegan, looked and tasted like beef.
Shanghai Special Chicken (cold dish) tasty but might not be on my next visit order.
Turnip Puff – so delicious I ate most of them. I have never heard of these or seen them. They have the appearance of mini croissants. Flaky pastry with such a wonderful flavor of the turnips.
Victoria said that many come in early for this as a breakfast treat. Which made me realize how hard running a restaurant is.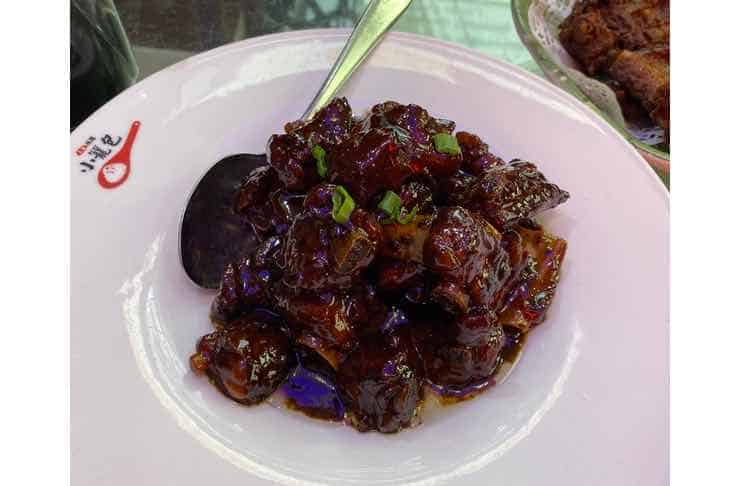 Early mornings shopping prepping and all the other things that go into running a successful family business.
Restaurants workers and owners in NY have long tireless dedicated hours. You know the song. If you can make it here you can make it anywhere. It's all true. Every day another restaurant opens the same day as another closes.
How lucky are we that Shangai You Garden is one that is open.
Our next plates landed and Mike and I both gasped out loud.
Pan-Fried Pork Buns – One of my very favorites that took me to a childhood memory when our family friend's the Fungs would make these on Sunday's after church.
Special Spare Ribs in Garlic Sauce – This was an amazing dish. Dripped in garlic the crispy ribs were a generous portion. I could have eaten another full plate of these as I wondered how far I was for a Seamless delivery. Sadly too far.
Sweet & Sour Ribs – Yes…even more ribs and just as delicious. Perfect beef. If I remember correctly this was a tri-tip. Tender and seasoned just the way I imagined in my food fantasies.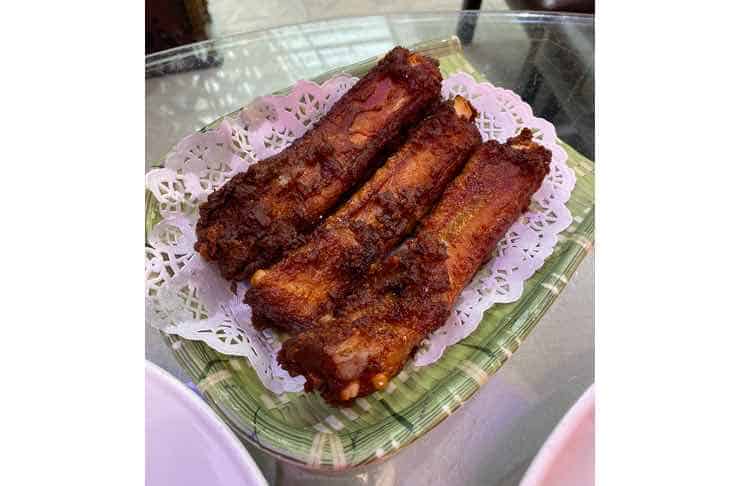 Stir-Fried Eel in Hot Oil – tasty. But different for me.
Sauteed Crystal Shrimp – lovely fresh little bites. Again something I never had but boy was this delicious.
Pine Nut Bass with Sweet & Sour Sauce – A whole fish prepared so beautifully and tastefully. Not an overpowering sauce which at times can happen with sweet & sour. This gorgeous piece of bass was treated with so much care and technic. Crispy and juicy it was cooked perfectly. It's hard to pick a favorite so far…all I knew was there was more food coming.
Like a kid in a candy store – this is a food reviewer with a kitchen that isn't closing anytime soon.
The main attraction was the
Soup Filled Bun – This is the new signature Tri-colored soup dumpling.
(The orange dumpling skin is made out pumpkin-contents are crab meat and pork. The pink dumpling skin is made out of sweet purple potato/yam-contents are shrimp and pork. The green dumpling skin is made out of squash – contents shrimp, pork and squash)
These are drop-dead gorgeous. Something about steam baskets. Stacked and filled with hot surprises.
Lifting up the basket lid is like opening that perfect present you didn't know you wanted so badly.
Everything about these was perfection. All my favorites in a bun. Light delicate colors of pink and green and orange. Not quite the rainbow but made me just as happy to see.
The orange dumpling was #1 for me. Crab and pork. How could this be bad?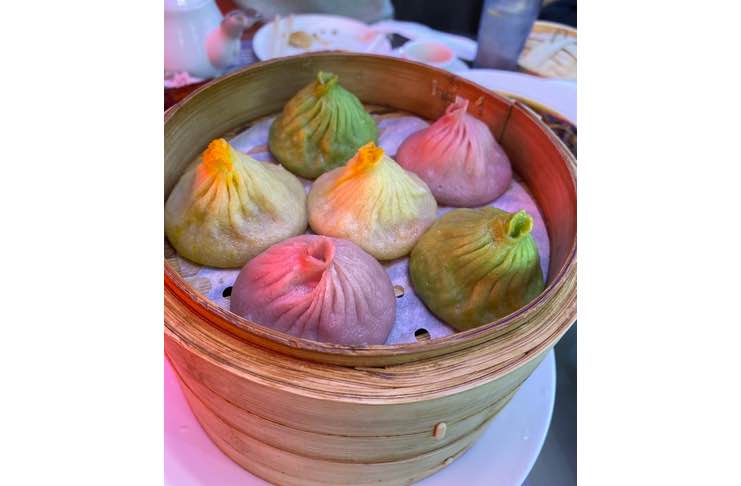 No vegan choice of these 3 but at Shanghai You Garden they do offer many vegan dishes.
Ending this extravagant meal with Sweet Rice Pudding (traditional Shanghainese dessert)
Wait…there's MORE.
YOU GET A GIANT SOUP DUMPLING!
The Giant Soup Dumpling.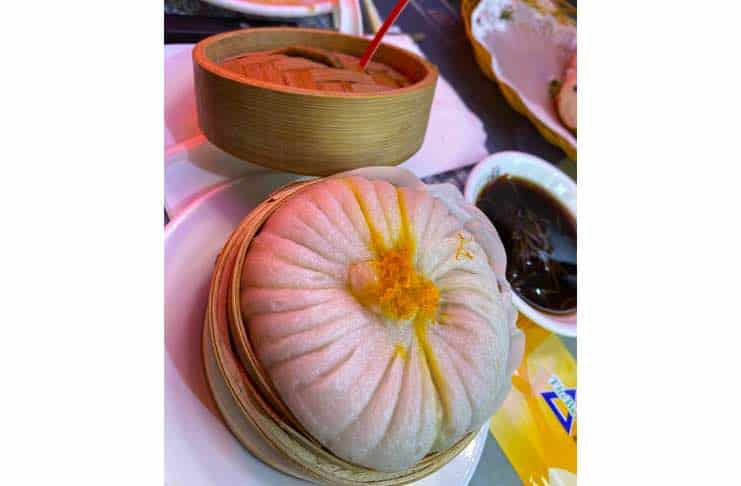 You have to eat it with a straw! I love straws…I drink hot coffee with a straw.
As you slowly pierce the dumpling the soup gently oozes out and you're hit with an amazing aroma. Slurping up the "gelatin" soup and then prying apart the delicate bun to find a massive amount of beautiful crab.
I have been writing for New York Street Food for a few years now and have been so honored to score coveted invitations to some of the best places New York City has to offer.
Fairs, Festivals, Mom and Pop, pop-ups, high-end Michelin star chef's and on and on.
Shanghai You has to be one of my most favorite of the year.
The service was impressively outstanding. The décor was to expected, classic and a bit more. I love the ceiling hung signs. Bright and happy surroundings.
What made this such an impact on me was the grace and sincerity of Victoria. The level of food without a doubt rivals any manhattan establishment charging 3 times more with 2 times less charm.
Victoria was what made our evening stand out with her knowledge and pride. Explaining each dish and letting us into the world of Shanghai You Garden.
I had heard that this is one of the very best in Flushing and perhaps NYC.
Faith's best of 2019.
Where?
135-33 40th Rd
Flushing, NY 11354
Downtown Flushing
Shanghaiyougarden.com
Living and loving in NYC, food has been a passion of hers. East Coast to West, Faith's goal is to explore and learn with the contribution of other like-minded foodies. Faith Rein has written for 2Girlsfromabar@blogspot.com. Youtube channel – faith.rein, love food love faith. You can find her @: Faith.rein/facebook (always looking to add friends) / faith rein@twitter / faith.rein@instagram / faith.rein@gmail.com