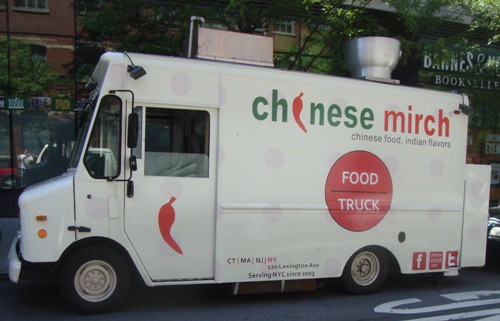 We first ran across the Chinese Mirch truck at the Choice Streets event a few weeks ago.  At that event, trucks only gave out a sample of their food, and we were looking forward to seeing what else they served.  The truck's slogan is "chinese food. indian flavors", which sounded promising.
Since I tried their momos at Choice Streets, on this visit I ordered duck sliders (bao), which cost $8 for an order of 3.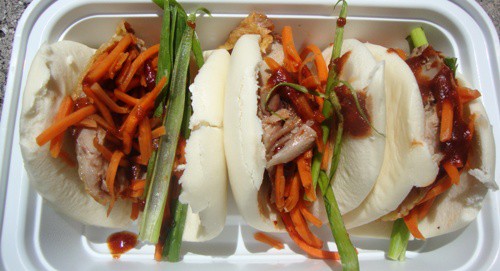 As I found out after Choice Streets, Chinese Mirch is a small brick-and-mortar chain with one restaurant in NYC at 120 Lexington Ave (26th  St) and a few more locations around New Jersey and New England.  This food truck is their first foray into the mobile eats arena.
The Chinese buns were similar to ones I've had before at the new Fun Buns cart and Asian restaurants.  The buns were filled with slices of roast duck, shredded carrots, scallions and a tamarind sauce, which was a bit spicy.
The duck  meat was chilled and it wasn't fatty at all, although there was a little skin on each slice.  The dark flavor of duck went particularly well with the sauce, although calling it a tamarind sauce was a little misleading to me.
In my opinion, the sauce tasted more like a spicy hoisin sauce, with a little bbq flavor to it.  It wasn't like other tamarind sauces I've had, which usually have a sweeter, more cloy taste.
The carrots gave the sandwich some crunch, and the scallions added an oniony flavor.  The buns were ok, but they were not as soft as Chinese buns I've had at other places.
Three duck buns was a nice meal for $8, and a decent value as well.  I'm not an expert, but I wonder where the "Indian flavors" come into the picture.  I felt like this was pretty much a Chinese meal, but as long as it tastes good, who cares?
You can find the Chinese Mirch truck on twitter here or on our Mobile Munchies twitter feed.