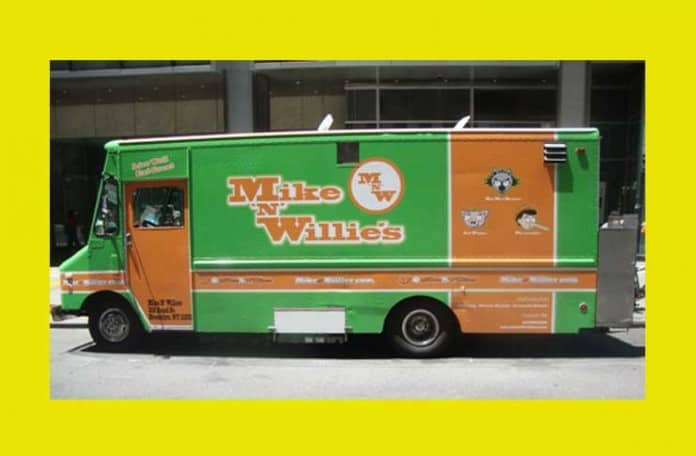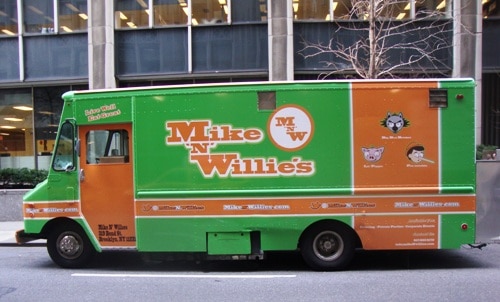 Last week we alerted you to a new food truck serving tacos and sliders called Mike 'N' Willies.  After a couple of test runs in Billyburg, they took the plunge and hit Manhattan yesterday full steam ahead.
Their initial menu has 3 types of sliders and 3 types of tacos, plus chips & salsa, guacamole and when it's cold out, soup.
We got 2 sliders and a taco, which totaled $10, although they were already sold out of our first choice – fish tacos.  Click through for our First Look at Mike 'N' Willies.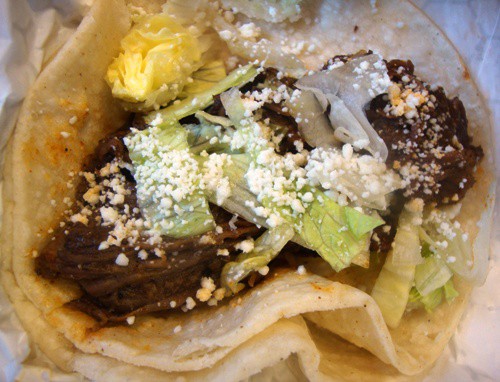 First up was the Short Rib Taco ($3.50), which had shredded beef short ribs, crumbled cojita cheese, lettuce and bbq sauce.  The meat was fall-off-the-bone tender in a light, sweet bbq sauce.  For some reason, the beef was a little lackluster.
The menu said the beef was smothered in bbq sauce, but mine wasn't.  There was some sauce at the bottom of the taco, but the meat could have used a little more "pop". They smartly use 2 tortillas for the taco, so either a little more bbq sauce or some hot sauce would have done the trick.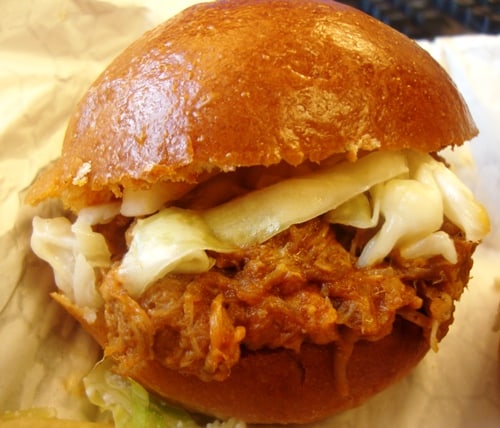 The next dish I tried was the Lil Piggie ($3.50), pulled pork in homemade bbq sauce with chipotle lime slaw.  Now this was more like it!
The pork was nice and marinated with plenty of sweet bbq sauce.  Maybe it was the strong flavor of the bbq sauce, but the "chipotle slaw" simply came across as tasty cabbage, although I enjoyed the pulled pork so much, it didn't really matter.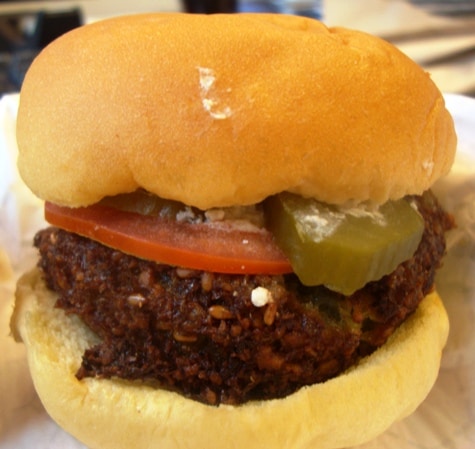 Last up was the Pea-nocchio ($3).  This was a vegetarian dish in the falafel family, made with a chickpea fritter roughly the size of a hockey puck. Luckily, it tasted much, much better!
The chickpea fritter had a fried, crispy exterior and a moist, green interior. The slider was topped with tomato, pickles and a sesame sauce that was kind of a cross between tahini and mayo. Very tasty slider!
I was a bit disappointed there were no fish tacos left, but Mike told me it was their first day out, and they weren't sure how well fish tacos would sell in NYC.  I assured him they would sell well, and look forward to trying one next time.
Mike 'N' Willies is a strong addition to the New York food truck scene.  For their first day in Manhattan, they did an excellent job, with good food at a good price.  No problem being filled up from this lunch, and some people could probably get by with 2 items instead of 3.
You can follow them on twitter here, facebook is here, and the website is here.  We have also added them to our Mobile Munchies twitter feed and the NYSF Directory.