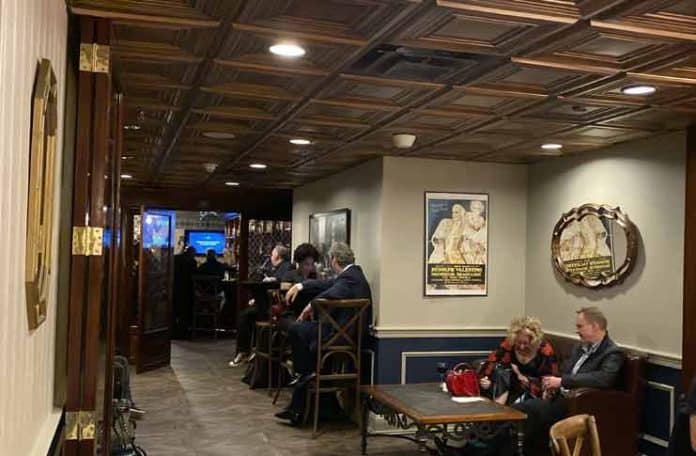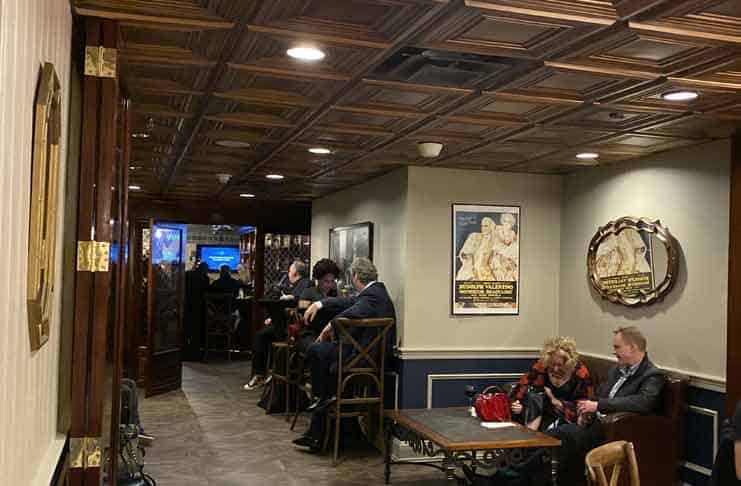 Kaufman Studio's is well known in Astoria since 1929. 
Sac's Place is a well-established family restaurant had a home that started in 1989 on Broadway. 
The pizza was what the neighborhood craved. 
Kaufman Studio and Sac's Place is the beginning of a beautiful friendship. 
So you can imagine my excitement when I snagged an invite to the grand opening party on the Kaufman lot in the space once occupied by The Astoria Room.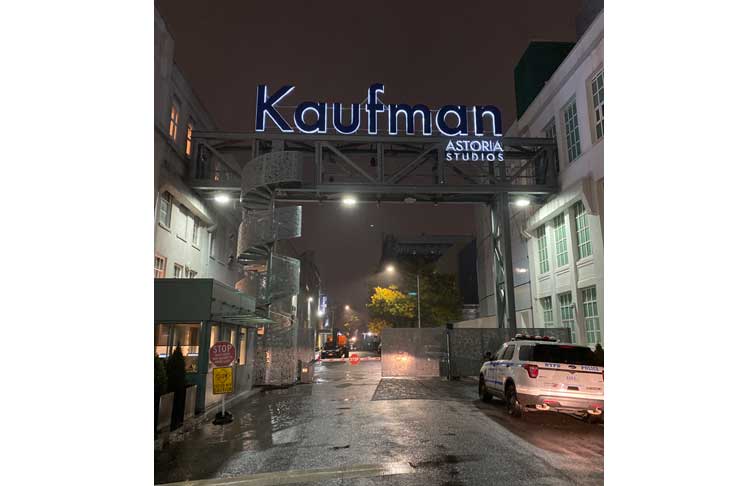 In 1982, Mr. Kaufman, the scion of a century-old New York real estate family, led a group of investors in rescuing the Queen's complex, which had opened in 1920 as the cavernous home of what became Paramount Pictures. Not only is Kaufman Astoria Studios where some of your favorite movies and shows are still made — and home to the city's only backlot — it's also the anchor of Astoria's Kaufman Arts District, Queens' first cultural district.
Descend the marble staircase to the mahogany bar in the original Paramount Studio dinner club where Gloria Swanson, Lilian Gish, and Rudolph Valentino once dined. Yes, That George. 
You could feel the presence of some of the greatest actors of our time and time gone by.
Silent films, talkies, The Marx Brother films, musicals, Seasame Street and Netflix series. 
This was a place these artists would eat and drink and laugh. If the walls could talk I would be right there listening. 
Sac's Place brings you back there in a subtle way. 
Keeping that beautiful staircase and mahogany bar.
Sac's Place restored and retained the beauty once known as The Astoria Room that became George's.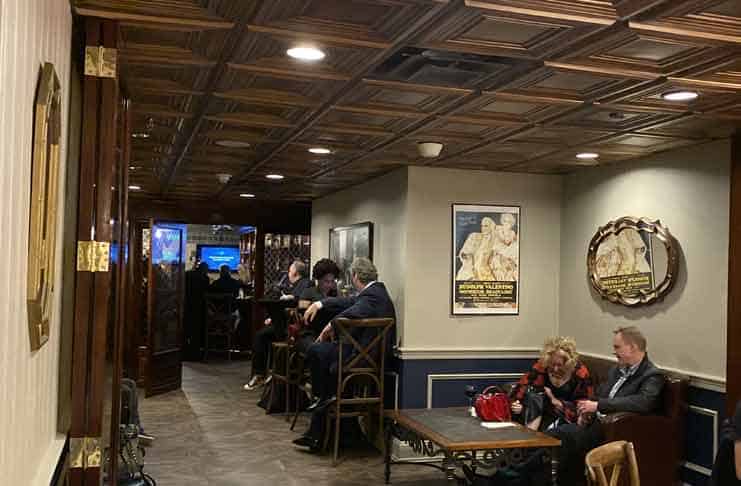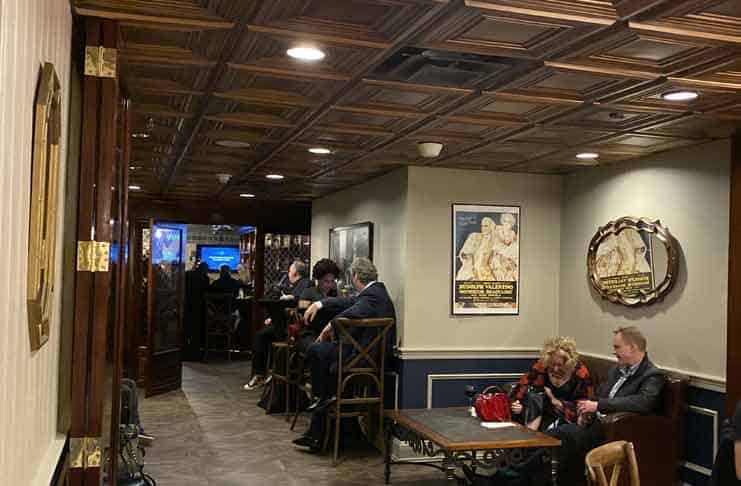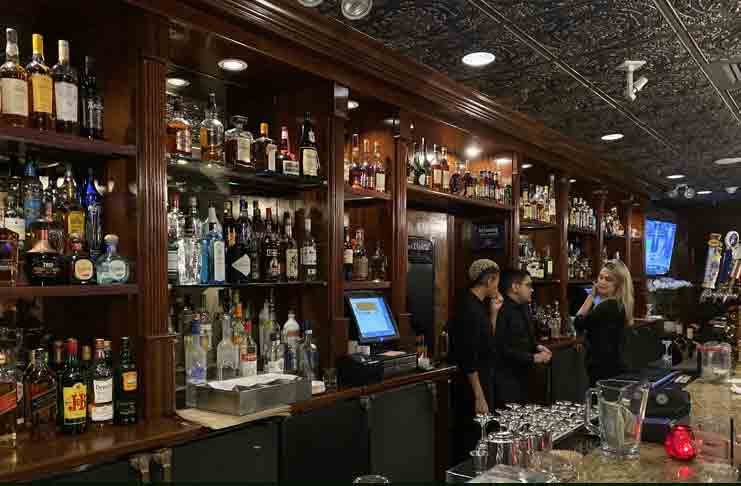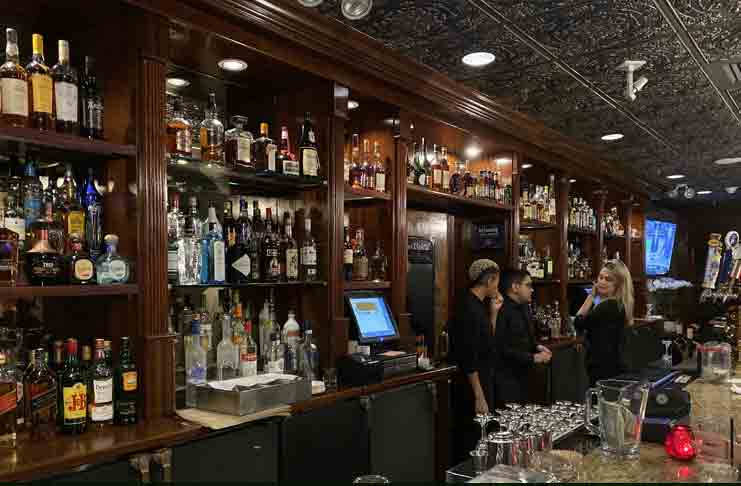 The Sac's Place Story: "Our family is from Orsogna, a small town in the Abruzzo region of Italy, but we were born and raised in Astoria.  We grew up in a house of love, laughter & family dinners cooked by our mother, Maddalena. Staying faithful to the Abruzzo tradition of using simple flavors and the freshest ingredients from the land & sea, our mother passed on to us the secrets she learned in our Nonna's kitchen in Abruzzo. Handmade pasta; pizza made with homemade dough; and fresh fruit, vegetables & herbs from our garden were the norm. Tomato sauce was made daily.
At Sac's Place, we remain faithful to the traditions handed down to us. We were taught to use the best quality ingredients & cook with passion. Our restaurant is an expression of this passion, where gathering to eat with family & friends is a celebration. When we opened Sac's in 1989, it was a small pizzeria on the corner of Broadway & 29th, and we occasionally cooked specials for our regulars. The demand for these special meals grew over time & we expanded to a full-service restaurant in 1998. All of our food is made to order & our coal-brick oven pizza is second to none.
Our goal is to share what we learned in our mother's kitchen & proudly pass this love on to you. Dine with us at Sac's & become a member of our family."
Anthony & Domenico Sacramone
This was a private family and friends event. Yet I and Mike were welcomed. Just inside the entrance of Kaufman's you open the almost secret glass door with Sac's name and step down into a charming understated space taking one back to the '50s. Beautiful dark wood. Tin Tile ceilings. Shutter's along a wall as if hiding the glare from the pretend windows but purposed to hide the paparazzi from a celebrity. The bar is lovely and large enough to have a happy hour with your new studio friends or ghosts from the greatest generation of filmmaking.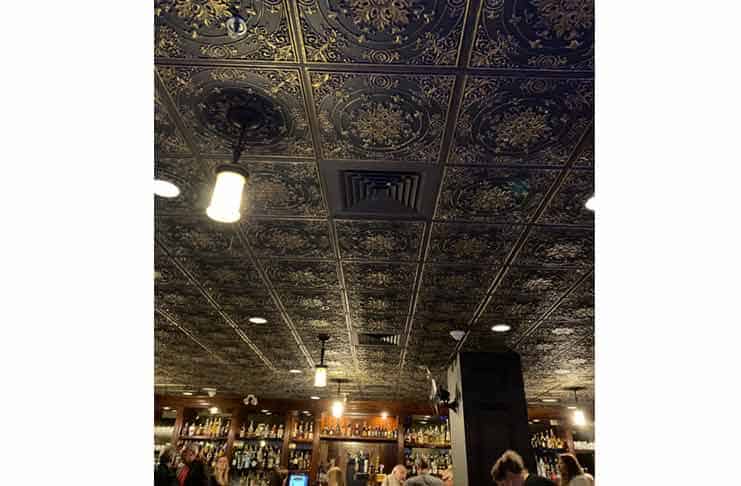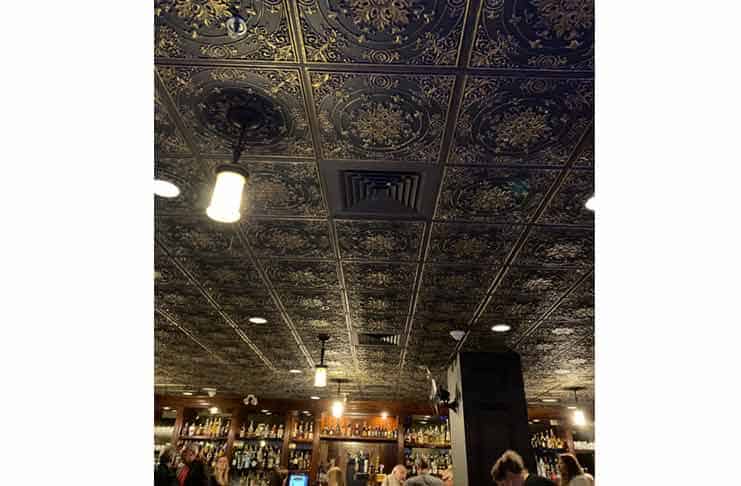 White table clothed 4 tops all throughout with banquette's wrapped around the room to make you feel you're in a little villa in Tuscany perhaps or the Brown Derby in Hollywood. Maybe that's a stretch It's Astoria. The home of the Greeks. 
It's about family and friends.
This was a party. Adjacent to the main room was a lovely area that had a few high tops and sofas for lounging. Followed by this great room perfect for private parties or romantic late-night suppers. 
Long tables of trays filled with a beautiful beet and fruit salad, polenta, chicken marsala, penne a la vodka, meatballs, eggplant parm (my favorite), orchetta and a bit of antipasto. Bottomless red wine.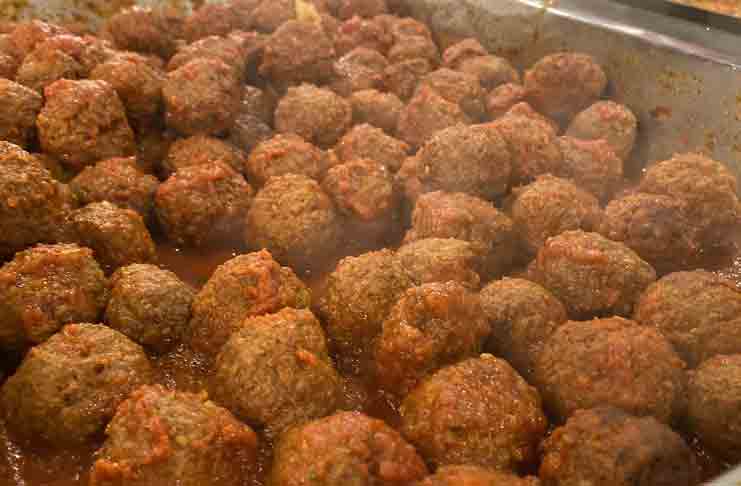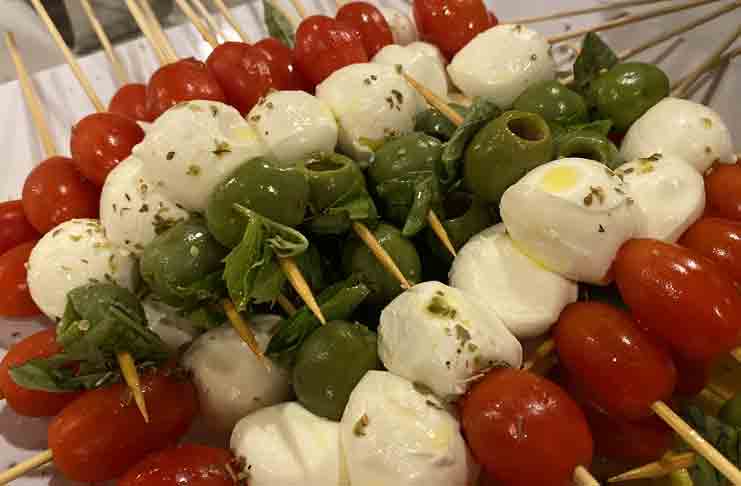 The love in the room was abundant. Sac has a huge loyal following. 
Family photo's taken all through the night…family and friends. The most engaging of the evening was the smiles on the staff from all parts of the world. Tonight they all were family.
My disappointment was that I heard so much about the pizza yet there was no pizza that night. 
Thank you, Sac for including me on your celebration. 
Best of luck to you…next time I'm in for the pizza.
Living and loving in NYC, food has been a passion of hers. East Coast to West, Faith's goal is to explore and learn with the contribution of other like-minded foodies. Faith Rein has written for 2Girlsfromabar@blogspot.com. Youtube channel – faith.rein, love food love faith. You can find her @: Faith.rein/facebook (always looking to add friends) / faith rein@twitter / faith.rein@instagram / faith.rein@gmail.com