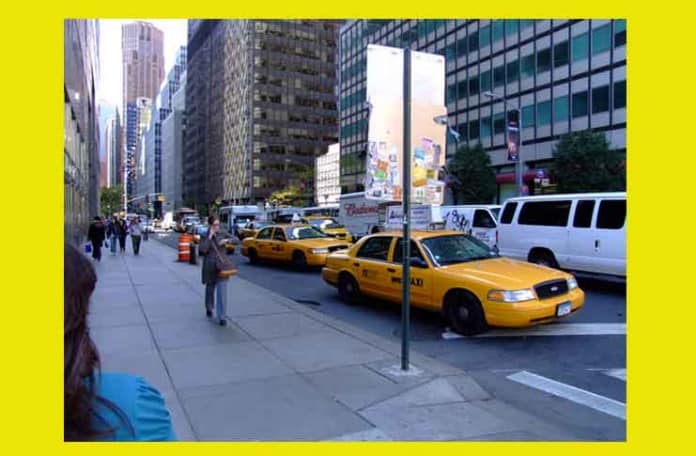 Cupcake Crew has been around for a couple of months now, but we didn't get a chance to check them out until recently, so this is our First Look.
Cupcake Crew was generally parking at 34th St & Park Ave, which is very difficult for us to get to during lunchtime, but we recently saw a tweet saying they were going to be on the Upper West Side, which was much easier for us to get to from Columbus Circle.  This was nice, but what really got our attention was that they had blackout cupcakes, their tribute to blackout cake from Ebinger's Bakery in Brooklyn!
That last bit was the deciding factor.  My grandparents lived in Brooklyn when I was a kid, and they used to regularly bring Ebinger's blackout cake when visiting us on Long Island – and I loved it!  It was a combination of chocolate pudding, chocolate cake and chocolate crumbs.  What's not to love?
I wasn't sure what happened to Ebinger's after my grandparents moved to Florida, so I looked it up on Brooklyn.com. "Ebinger's was founded in 1898 and had a small chain of stores around Brooklyn.  They were known for their cakes and pies, especially their blackout cake, which was a chocolate layer cake filled and frosted with dark fudge and dusted with chocolate cake crumbs.  It was named for the wartime blackouts that occurred.  Unfortunately, they closed in bankruptcy in 1972."

When I got to the truck, I had a chance to speak with the owner, Frankie, for a little while, and he is a real Brooklyn guy.  First we talked about Ebinger's blackout cake, and then we talked about Cupcake Crew.
Cupcake Crew has been  on the street since October, but Frankie started working on the concept last spring.  He has a degree from the Art Institute of New York in Culinary Arts & Restaurant Management, and spent two years serving as an apprentice in central Italy.  He also worked as a personal chef and recently left that job to work on Cupcake Crew.
Right now they only sell cupcakes, but within the next 2 weeks, Frankie is putting in the equipment to sell fresh coffee, tea and hot chocolate on the truck.

As far as the cupcakes, the day's flavors were blackout cake, funfetti, red velvet, vanilla/chocolate, smores and fluffernutter.   Regular-size cupcakes are $2.75 each or 4 for $10, but since I wanted to get an assortment of cupcakes, I went for the mini-cupcakes, which were $1.50 each or 12 for $15.
Since I couldn't try them all myself, I enlisted my family to help out, although the cupcakes did get a little beat up on the way home.  They looked better before I got home and took the picture below.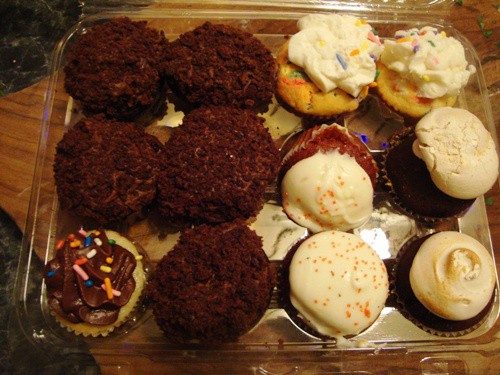 The blackout cupcake was really good.  There were pockets of chocolate pudding inside the cupcake and plenty of chocolate crumbs on top.  The original Ebinger's blackout cake had more cocoa and less sugar, but this was a really nice tribute, and brought back a lot of good memories.  My kids never had blackout cake, and they were pleasantly surprised by the pudding bits in the cupcake.
The fluffernutter topping was also very sweet, but the chocolate cake part was just right.
The red velvet cupcake was velvety, and the icing was sweet, but not too sweet.  My daughter described it as soft and plush.
The funfetti was a fluffy, spongy vanilla cupcake with rainbow sprinkles, which I was told tasted like a birthday cake.  The vanilla cake was really good, and icing was not too sweet.
I'm not sure if we covered all the flavors with reviews, but to sum it all up – the cupcakes from Cupcake Crew were very enjoyable.  Everyone in my family really liked them.  On some of the cupcakes, the icing can be a little too sweet, but nothing like the cupcakes at Magnolia, which are always waaay too sweet.
Cupcake Crew is an excellent addition to the New York Street Food scene, and we would like to wish Frankie and company the best in their new venture.