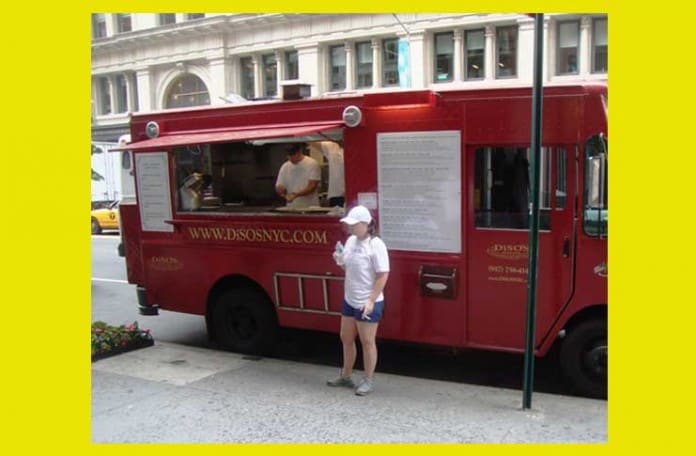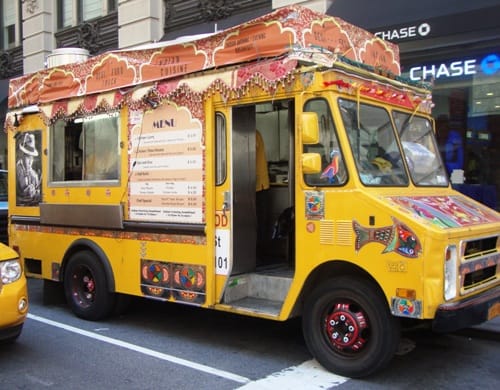 It's not a pretty day outside, but you can still get some great New York Street Food.  Most of the vendors appear to be working, so give them your business on this crappy day – and call ahead if you can.  We highly recommend it.
A lot of trucks needed to move on short notice last week, so check the Mobile Munchies twitter feed before heading out to make sure your favorite food truck has not had to move recently because of the police, or for any other number of reasons.
And one more thing:  Way to go J-E-T-S.  Cupcake Stop has JETS cupcakes for sale.  You can call their bakery at (973)744-2400 to order.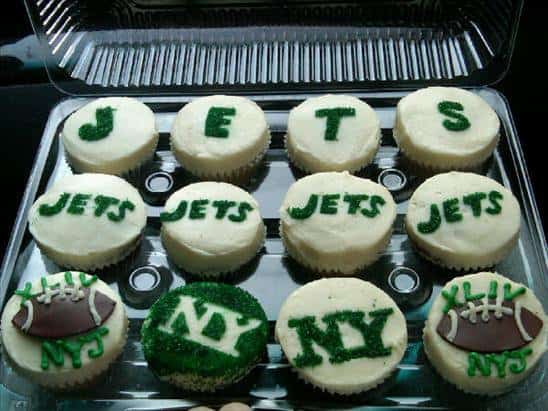 DesiFoodTruck
we r parked at usual day spot on 50th and 6-7 avenues by the Time/Life building.
schnitzeltruck Hey guys just wanted to let you know that we will on 46th St b/w 5th & 6th from 11:30 – 2:00. c u then schnitz fiends 😉
UncleGussys
Good morning, hope everybody enjoyed the long weekend;) Today as usual located on 51 st and park, Johnny is cooking up a Greek storm! Beef vegetable soup, it matches the weather.
RickshawTruck
Slushy streets not keeping us away! Heat up with our special dumpling Soho: Hudson+King, Midtown: 52+Lex, and also Columbia: 116+Bway
TaimMobile
Hudson and charlton today ! Soup of the day is corn jalapeno… and today we finally have the Sabich as a special !!!!!
SweeteryNYC
Hey Columbia, Sweetery is back, Broadway & 118th St ALL DAY!
KorillaBBQ
Headed to SoHo on Varick St. & Vandam.  Sorry for any inconvenience, but looks like we're running later than expected; hope to be up and running before one. Update you guys soon!!!
CupcakeStop
Preorder your JETS Cupcakes!! Call our bakery at (973)744-2400
CalexicoCart
Thought a little storm could stop us? Guess again! Both carts are out. Ground lamb is the special on Prince and Wooster.
joyridetruck
A little freezing rain can't keep us away. We're having a joyful Tuesday at 26th & Park. Come get your am @
stumptowncoffee
on! Looking 4 s/t warm & delicious for b-fast? Give our organic steel-cut wholegrain oatmeal a try! Comes w/ all the toppings u want
Food Trucks NOT Out Today
waffletruck
It's a perfect rain day for some maintenance…see you tomorrow everyone!
fritesnmeats
We will be staying in today due to the weather sorry people we will be out tomorrow on HUDSON & KING