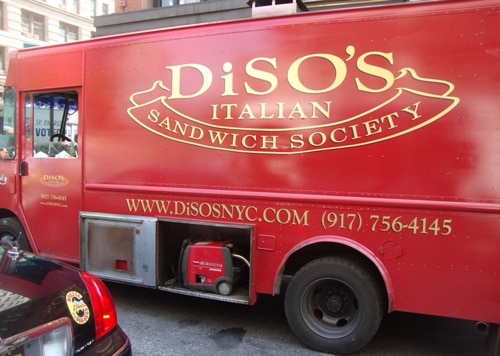 There's another new food truck that hit the streets recently, and if you love cold Italian heros, pay attention. This was one of the best sandwiches we've had in a long time.
We spoke with the owner, Andy D. (a long Italian name that we didn't catch all of). Andy told us he was looking to open a storefront sandwich shop, but between the lease and negotiations over everything, it dragged on for over 9 months.
At a certain point, Andy decided to stop the storefront idea and instead open a sandwich truck. Retail's loss is street food's gain!
DiSO's Italian Sandwich Society has all the Italian meats, cheeses and condiments you could imagine. There's proscuitto, capicola, porchetta, sopressata, provolone, mozzarella, parmigiano reggiano, sun-dried tomatoes, hot and sweet peppers and much more.
The sandwiches are named after gansgsters like Vinny Chins, Sonny Red, Joey Bats and Lucky Luciano. For our First Look, we got the shakes, Joey Shakes that is. A hero is $11.50, half is $7.50 and on focaccia it's $8.50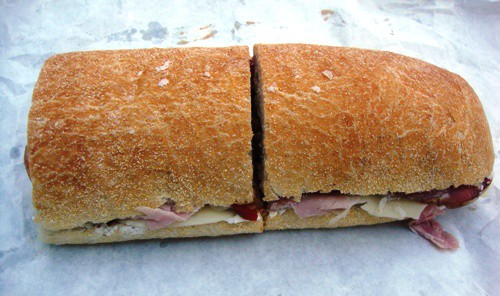 We did a little research after eating the Italian Sandwich. It seems that someone on Midtown Lunch ran across DiSO's and waited 45 minutes for their sandwich. With everything sliced to order, you are guaranteed to get everything as fresh as possible, but you're also guaranteed a long wait.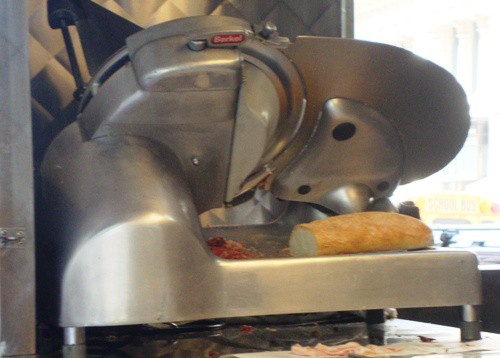 We went there around 3:30 last week, and it was much better in a non-lunch hour, but we still waited for 10-15 minutes. Andy told me he recognizes this is a problem, and is working on a solution.
The problem with going at 3:30 for lunch is they run out of things, but luckily they were only out of proscuitto. We were handed a piece of porchetta to taste as a potential substitute, and it was delicious. Ham wrapped in pancetta, mmm!
There was a lot on this Italian Sandwich besides three meats and two cheeses. Opening up the bread, there were also chopped hot peppers, basil leaves and a balsamic vinegar dressing.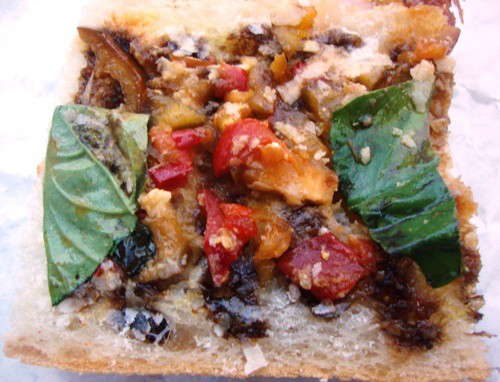 It was difficult to say what our favorite part of the sandwich was because it was beautifully balanced. The dressing was certainly a highlight, with the deep tang of balsamic vinegar in a sweet glaze.
There was a nice amount of perkiness from the hot peppers, and the parmigiano reggiano cut through everything like a chef's knife.
We got white Italian Sandwich hero bread, but you can also get wheat or rosemary focaccia bread.
The hero was crusty and soft at the same time, making for a nice foundation on which to build this delicious sandwich.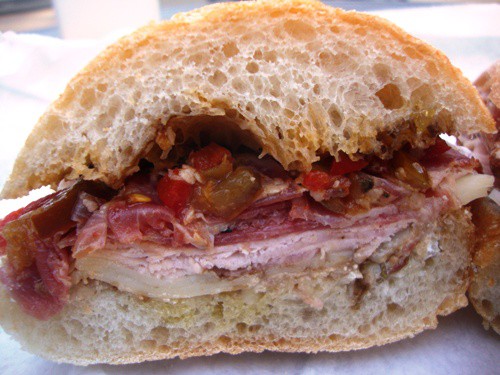 DiSO's Italian Sandwich Society can be located on twitter here or on our Mobile Munchies twitter feed. You can also check them out on facebook here or at their website.
With the length of the menu and the quality of the food, we expect to be regulars.