Ever had Cambodian Chicken Curry? Well, one of the better lunch deals around, whether from a food truck or a restaurant, is Cambodian Cuisine Torsu. Most of their lunches are $5.95, and you get a lot of bang for the buck.
During our most recent visit, we decided to get #11 from the menu, which is called Karry Tuek. It comes with either chicken or tofu and veggies in a Cambodian curry broth, over vermicelli noodles. Ours was basically Cambodian Chicken Curry.
With the temperature in the 80's, I also ordered Thai iced tea for $2. They also have Thai iced coffee for the same price.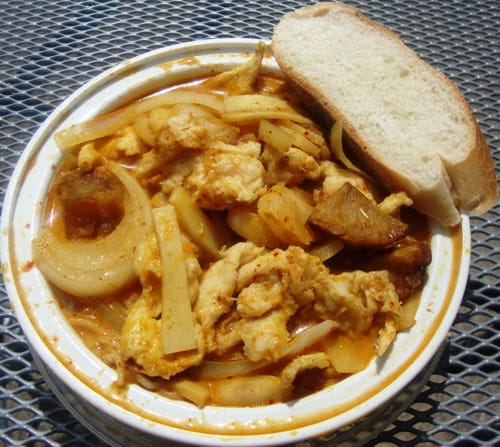 Cambodian cuisine is pretty similar to Thai, but I'm not enough of an expert to tell you the exact differences. I know they both have several types of curry dishes, usually listed on menus as red, green or yellow curry. This dish was a yellow curry.
On the menu they said the Cambodian Chicken Curry was served with a piece of bread, so I figured there would be broth to sop up with the bread. Yes there was.
Opening the container, I could see pieces of white meat chicken, bamboo shoots, water chestnuts, onions and pieces of potato in a yellow broth.
Dipping in the bread, the broth was very hot in temperature, and a little spicy, but not too much. The broth is made with coconut milk, lemongrass and galangal, which is similar to ginger.
Another thing I detected in the broth was the taste of fish sauce, which is often used in Asian cooking, even in non-seafood dishes. It gives the broth a depth of flavor you wouldn't get otherwise.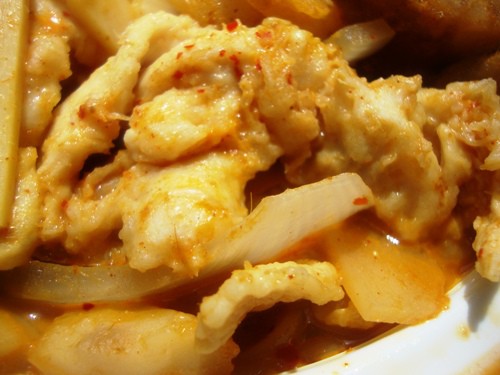 The Cambodian Chicken Curry was really enjoyable, especially picking it up with some onions or bamboo shoots. I also enjoyed the water chestnuts, which added some crunch, and the potatoes were a good vehicle for the sauce.
Underneath the chicken and veggies was a base of thin vermicelli noodles. The noodles were overcooked, but I still enjoyed lunch overall.
The yellow curry sauce/broth was really good, with the taste lingering in my mouth in the way back to the office. All the ingredients atop the noodles were good too. You have to wait 5-10 minutes for lunch after ordering, but that's because everything is cooked fresh. I wouldn't want it any other way.
I'm glad that I ordered Thai iced tea, because this dish retained it's heat (temperature-wise) for quite some time. Between that and a little spiciness, I needed the drink to cool down.
If you haven't had Thai iced tea before, it's kind of like Indian chai tea, but made with condensed milk. It's very sweet, and has that distinctive orange color. On a hot day or with hot food, it's definitely worth the $2.
Cambodian Cuisine Torsu is often around the Flatiron District for lunch and NYU for dinner, but check their Twitter here or our Mobile Munchies twitter feed to be sure. If you haven't had Cambodian food, but like Thai food, definitely give them a try. It's one of the best lunch deals around.