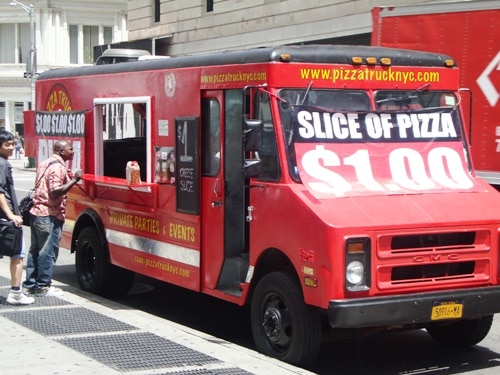 Many of the street vendors on twitter are expressing their concern and best wishes for the people of Japan, Hawaii, and anyone else affected by the earthquake and tsunami.  We would like to send our best wishes as well.
A little closer to home, the deluge has passed, and just about all the trucks are working today.  Big D's Grub is giving away free cupcakes with the purchase of a taco set or grinder.  It's also the last day for Bian Dang's $5 fried chicken or pork special, a great deal for lunch. If you can get out early, Mexicue has limited amounts of lamb barbacoa sliders, Taim Mobile has limited amounts of green olive falafel, and the Desi Food Truck is back down on 27th St & 5th Ave.
As always, check the Mobile Munchies twitter feed before heading out, in case anyone had to move at the last minute.
Mexicue
52nd & 6th, 11:30. We have an incredible lamb barbacoa slider today. Mexi-style bbq lamb, avocado crema, onion & cilantro. Limited supply!
KimchiTruck
Good Morning! We're in SOHO today. Varick & King St. (SW Corner). Open at 12. Your lunch awaits.
RickshawTruck
yo friday people! the clouds just lifted + so did our spirits! parked rock center: 50 bet 6+7; soho: hudson+houston; + central park: tavern