Tucked amidst the architectural features of the brownstones lining West 74th Street, is Leyla, a warm and inviting brasserie that radiates elegance. Upon entering, guests experience the front bar with natural wood tones, and lighting with bronze and gold hues. Next, an open kitchen with a ceramic oven overlooks a dining area with crystal glasses and backlit walls speckled with small mirrors, extending into another dining section of tables that are coupled with plush velvet chairs, adjacent to a wall displaying Turkish Ikat textiles. And lastly, a rear room, adorned with Turkish cookbooks and kilims. The entire space is pristine, with attention to design and detail that sets the tone for a truly fabulous culinary experience.
Leyla hostess, Ceren, was friendly and personable. After giving me and Joanne a welcoming tour, Ceren showed us to a cozy table, leaving us in the good hands of Mai. Mai was on right on point with her tasting suggestions. The sights, aromas, and tastes that Executive Chef Met Kaba created were memorable to say the least.
We began with a glass of Kocabağ Emir. Emir, the primary native white grape of Cappadocia, had hints of lemon and apple. It was crisp and refreshing-a nice way to begin our tasting. We paired the wine with Lahmacun, a round flatbread topped with mincemeat and a burst of spices including sumac. We ate it with a spritz of lemon, fresh parsley and pickled onion. Delectable!
Mai then suggested the Zucchini Rolls. The dish arrived, beautifully presented; strips of zucchini lightly grilled and stuffed with spiced pilaf, atop pesto sauce and garnished with beet microgreens. Each bite was mouth-watering, yet unique. Leyla manager, Murat Akinci, shared that the pilaf is made with tamarindo paste—ahhh, so that explained the sweet-sour finish on the palate! The entire flavor profile matched the aesthetics of the dish.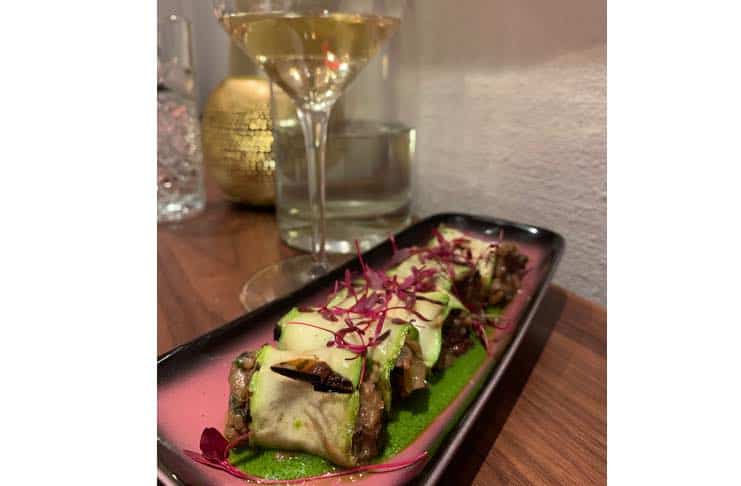 But, the Zucchini Rolls were not the only presentation stars. The Eggplant Caviar is sure to wow all your senses. The caviar, made with fire-roasted eggplant, charred onion, bell pepper and garlic, arrives in a sealed Mason jar alongside house-made toasted sourdough bread. When you unseal the jar top, a puff of smoke floats out! And, the overall rich earthiness of the caviar is as impressive as the creative detail.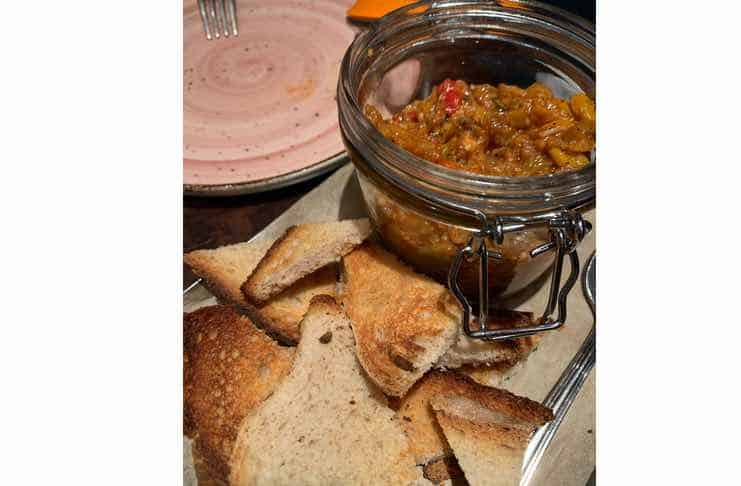 Next we sampled Karides Güveç a Turkish shrimp casserole made with red and yellow bell pepper, cherry tomato, and shiitake mushrooms. This güveç was made of cast iron and was nested in a monogrammed wooden board. Every spoonful was a savory fusion of ingredients. While we literally soaked up the flavors (I still had some bread!), a small stainless steel mesh basket lined with parchment made its way to our table –and were we happy it did. Inside were warm zucchini fritters, fried with fideo to bring a distinct crispiness and a wonderful balance to the cool, creamy accompanying yogurt sauce.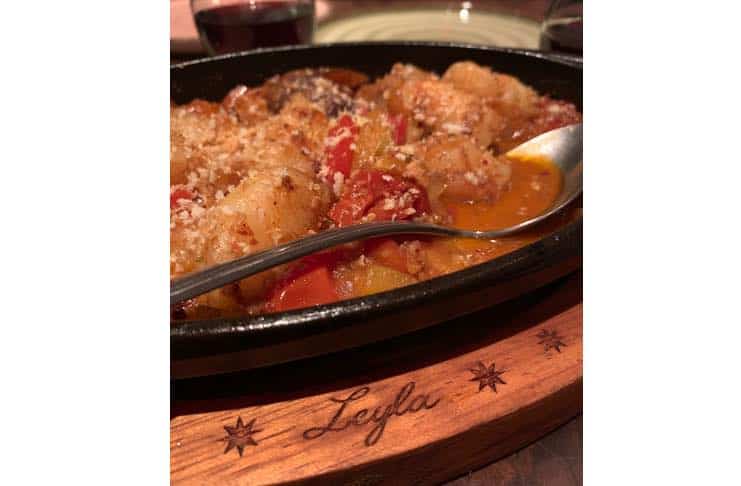 Despite having finished all the food (and in fairness, the wine too!) that came our way, our visit would not be complete without dessert. Did we save the best for last? Hmmm, quite possibly.
First, we tried the "Pistachio Mud Heaven." For this particular dessert I will let the picture do the talking—but I'll also warn you to be prepared for the sweet, shredded texture to melt in your mouth. As for the rest, I'll note that the inclusion of "heaven" in the name is the perfect hint for what's to come after the first bite.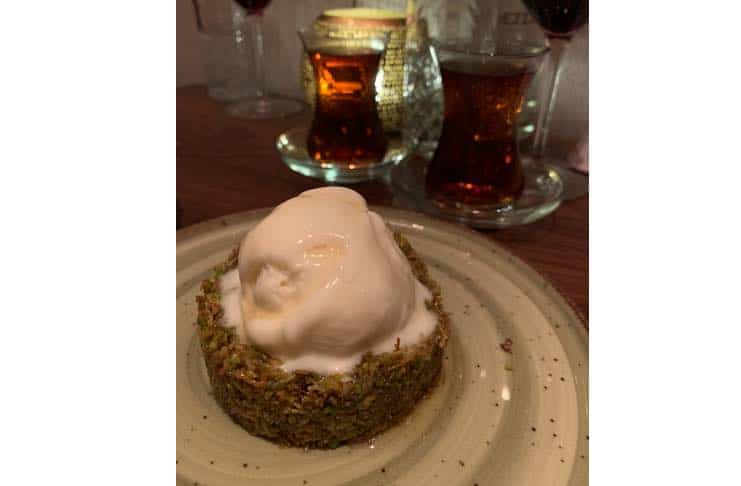 A few sips of Turksish tea and we were onto our final treat: Tahini flatbread made with toasted walnuts, sesame, and Turkish honey. Sticky nutty sweetness, and caramelized in spots, sitting above crisp bread that had billowy pockets of air. My notes for this were rather simple, "This is delicious. This is so, so delicious."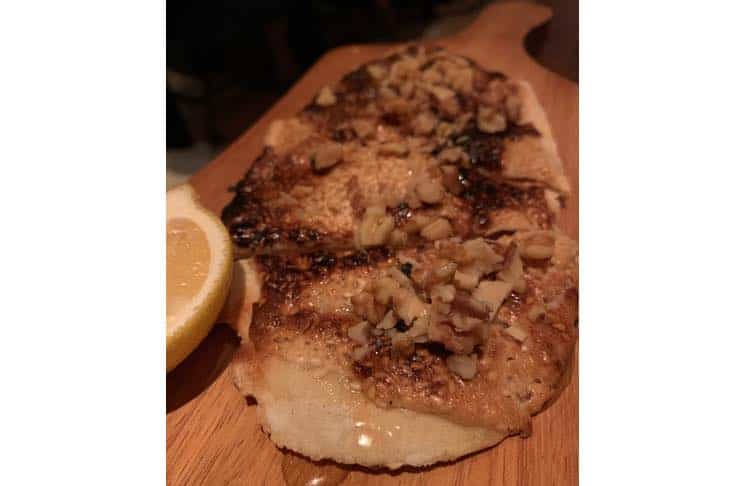 As we were leaving, Merut said with a smile, "Come back again." I absolutely will. Leyla is most definitely one of my favorite finds in recent memory. Teşekkür ederim Leyla.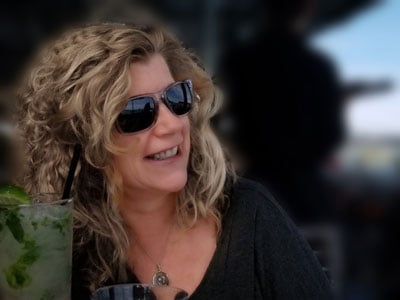 Kate E. O'Hara is a New York based freelance writer and photographer who loves all things food—especially the people who make it and market it. Her writing aims to capture the essence of the food experience; the stories that go well beyond a plate of ingredients. In addition to her love of food, Kate is also known to have a hankering for red wine and craft beer.