Heaven just got another food truck! First there was Hibachi Heaven. Now there's Deli Heaven.
Guess it's no surprise they are affiliated.
We recently found Deli Heaven on their 1st day out, on Broadway & 56th St. It's great when the 1st stop a new food truck makes is right by our office!
Deli Heaven has pastrami and corned beef sandwiches, similar to Katz & Dogz, a very good deli truck in its own right.
One thing Deli Heaven has that nobody else has is rotisserie chicken. They have a rotisserie on the truck, with 16 chickens roasting simultaneously. They sell ½ chicken plus 2 side dishes for $9, which we wanted to try.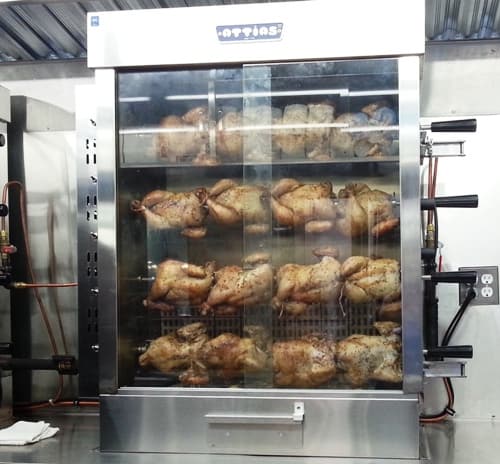 Unfortunately, glitches can occur on a truck's first day out, and the chicken wasn't going to be ready for another ½ hour after we arrived (at 1:30). Oh, the surprises new food trucks have their first few days out.
That meant either pastrami or corned beef (spelled "corn beef" on the wrap) for $11. Given that choice, we always go for pastrami.
Both the pastrami and corned beef sandwiches come with cole slaw and a pickle, plus your choice of mustard, mayo or Russian dressing. Mustard, of course.
The guy on the truck told us the meats are cooked and hand cut by them.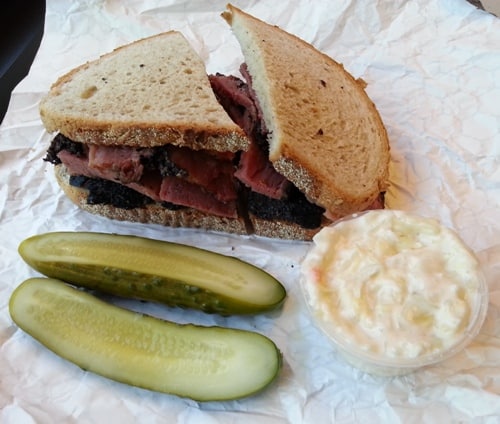 Opening up the wrapper, the pastrami was thick cut, not thinly sliced. The meat was quite juicy, not dry at all. There was a small layer of fat on the edge of the meat, between the peppered crust and the brined meat. Very tasty!
The crispy pickles were half-sours, our preferred deli pickle.
The cole slaw was your standard coffee shop cole slaw that comes in a small container. Nothing special.
We were disappointed the rotisserie chicken wasn't available, but we understand about 1st day issues. Don't worry, we'll be back to try it soon.
At $11, the pastrami sandwich was $1 more than Katz & Dogz. While the meat tasted good, the thickness of the pastrami was a little off-putting. With the size of each slice, it also pulled out of the bread too easily, making the eating messier than it should be.
They told us that Deli Heaven would be at 55th & Broadway on Tuesdays, but they weren't sure yet where they would be parking on other days. That's why they have a twitter account here, and why we have a Mobile Munchies twitter feed.
Next time, the rotisserie chicken better be ready!