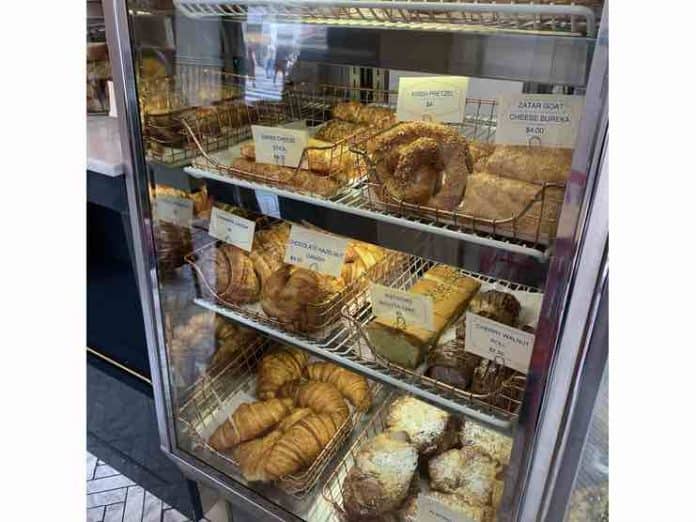 If phrases like "family-owned," "made from scratch," "sweet and savory" sound appealing to you, then plan your next meal at Kirsh Bakery & Kitchen on Manhattan's Upper West Side. Kirsh, an all-day eatery, is the innovation of Israeli Chef/Owner Dan Kirsh and his wife Anat. And what a way to spend all day!
Unfortunately, my schedule did not allow me to spend the day, but I did have the pleasure of dining there for a few hours in the early afternoon. I sat in the main area which has an open airy feel, with high tin-ceilings, rounded-back chairs, a bank of benches, subway tile walls and a funky neon sign. As I looked across at the tablebases, I noticed they were wrought iron and a familiar style –but what style? My waiter Mica provided the answer: vintage sewing tables!
Mica was friendly, engaging, and knowledgeable. With his suggestion, I begin with a Za'atar Goat Cheese Bureka. He informed me that all bread and pastries are freshly baked on-premise by Head Baker Ivan Jimenez.
One might think of pairing a danish with coffee or tea, but I opted for a glass of red wine (I bet you knew that was coming). I picked a 2013 Delas Freres Cotes du Rhone Saint-Esprit from Kirsh's selection of both bottled and glasses of wine. Kirsh also has draft and bottle beer as well as cider–specialty drinks too.
My first bite of the thin, flaky, buttery dough was met with the subtle warmth of tart goat cheese and a herbal blend of spices, topped with the nuttiness of sesame. Just like my mother, I love seeds and after my last bite I discreetly (let's hope it was) did the ol' finger lick, pressing onto the plate, scouring for any remaining seeds amongst the crumbs. Needless to say, I did not want to miss one morsel of this savory treat.
Next, I had the roasted cauliflower. It was pesto tossed, holding a deep, rich earthiness and sprinkled with pine nuts. It was served atop of tahini with a tasty addition of finely ground breadcrumbs. A forkful of the two together was heavenly.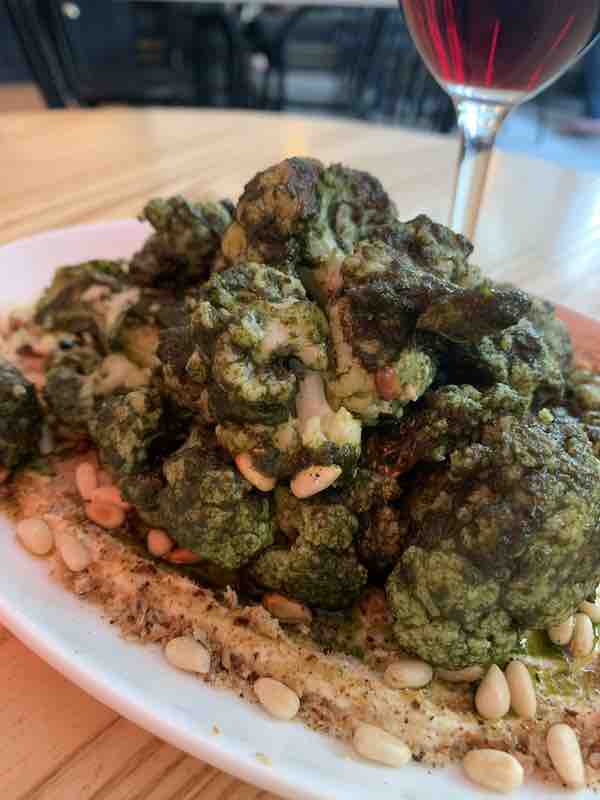 I then tried the French toast with lox and crème fraîche. The bread made with a batter of crème and eggs was firm yet fluffy. The lox (cured in house!) was tender and mild and was complimented by parsley, dill, and a touch of lemon zest on the edging. Now, how's that for flavor?! The crème fraîche left a smooth tang on the palate. As I sat there relishing every bite, I thought of how my sister Kelly would have loved to be trying this dish too—and most definitely she would have tried it with a bit of bubbly. So, in keeping with family tradition, I ordered a glass of Paul de Coste Blanc de Blancs Brut. Ahhh, the pairing was purely delightful. Being the kind sister that I am, I texted her a picture of what she was missing.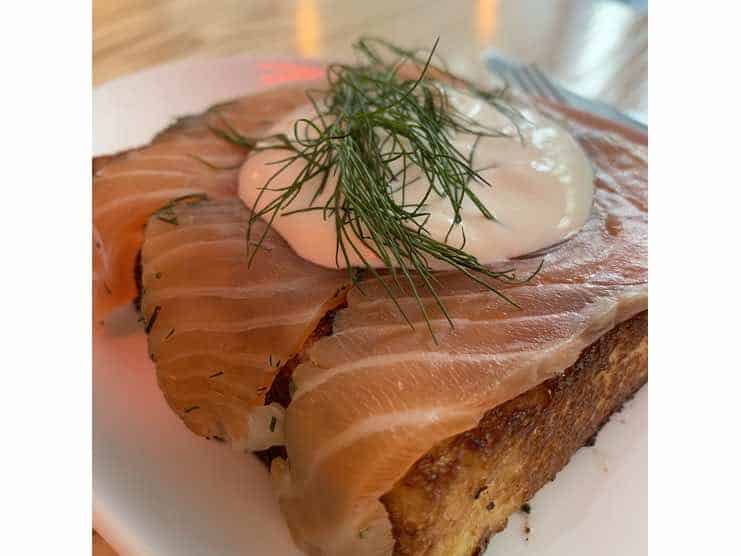 Almost completely overindulged, I said "yes" to trying the quiche (okay, I did say almost). Yikes! Who knew it was a deep -dish quiche, with a Swiss cheese crust? It came with garden greens, fresh and crisp; a perfect balance to the gigantic portion of the delectable baked treat.
Now I was completely overindulged. Kirsh manager, Todd, said it best: "We're like the Jewish grandmother—we don't want you to go home hungry."
Well, thank you Kirsh, I certainly did not.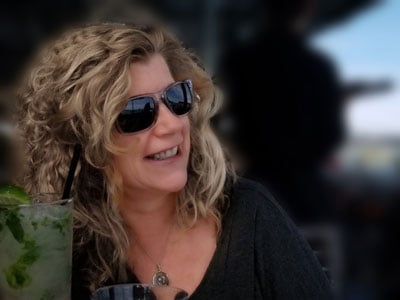 Kate E. O'Hara is a New York based freelance writer and photographer who loves all things food—especially the people who make it and market it. Her writing aims to capture the essence of the food experience; the stories that go well beyond a plate of ingredients. In addition to her love of food, Kate is also known to have a hankering for red wine and craft beer.