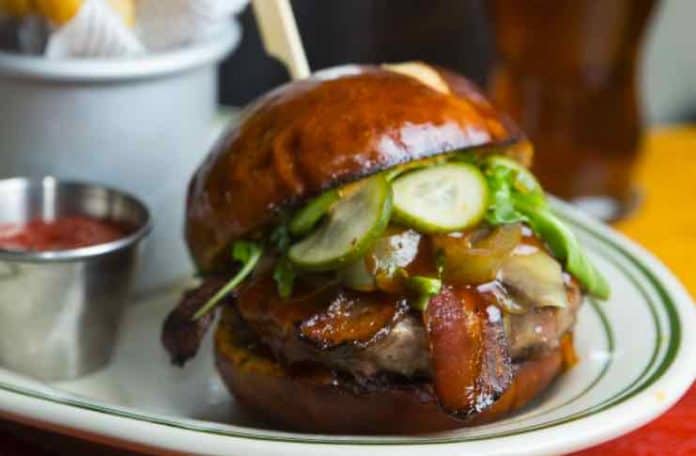 A Meaty Review by Kate E. O'Hara
With a cold New York City winter still going strong, consider warming up with some real wood pit barbecue, crafted rubs, and craft beer at JAX B-B-Q located in Hell's Kitchen. The owner is pitmaster Nick Accardi. And this ain't his first rodeo—he's Nick Accardi, veteran restaurateur and current owner of Tavola.
Accardi learned the art of "slow and low" wood pit cooking from champion pitmaster Mike Mills. And this slow and low cooking does not disappoint –and neither does the entire JAX BBQ experience.
When you enter you are greeted by a superb smoky smell and a welcoming atmosphere; 50's retro, a touch a Rockabilly, and a smidge of New Orleans. There are swivel chairs from Woolworths (how cool is that?), a vintage Mobile gasoline sign, wall art from tattoo artist Victoria Accardi, and subtle lighting above the tin siding and wood chair rail that runs the length of the dining room. Just the right ambiance for a barbeque and beer!
In anticipation of the food attached to the smoky scents, I opted for a Gangster Duck draft from Radiant Pig. Yum. The hoppy red ale set the stage for the delicacies that would follow—although you could certainly also set the stage with one of JAX BBQ margaritas. With the day's outdoor temperatures at the freezing point, I decided I will need to return when it's a bit balmier to pair my barbecue with their frozen citrus treat.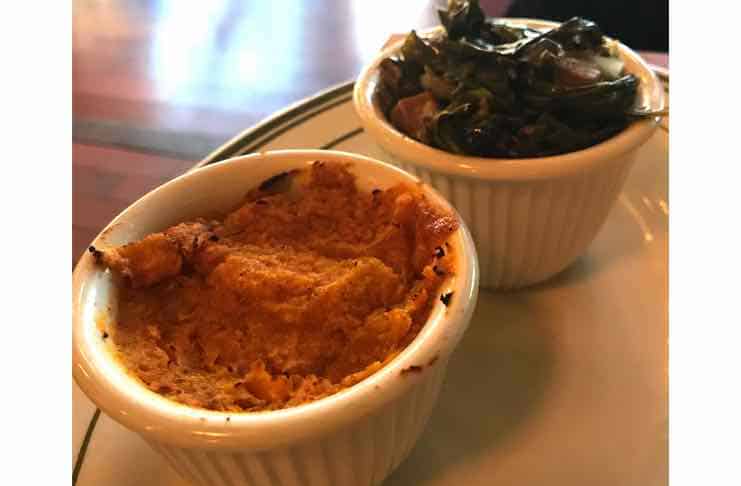 First up at lunch, ribs. I brought Dave with me, who dabbles in barbecue with a backyard charcoal smoker. He loves ribs and is always in search of "real good ones." JAX's ribs are smoked with white oak, cherry and birch woods. They are Memphis-style spare ribs with a St. Louis style cut, dry rubbed with 18 different spices, then smoked for 6 hours. They are then tossed lightly with the house-made sauce. The caramelization, the tenderness, and flavors are incredible. One bite by Dave and his reaction, "Oh that is soooo good. It's like filet mignon on a bone…I think if you swish it around your mouth for a bit it'd be gone."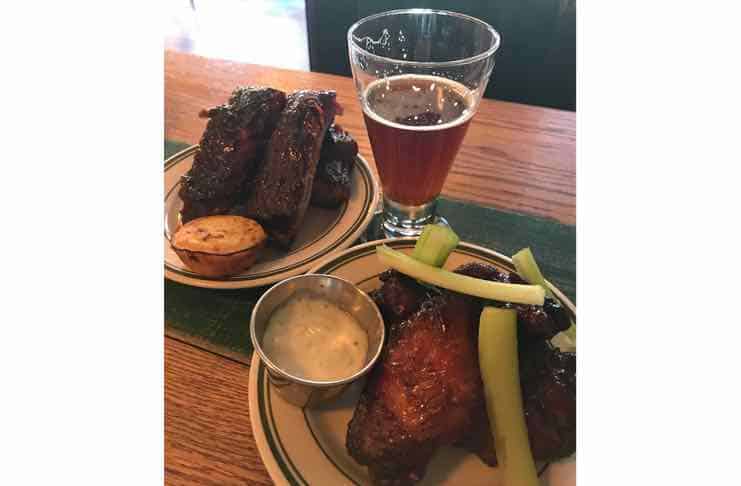 JAX's also dry rubs and smokes brisket for approximately 14 hours and pulled pork for about 12. All this smoking is happening on site in a kitchen wood pit on 9th Avenue. As they say, only in New York!
Next up, wings. The wings are marinated and smoked (of course!) and scrumptious. Similar to the ribs, they have a rich sweetness and tang. Most notable is the meatiness of them. Dave's take: "This tastes bigger that than it is." Of course, the wings have that smoky subtleness radiating through the meat. A must-have during your JAX B-B-Q visit.
The wings were accompanied by cornbread that was super moist and collards that were more al dente than I typically prefer but the flavor was fitting; cooked with smoked ham, ending with a touch of heat. And, that touch of heat made me thirsty. I kicked off the second half of our tasting with a Merman IPA from Coney Island Brewery. The malty bitterness of the paired well with the quintessential comfort food; Mac and Cheese.
JAX's Mac and Cheese is made with Fontina, parmesan, and aged cheddar. With the natural oils of the cheeses evident, the dish was baked into a creamy denseness; it could be a meal itself. Could be, but for us, it wasn't –there was still more to try. We proceeded to sample the catfish which was of mild taste with a thick, flakey texture, lightly seasoned with a cornmeal batter and fried, leaving a crisp crunch with each bite. The yams (perhaps orange sweet potatoes?) were prepared with brown sugar, cinnamon, butter, and all that good stuff, but their uniqueness came from a smidge of orange zest—a really nice touch.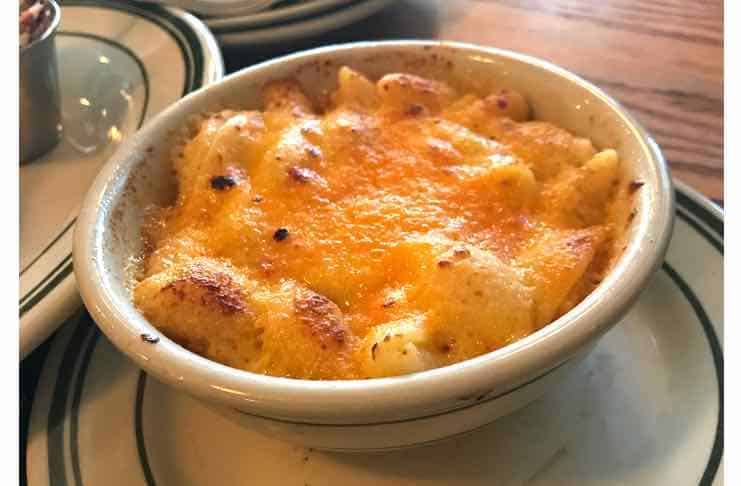 We also sampled red cabbage slaw made with mayo (I love mayo so that made me smile even more than I already was), French mustard, and a hint of fennel seed–what appetizing combination.
Last up was the burger, and I couldn't wait to hear Dave's take: "That burger is sick." And this is coming from a man that eats a burger plain with only ketchup. That's it. (Well, on occasion he'll throw in some processed American unhealthiness). But this burger was far from plain.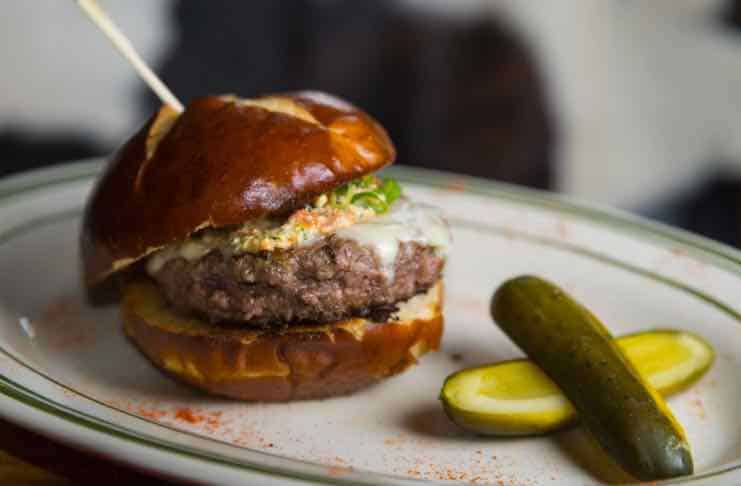 This burger was the B-B-Q Slab Bacon Burger with cheddar, caramelized onion, homemade pickles, bacon, and that touch of heat in the sauce. All I heard as he devoured his last bite was, "The entire thing melds together." I couldn't agree more. In fact, the entire JAX BBQ experience melds: good atmosphere, good beer, and even better barbecue.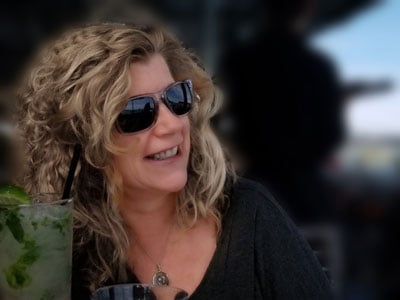 Kate E. O'Hara is a New York based freelance writer and photographer who loves all things food—especially the people who make it and market it. Her writing aims to capture the essence of the food experience; the stories that go well beyond a plate of ingredients. In addition to her love of food, Kate is also known to have a hankering for red wine and craft beer.