By Ron Rossi
Walking up the front door of El Artesano restaurant and stepping inside, you have come back to Havana, Cuba. True, you're in Union City, New Jersey, but when you enter this location, you definitely enter another place and time. It's like traveling to a place and experiencing it, without really being there.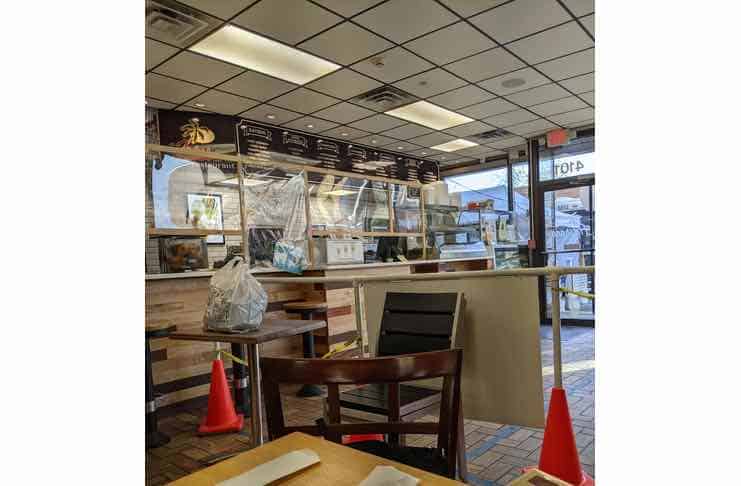 The food. The people. The variety. The atmosphere. The visitors. We have all decided to meet people and have a meal that would remind us of being in Cuba, having the real thing. And here we are.
This is El Artesano. A restaurant that is as close to Cuba as you can imagine.
Located at 4101 Bergenline Avenue in Union City, New Jersey you are as close as you can get without leaving the country. Everything here is authentic.
El Artesano Restaurant Offers an Extensive Variety to Choose From
El Artesano is working the right way in the world we now live in. You can enter at the counter and take the meal out with you. Many people there were bringing the items home or going outside to sit at a table and enjoy the meal.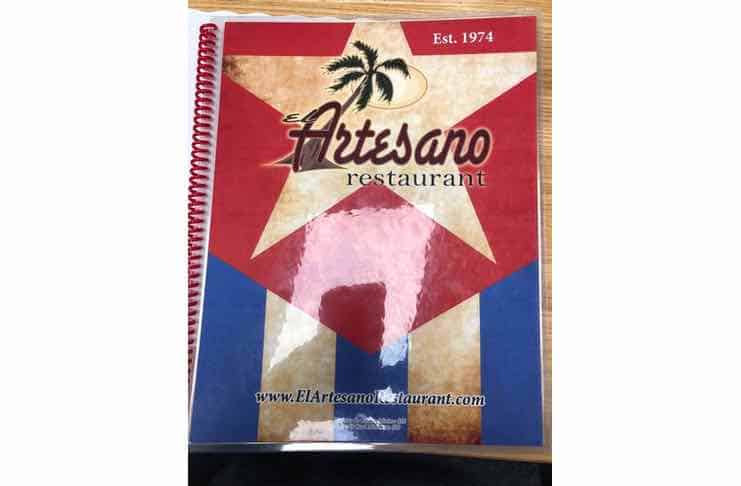 Or, like several groups, we ask to sit at a table inside and order our meal. The same is available no matter where you go or what you order.
Look at the menu and decide. There are appetizers, soups, sandwiches, and entrees. There are special meals depending on the day you are there. There is also a selection of side dishes to choose from along with the meal you select.
It's all there. It does not matter. And when you are finished with your meal there are the desserts. This alone is worth the trip. Especially if you select a special coffee to go with it.
The variety is extensive. The choice is yours. Have a little to start and keep on picking something new to eat. It is here for you. Just like it would be if you had the ability to travel in Cuba and enjoy a meal while sitting out there. 
Starting with Empanadas 
Where can you begin? For us, we started with the appetizers. And it was a classic. First up was the Tamal de Maiz. It's a corn tamale stuffed with pork and cooked just the right way. It is moist, fresh, and not over-spiced. You can enjoy this as a whole meal or share it with someone else to start your meals. It's created in such a way to enjoy each bite you take.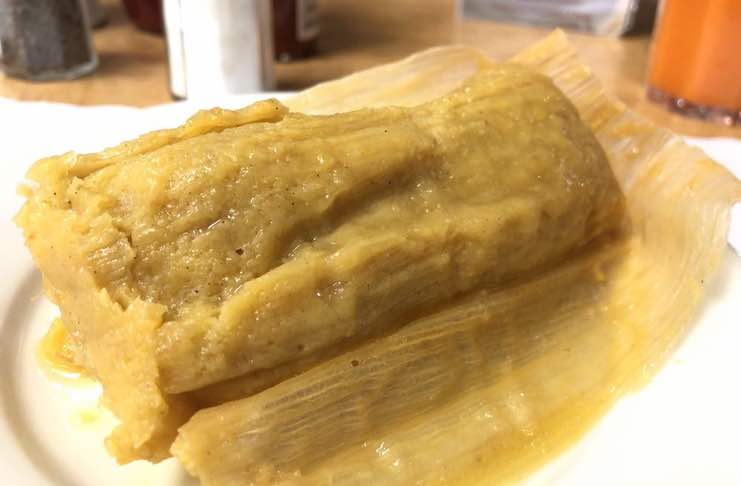 We also started with Empanadas. This is a classic even here. We ordered the Carne Empanadas, which are beef stuffed and fresh. There is just enough flavor with each bite you take at the time. You can eat it as a sandwich, or slice it in two and share the bite with each other.
Add a little spice sauce and you have an extra flavor of spice that goes well with it. This is also moist and filled with the beef or any other stuffing you prefer such as chicken, pork, cheese, or a combination of other items to go inside it. The Empanada is also grilled to just the right consistency that you will enjoy.
Next: Chuletas de Cerdo a la Plancha
Next on the list, we had different meals to share. In this case, you have a large selection to choose from. We decided to go traditional since this is the way you would eat if you went home or to a friend's house. It is the way to eat. Nothing overcooked, over-spiced, or over-flavored. This is the way we would eat every day.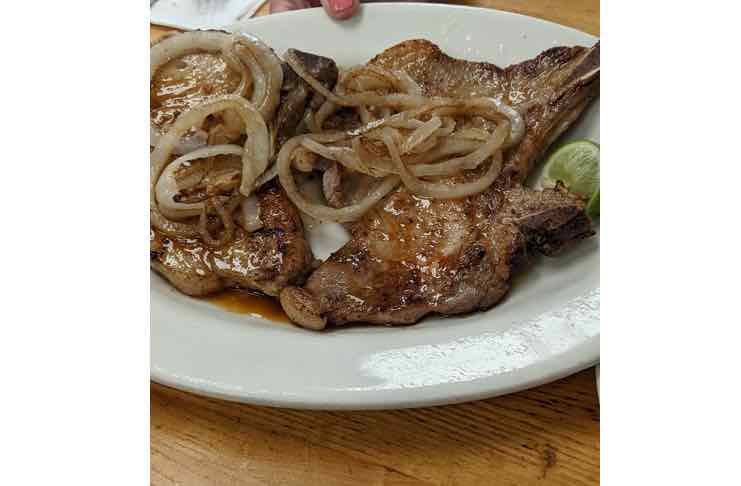 We started with Chuletas de Cerdo a la Plancha. It's a grilled order of two pork chops with onions. It is simple and flavored. There is no spice. It is on the side. It has just the right amount of flavor you need to enjoy. You also have a selection of side dishes to choose from. We ordered  Arroz Moro, which is dark rice mixed with black beans. 
This was also combined with a side of Tostones, the green plantains which can be a sweet meal all to themselves. This combination was filled and large. There was a meal you can enjoy with each taste you take. It is sweet, it is spicy, it is moist and fresh. You have a great deal to choose from. But there is more.
Cuban Style Chinese Fried Rice
Next, we had Arroz Frito Chino, which is normally called Cuban Style Chinese Fried Rice. And it is to start. But it is also filled with shrimp and chicken and pork. There is also pepper and onions and some extra spice if that is what you are looking for. It is all here as you take a bite. It too is moist and prepared in a way that makes this a large meal you can enjoy by itself.
Finally, we did go very traditional with an order of Mofongo con Masitas de Cerdo. This is a unique meal unto itself. It's a combination of mashed green plantains mixed with crispy pork rinds and served with fixed pork chunks and a bowl of chicken broth and noodles.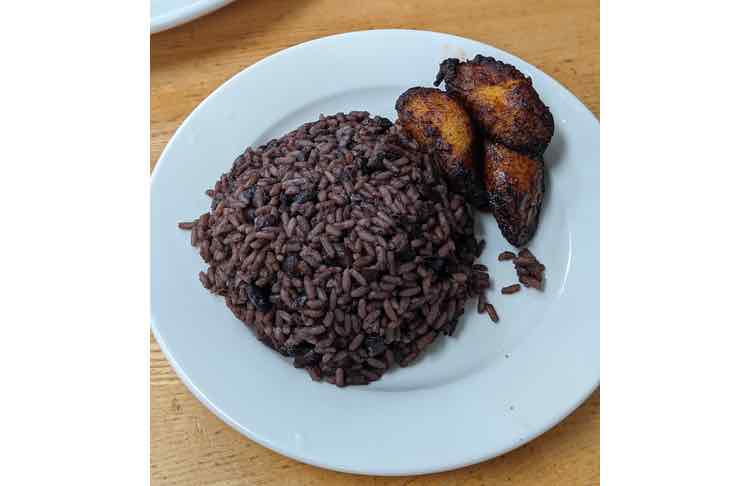 It is one healthy meal you can have for lunch or dinner. There is everything here. Spice. Onions. Sweetness. Herbs. Flavors. It is crispy, it is crunchy, it is something to cut into slices or eat with a spoon. And having a bowl of chicken soup along with it is ideal. This is why it is classic.
These were meals you can enjoy by yourself, or share with each other to taste and try. It was fresh and flavorful. Best of all it did remind us of when we were in Cuba and ate at local restaurants like this. That is what we had missed, but now we had it here.
Desserts That Remind You of Home. Again.
When it comes to dessert there is no place to begin. So that is why we started with what we liked which was more traditional. First was an order of Flan. This is what we have tried at other locations, but to have it here in El Artesano restaurant was to have it as it should be. It's freshly made. Slightly warm but cool. It is sweet but not too sweet as if it was filled with sugar. There is also a coating of Carmel sauce on top. Take a bite and enjoy what you have here. This is worth the trip.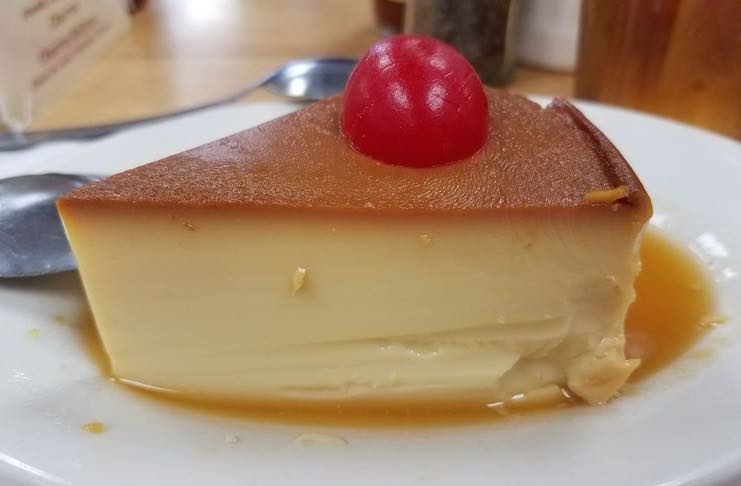 Next up was a classic. The Tres Leches. It's a vanilla cake that is topped with a cream topping. And everything is made with three different types of milk custard. It is fresh, moist, not too sweet, room temperature, and with a portion that is not too little or too much. It is something that is perfect after a meal and to give you a taste you can have all the time.
And with that, we had the final choice. The Churros. This is a simple type of long donut we have all seen. But to come here they are made fresh all the time. They come out of the oven with a little sugar on top of it. Overall it is about 10 inches long and half an inch around. But the portion you take is just sweet enough to make you want another bite. This is what dessert is all about.
Naturally, if you are eating here there are also great cups of coffee. This is fresh. Yet instead of coffee, you can have a Cafe con Leche which is espresso with steamed milk. Or have an adventure and try a special version of Chocolate Caliente. This is a different version of hot chocolate that you might want every day. The choice is yours.
A Great Team, and Good Prices.
When eating at El Artesano restaurant you have a variety of items to choose from. The team here will help you when you want to order. They can introduce you to something special, and let you know when items are already gone for the day because they have been ordered before. They do help you here.
Best of all is the cost. It is ideal. You can eat a large meal for a most reasonable price. In fact, when you order your meal whatever you don't complete you can bring it home with you. This is perfect. A good meal. A good price. A good reason to be back.
El Artesano has been in this location for many years since 1974. Most importantly, uses family-style recipes and makes it feel like you are going home for the meal when you arrive. It is worth the trip and with the effort to be there. And, for some of us, it is like being back to a meal we enjoyed when we were over in Havana.
Gracias!
Location:
El Artesano, 4101 Bergenline Avenue, Union City, New Jersey 07087
Phone: 201-867-7341, Web: www.elartesanorestaurant.com
Want to read more of our latest posts? Check out our list of the 24 best coffee shops in Manhattan.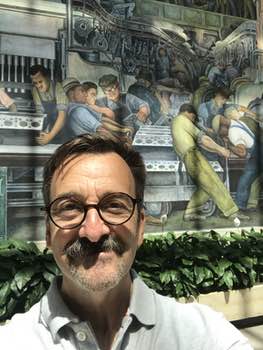 "The Jaded Traveler". Ron Rossi was born and raised in New York. A globalist at heart, Ron is a marketing director by trade, and has lived and worked around the world including Asia, Europe, Africa, and South America. Food is one of the best ways to learn about a country, a people and a culture. So, Ron is always looking for the best in mid-range to budget and street food. He is always on the hunt for a good meal anyone can afford. It is the food of the average citizen that excites him. And with having visited close to 100 countries on 6 continents so far, there have been some pretty good meals.