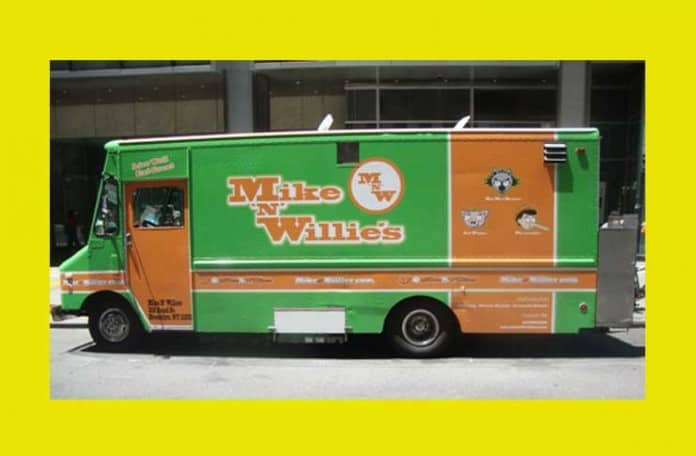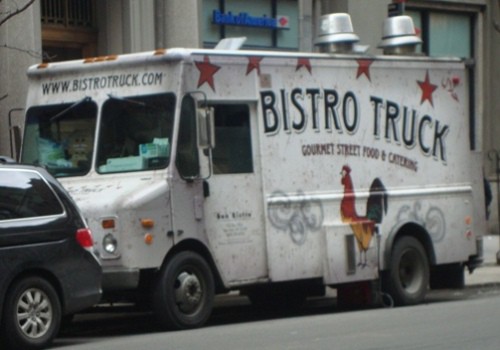 It's a pretty hot one out there, but several food trucks let you pre-order lunch and pick it up without a wait.  That would be our recommendation for today.
As always, check the pink Mobile Munchies twitter feed on our homepage before heading out in case any of the food trucks had to move at the last minute.  Frites 'N' Meats was already dislocated by a movie shoot today.
BistroTruck – Special: Steak tacos $7 Soup of day: watermelon mint Dessert: lemon pudding;
fritesnmeats – Sorry FiDi, no can do today. Movie shoot's kicking us out. Apologies 4 location changes. Today, FOR SURE, were gonna be @ our old dinner spot in Tribeca, Greenwich & Duane, in front of Food Emporium. Avoid the heat, give us a shout, swing by, pick it up, & head back to A/C-land. 917.292.9226
waffletruck – For die-hard wafelers (and lovers of great ice cream cones): it's Hanover Square day today till 5pm. Free dinges for waving a fan at us.
schnitzeltruck – Morning Park ave b/w 26th & 27th? Hot again huh. Cool down w/ schnitz and crisp sides. 11:30. No preorder min. 347-772-7341. C u soon. Veal!
EddiesPizzaNY – Today (weds 7/7) we will be on 48th and 6th until 3pm them 30th and 3rd from 4 to 9pm. Come get a pizza skins bar pie!
StreetSweets – Good morning, Street Sweets is on 52nd St & Lexington Ave from 8a til 4:30p, how about a make ur own gelato sandwich with our cookies, yum!
2 new tweets.
CalexicoCart – Calexico is open on Prince & Wooster. The special today is chili verde pork. Sorry, Broome St remains closed. Enjoy!
JiannettosPizza – Ready for Lunch @ 11:30…call ahead
LCBBurgerTruck – The La Cense Beef Burger Truck is parked at 75 Wall Street today. See you at lunchtime!
CupcakeStop – Truck on 50th bet 6 &7, Truck on the Seaport (making local deliveries call 917.385.7081, &the shoppe inside the Limelight 6th & 20th, 1st fl. Red Velv,Funfetti,Nutella,Oreo,Maple Walnut & White Choc Raisin Cranberry Baked Oatmeal,Cappuccino,Van Van,Almond Amore & Glazed Lemon Poppy.
1 new tweet.
biggayicecream – Caught up on some businessy things this morning. Will be taking things slowly today- as should you- but yes, I'll be out in the truck.
Hoboken/Jersey City
TheKrave – 7/7 – We're back – 12:00-2:00, Hudson & Harborside Pl. 5:30-9:30, Columbus and Marin Blvd http://tumblr.com/xl1cwxgg1
laspicetruck – hudson & york 11:45-2:00 SW and burritos from around the world 3 new desserts today! C u soon