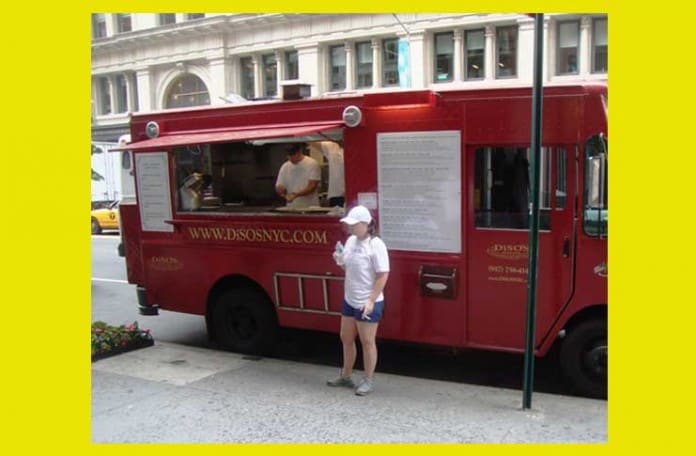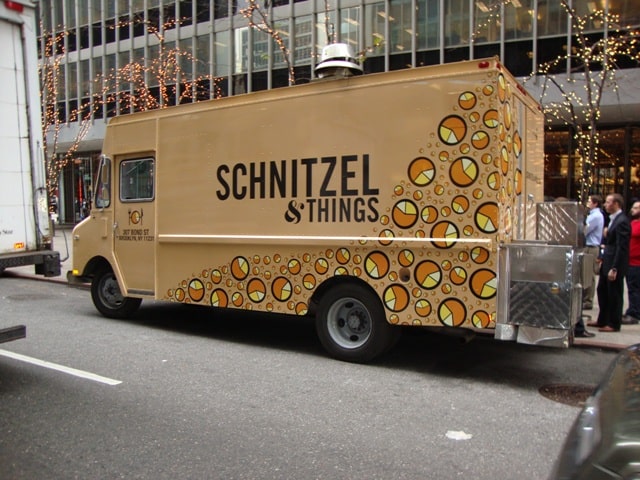 Yes, it's another gorgeous day outside today.  Perfect for enjoying some great street food from the vendors on the right and the trucks below.  Unfortunately, the Cinnamon Snail was run into by a car and will be off the road for a little while (sorry Adam) and Calexico is having "technical difficulties" – but the Schnitz guys have veal today and Bistro Truck has their fish tacos.
As always, check the pink Mobile Munchies twitter feed on our homepage before heading out, as the food trucks sometimes have to move on a moment's notice because of police activity, film shoots, or any number of other reasons. QBA Truck is still looking for parking.
Today's locations are after the jump.
1 new tweet. schnitzeltruck -48th & 6th, you ready for EXTREME SCHNITZIFICATION? includes veal:) Will be there at 11:30. Bring your game face cuz it's on!! C u soon 🙂
waffletruck – Happy Thursday! We're on 46 btwn 5 & 6 til 4:30 in the pm. Do a passable Canadian accent for 1 free dinges today…ay
fritesnmeats – Park Ave b/w 26 & 27 today. Lots of super tasties! El Cubano! Angus Skirt Steak Sandwich! Mixed Berries w/Vanilla Custard & Whipped Cream! Taking preorders. 917.292.9226
StreetSweets – Street Sweets is on Hudson St btw King & W. Houston
3 new tweets.
nyccravings – 53rd btw park and lexington! Ready by 11!
qbacubankitchen – Hola! ' looking for new spot today. Can't park on 48th street & 6th ave. Stay tuned for new loc'n!
BistroTruck – Special of the day: Mix grill( lamb, chicken, merguez & steak over basmati rice and salad). Fish Tacos all day long ….Soup: bissarra (split pea)…Dessert: rasberry panna cotta
2 new tweets.
RickshawTruck – Thursday July 1! Fireworks are soon to come, have some dumplings, yum yum yum! Hudson + King and also at Hanover Square 11a-3p
EddiesPizzaNY – Happy thursday! We r on 52nd and park until 3pm and then 14th between 3rd and 4th until 9pm. Last day for a buffalo chicken bar pie!
GOBurger – Go burger right here again at the seaport not under the FdR but across the street by the market. Our little special for today, our very own vege burger and BLT burger
CupcakeStop – Original truck on 5th bet 22nd and 23rd, New truck on Madison & 99th and shoppe inside the Limelight (6th & 20th, 1st fl). Red Velvet, Nutella,Oreo,Choc,Coconut Lime,Cinnamon Almond,Choc Caramel Pretzel,Choc Strawberry Cream Cheese,Pineapple & Vanilla Raspberry!
LCBBurgerTruck
– The La Cense Beef Burger Truck is located at 111 Wall Street today. Come on down for lunch amd bring a friend!
BenJerrysTruck – Happy Thursday NYC! We're hitting the streets today bringing ice cream to places YOU (yes, YOU) suggested. Big surprises coming your way!
2 new tweets.
CalexicoCart – Sorry guys, Calexico is experiencing some technical difficulties. So both carts are closed today. See you all tomorrow.
Hoboken/Jersey City
VeganLunchTruck – I got nailed this morning by someone who wasn't looking where they were going. Truck is going to be off the… http://fb.me/Ck7D3MjR. Free vegan pastries at 150 chestnut St in red bank (my home) all morning! Call 201-675-3755 if you want some. They are so fresh!