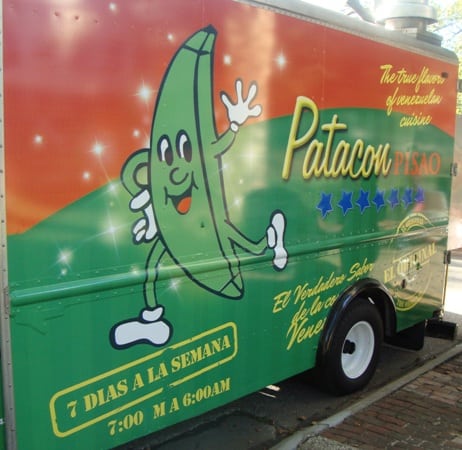 It's a cold one out there today, but it's easy to warm up with some great New York Street Food.  Most of the trucks and vendors are out today, so give them your business – but call ahead and preorder if you can.
schnitznthings
Morning everyone:) you guys missed us on Park ave and 26th st? We've missed u as well:) warm up ur lunch hour with schnitzification! 11:30-2
SweeteryNYC
Midtowner's Sweetery is back, finally! No snow, no rain, just deliciousness from that big blue truck, 52nd st & Lexington Ave, all darn day! Sweetery will have knock out Valentine's Day cookies & cupcakes starting today, they are amazingly great, and don't look half bad too.
CupcakeStop
CupcakeStop Truck on 58th and 8th. Also visit us at 70 Greenwich and find the New Banana Cream! http://plixi.com/p/75945875
TaimMobile
Good morning NY! Today we r on 51st btw 6&7 under the atrium! Delicious moroccan vegetables soup to fight the cold!!! C u!
UncleGussys
Were going to tuff it out today serving up some fine Greek product on 51 st and park;)
KorillaBBQ
Good morning FiDi! Lunch is being served at Front & Pine st. from 11:30-2:30. See you there!
PapaPerrone 55th Btwn Park& Mad. We have calzones w/cheese,baked Ziti,chik parm,meatball parm,riceballs we have the portobella riceball & pizza. Call your order in 917.880.1432. 11:30 to 2:30
Comme Ci, Comme Ça
is on 56th St @ Lex today! Soupe du jour: Lentil Soup $3. Place your order over the phone and pick it up! Tel. 347 935 9807
waffletruck
Wafel Wednesday is here! Le Truck is downtown on Hanover St btwn Water & Pearl until 4:27. CCCCArts! Keep warm next to our wafel carts. Goesting is on Greenwich & Murray. Vedette is at Scholars Gate (60th & 5th). Both until 4:65! This weeks wafel specials are brought to you by the letter C. Try these: Corn Cheddar Chili Wafel & a Churro Wafel. Celicious! Order like Hulk Hogan for 1 free Dinges!
fritesnmeats
Lunch today @ Hudson b/t charlton & king. burger of the week THE PLOUGHMAN. Come get some killa beef soup & home made brownies with walnuts 🙂 preorder 9172929226
RickshawTruck
Freezing Humpday! We are steaming it up at Rock Ctr: 50+6, Soho: HUdson + King and get excited: Starrett Lehigh! 26+11av Come show us love!
cupcakecrewnyc
Brrrr.Good morning Brooklyn today we are parked downtown on Court st. & Atlantic Ave with 7 flavors.Come on by!
LCBBurgerTruck
The LCB Burger Truck is located @ 111 Wall Street today. Come on down for a warm & delicious 100% all natural grass bed burger or sandwich!