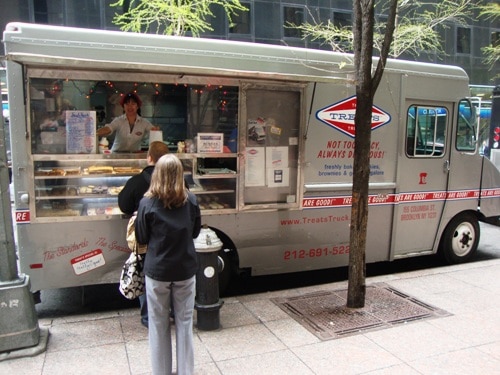 It's gonna be a hot one today…but not as hot as tomorrow, when we will be down at Old Slip & Water St filming at Bistro Truck for Eat St.
Lots of options out there for great New York Street Food, but the police have been actively chasing food trucks away from their spots in certain areas, so check the Mobile Munchies twitter feed before heading out, in case anyone had to move at the last minute.
TribecaTaco Out in SoHo on Broadway between Spring and Prince
CrispOnWheels We're gonna be on 49th b/w 6th and 7th today. We'll let you know when we arrive.
schnitznthings Morning everyone! Truck will be on 46th between 5th & 6th from 11:30-2:00. Store is open from 11:30-8:00. Get ur Tuesday Schnitz on!:)
CupcakeStop Good Morning Cupcakestoppers..Truck 1 is parked at 5th ave and 23rd street. OK CupcakeStoppers..Truck 2 is located at 6th ave and 25th street. COME BY AND SAY HELLO. Todays Flavors RV.funfetti.Choc pb.lemon:) poppy. Key lime. Choc mint. Banana strawberry. Starry night
cupcakecrewnyc CupcakeCrew Truck setting up at Hanover Sq. Between Water/Pearl St..w/6 fabulous flavors.Come taste the difference☺Todays menu:Red vel,Rainbow 7 Layer,Choc Raz,Bklyn Blackout,Van Caramel,Petit Four,Vanilla Choc,Strawberry choc chip.
KorillaBBQ For now truck 2.0 and 3.0 headed to varick and vandam and 25th & Park. See you all soon!
thejalapenonyc Hello everybody we are on wall st btw water st & south breakfast till 11 am and Lunch till 4 spread the voice