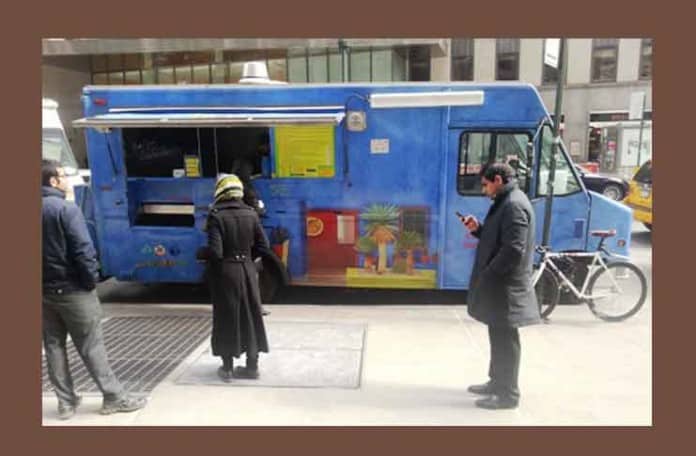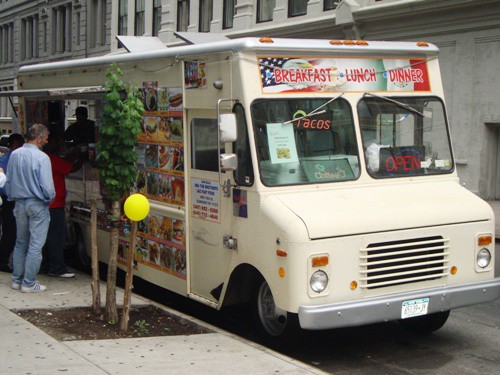 Another beautiful day, another dust-up on the street.  Eddie's Pizza couldn't park today at their usual spot of 52nd & Park and ended up parking on Papa Perrone's long-time block (55th bet Park & Madison).  Not cool!  Gotta respect the other trucks' spots.  Newcomers should be even more sensitive to the other vendors.  Eddie's tried to make nice, but this will likely cut into Papa's business today.
Parking is crazy today, with Obama speaking at the UN.  The Schnitzel Truck ended up heading downtown to get away from it all.
Make sure to check the pink Mobile Munchies twitter feed on our homepage for the latest food truck locations.
PapaPerrone – This is why the streets are all screwed up. You have eddies pizza parking on 55th and they have no respect for Papa Perrone's.
EddiesPizzaNY – Sorry 52nd and Park. No parking due to UN restrictions. We will be on 55th btwn Park and Mad until 3pm. Today's Special is Buffalo Chicken Pizza. We also have Sundried Tomatoes and anchovies on board! We want to thank @papaperrone for letting us park near him today. If you get a chance, check out their pizza, heros and rice balls. very yum
nyccravings – UN meet = major traffic = no parking. 53rd btw Park & Lex. Hope the cops wouldn't give us shit about parking.
schnitzeltruck – 52nd & 6th is closed. We're going to water and broad once again. Special $1 off on sandwiches and platters! C u @ 11:30. Sry midtown
Mexicue – 23rd St & Park Ave today…. come get the goodness at 11:15!
StreetSweets – Hudson St, (btw King &W.Houston St) Street Sweets is here for you! At 3:30 MTV/ Spike TV prepare to be spoiled!
CupcakeStop – CupcakeStop Trucks on 99th and Madison and 5th and 23rd and CupcakeStop on Gilt.com today! (Home section). Another Free Cupcake Password Today on the Facebook Fan Page Wall for Cupcakestop.com !
fritesnmeats – Howdy Folks! Another beautiful Fall day! Were on Park Ave b/w 26th & 27th St. Get you some beautiful Burger Love to match the day! Taking preorders. Avoid the line. 917.292.9226
joyridetruck – We are at 52nd & Lex until 5:30pm today! Come by + try a new topping: organic pomegranate. Let us know what you think.
waffletruck – Happy Thursday Midtowners! We're on 46 btwn 5 & 6 til 4:30pm. Do your best Barack Obama impression for 1 free dinges today.
1 new tweet.
RickshawTruck – FiDi HANOVER SQ! Get excited! We're there fr.11a-3p. Sorry Hudson + Houston, we're going to miss you today. We are booked for a private gig!
3 new tweets.
CalexicoCart – The special today on Wooster & Prince is shredded chicken with bacon in a roasted chile sauce. Enjoy!And another beautiful day at the Brooklyn Bridge Park!
ETRAVAGANZA – Lunch ready amigooooooos!!!
miss_softee – off to pickup the Oreo speedwagon for the day. gonna be serving some 'fried' ice cream with honey and cornflakes!! keep suggestions coming!!
cakeandshake – We all deserve a treat today! Happy Thursday. At WSP and the Met all day!
Hoboken/Jersey City
TheKrave – Schedule – Hudson and Harborside. 12:00-2:00 Columbus and Marin. 5:30-9:30 http://tumblr.com/xl1jeah9t