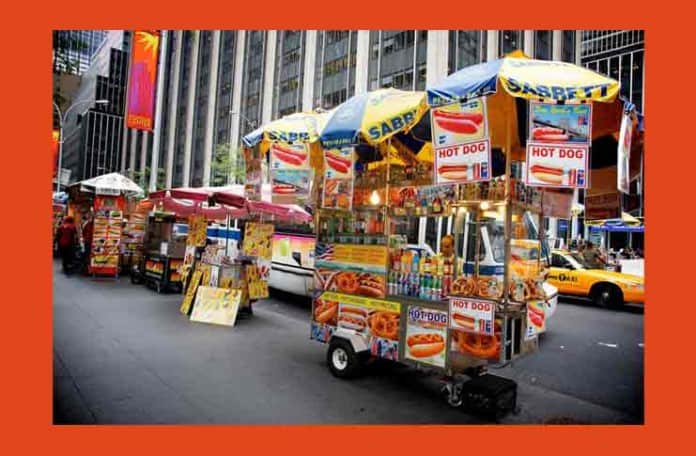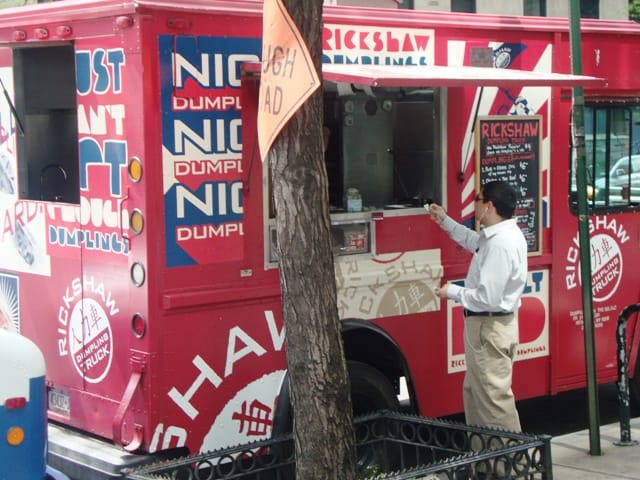 Last month, we told you about the new pilot program in Seattle that could serve as a possible blueprint for peaceful coexistence between restaurants and food trucks.
Now Calgary has created a food truck pilot program as well.  The city, it's Business Revitalization Zones, and the food trucks all worked together to craft a solution could serve as a model for New York City.
From the Calgary Herald:
The conditions and guidelines established for the food truck pilot program include some specific prohibitions on where the city's eight new mobile cuisine stands can and can't operate.  The entire Uptown 17th Avenue Business Revitalization Zone is a no roll zone, as is the Kensington BRZ, Stephen Avenue Walk and 4th Street in Mission between Elbow Drive and 17th Avenue S.W.  Restrictions are in place in Inglewood, Victoria Park, Marda Loop and along International Avenue.  They were negotiated in co-operation between the truck operators, the BRZs and the city.Several BRZs asked for the restrictions as a protective measure against added competition for established restaurants and fast food outlets.  However, many owners of local eateries have embraced the food truck movement.
The owners of the new Ox and Angela restaurant opening in the 500 block of 17th Avenue S.W. invited four food trucks to set up in the parking lot behind the building as part of a grand opening party Monday night.  This is allowed under the pilot project guidelines because it was on private property and the trucks were invited by the owners.
"We thought it would be fun for our customers to try out their food too," said Jayme MacFayden, part owner of Ox and Angela as well as UNA Pizza on 17th Avenue.  "It really added something, you could walk out the back door and all the food trucks were there. It made you feel like you were in a different city – it's something we haven't seen in the city before.  "All our customers commented on what a cool idea it was too."
"The more people that come down to the area, the better it is for everybody," said MacFayden. "The food trucks are garnering a lot of attention right now and all it's going to do is bring more people down to 17th Avenue, and that's what we really need right now."Jennifer Rempel, executive director of the 4th Street BRZ, said restrictions were put in place to protect restaurant owners who were nervous about what the introduction of the food trucks might mean to their businesses.  She noted that they're not permitted to set up within 25 metres on either side of an eatery or concession stand without written permission.  "It's not that we don't support food trucks," said Rempel. "For now, it's playing it a little bit safe so you don't just turn on the faucet full force.  "We're slowly easing into it. Sometimes that's a great approach, to not cause too much disturbance and make sure it's a successful pilot. And maybe we can gradually embrace all the BRZ areas as well."
That's a far cry from New York City where, according to an article in Midtown Lunch, the East Midtown Partnership has increased their efforts to ensure that food trucks comply with the law against vending from metered parking spaces. While they can't enforce the law, they can certainly get the attention of those who do.
As we've said many times, the regulations in New York City need to be changed, and that can only happen when the city, the Business Improvement Districts/restaurant owners and NYC Food Truck Association work together to craft a solution that works for everyone.  The police have more important things to do than chase food trucks away from parking meters.