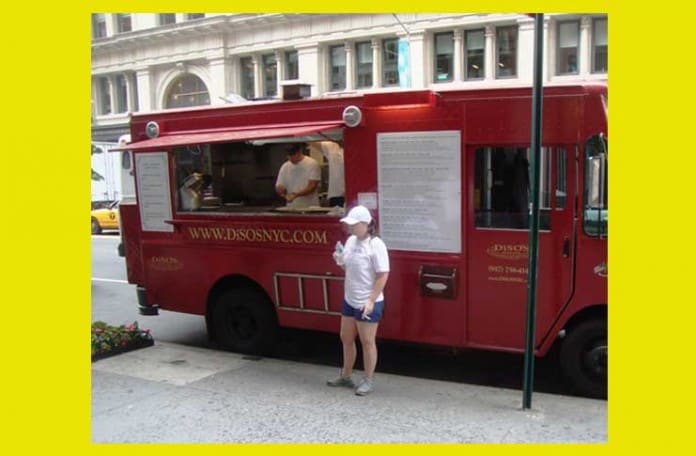 As you would expect, most of the food trucks are taking the day off, but a few will still be out.  Support them with your business.
Food Trucks Out Today
RickshawTruck – Hey Wall Street: Coming at ya with the snow and the sleet! Our dumplings are steamy for you. See you at Hanover Sq 11am-3p
nyccravings – 53rd btw lex & park: Is anyone coming out for lunch in this weather?
PapaPerrone – We will be out Tom @ 55th btwn Park and Mad aves. We will have Hot and Sweet sausage w/P&O.We hope the weather will cooperate
New Jersey Food Trucks Out Today
TheTacoTruck – Lunch today in Jersey City @ Hudson St & Sussex St from 11:30-2:30. Call ahead
201.577.4214
to avoid waiting in the… http://fb.me/5FBLGts
Food Trucks Not Out Today
StreetSweets – St Sw will not b out today, however we will b doing a private event in Murray Hill (seems like we will need to hook up our snow plow)
waffletruck – Perfect Belgian weather today – for maintenance, that is. We're staying in today, guys.
TheTreatsTruck – Sad! no truck today due to the snow and wind. We'll do our best to get back on the street tomorrow.
schnitzeltruck – Sorry folks. Doesn't look like we're going to make it out today. Stay tuned for tomorrow
CalexicoCart – Sorry guys, Calexico is taking a snow day. See you soon
CupcakeStop – When is Spring arriving already?! We're off for the day CupcakeStoppers, hope to see everyone soon!
As always, check the pink Mobile Munchies twitter feed on our homepage for the most up-to-date information.