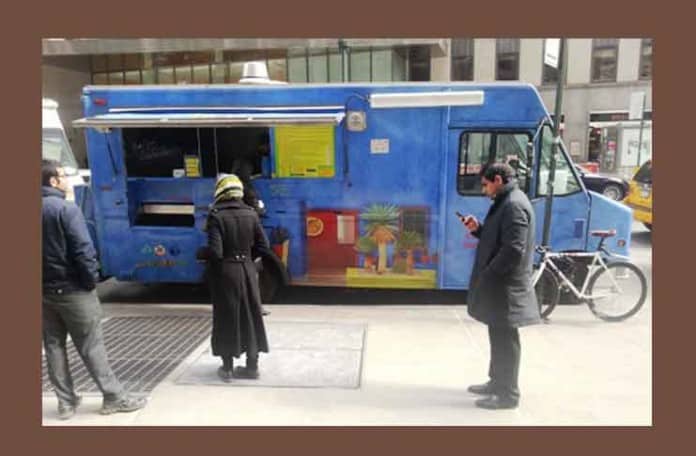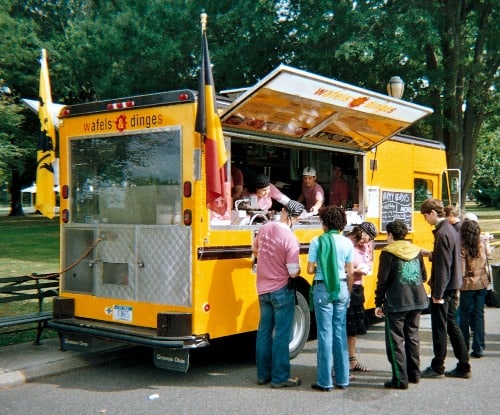 It's finally a nice day out – perfect for enjoying some great New York Street Food from the vendors on the right and the trucks below.
As always, check the Mobile Munchies twitter feed before heading out, in case anyone had to move at the last minute.
waffletruck
Happy V-day! The truck is on 113 & Broadway until 4:27. Don't forget the wafel cart love: Goesting is at NYU Stern on W 4th Vedette is at Scholars Gate (5th & 60th) Both until 4:67 Finish this lyric for 1 free dinges: I would do anything for love, but I won't do…
bigdsgrub
2/14 (Monday) Happy Valentine's Day to all! We are at 40th Street between 6th & Broadway from 11am to 3pm!
SweeteryNYC
Happy Valentine's Day to all! Sweetery is on Hudson & King St until 3:30p and 4p-7:30p 9th Ave & 59th St, we have a limited amount of V'day sweets so come see us early. There is still time to get your FREE Sweetery whoopie pie all you have to do is click on the following link…
http://fb.me/B3US4YI5
CupcakeStop
Happy V-Day!! Today the CupcakeStop truck is on 7th & 29th and we are also inside the Limelight on 6th and 20th and at 70 Greenwich Avenue.
schnitznthings
Good morning lovebirds! Happy V day:) get some Schnitz for that special someone:) on Hudson and King from 11:30-2:00. C u soon
KorillaBBQ
It's a beautiful day! Get some fresh air and join us for lunch. 55th and Lex. See you there! Ready at 11:45 No chicken for the time being Try our marinated ribeye(bulgogi) And our spicy pork! See you soon!
!
DesiFoodTruck
hello good morning….getting food ready to serve new yorkers lunch at 50 st between 6 & 7 avenues. Pls ask for taste of Zarda in queen menu.
TaimMobile
46 and 6 today ! Happy Valentine day !! Carrot coconut ginger soup today ! And ask about the winter lunch special:)
fritesnmeats
Lunch today @ 52nd b/t 6th & 7th av burger of the week THE GRAND (grassfed angus patty with a slice of marinated roast beef oven roasted tomatoes mozzarella cheese & homemade gravy cream). Jumbo Walnut chocolate chip cookies for dessert treats only $2.00 come get some:) preorder 9172929226
cupcakecrewnyc
Good morning NYC…Cupcake Crew is on 40TH STREET & SIXTH AVENUE…be sure to pick up our delicious beautiful cupcakes today! HAPPY V-DAY! Todays flavors:Red Vel,PB brownie,Milk choc banana,Van Caramel,Dark choc red wine,Raz cream,Cousin Vinny,Van Van,Pumpkin Spice,German choc.
EddiesPizzaNY
Happy Valentines Day. Come celebrate it with a Pizza on 26th and Park. We are there until 3pm. In the spirit of valentines day, ask us for a heart shaped bar pie!
http://yfrog.com/h3mhzeyj
Comme Ci, Comme Ça
is on 38th St @ Broadway today! HAPPY VALENTINE'S DAY NY! Soupe du jour: Soup de Provence (all vegeterian!) $3; Valentine's dessert: Crème Brûlée $4
TheTreatsTruck
Happy Valentine's Day! We'll be at 45th and 6th 12:30-3 and 5th ave (btwn17th -22) 3:30-5:30!
BistroTruck
Happy valentines day nyc lovers…Roasted all natural 1/4 chicken. Served with basmati rice and salad. Soup: Tomato rice. Dessert: Chocolate pudding for valentine's
RickshawTruck If getting excited about 40 deg weather is wrong I dont want to be right! Murray Hill: 32+Park and Rock Center: 50 bet 6+7. COme and get it!
UncleGussys
Happy valentines day and all that snuggly stuff . Super late on the twitter, but just in time for lunch. We light up the charcoal and were rockin 51 st and park baby;)
Hoboken/Jersey City
TheTacoTruck
Happy Valentines Day! Munchie Monday at TTT: buy any order of tacos for lunch and get 1 extra taco of your choice for free (free taco excludes Pescado & Camaron). Our special this week is Quesadillas de Queso, three fried red masa quesadillas filled with queso Oaxaca and epazote with fresh green salsa.