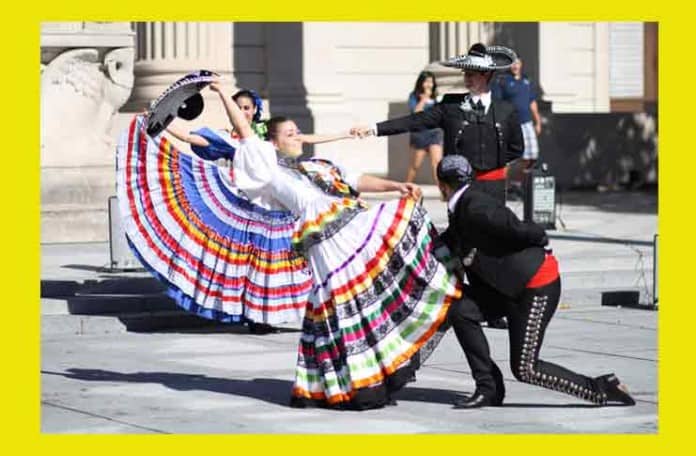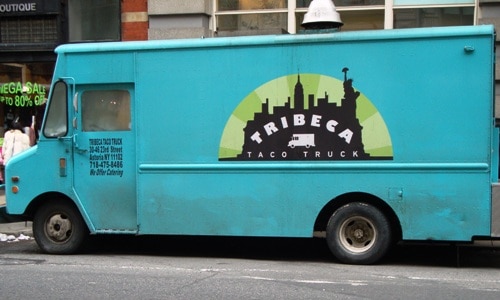 A few weeks ago, just before our trip to LA, we received an excited email from Nicole, a NYSF reader, who had just tried a new taco truck on Broadway in Soho that she loved.  Nicole sent us a picture and enough descriptions for us to write a short NYSF First Look post about Tribeca Taco Truck based on her account.
Well, we didn't have a chance to try the Tribeca Taco Truck until this weekend, but once we did, it was one of the best new taco trucks we've been to in quite some time.  Thank you Nicole for the tip.
The Tribeca Taco Truck usually parks on Broadway around Spring Street, but can sometimes be a block north or south of Spring.
The Tribeca Taco Truck has a large selection of tacos, quesadillas and burritos (9 or 10 of each!), including less common fillings like nopales (grilled cactus) and chipotle marinated grilled tofu. They also have the expected fillings such as al pastor, chorizo, carne asada, etc.  But there are a couple of other things that help Tribeca Taco Truck stand out besides the large menu.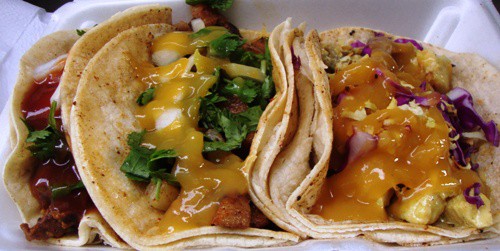 I spoke with the chef and owner, Percy, who told me a little about his experience and his philosophy for the menu.  Percy has previously worked at Redeye Grill, Manhattan Ocean Club and a few other high-end places.  He still works as a chef, and started bringing out the truck on weekends.  He is now working towards having the truck out during the week as well, so keep an eye on our Mobile Munchies twitter feed to see when they are out.
Percy told me there are only a few types of sauces in Mexican cooking, and that he is trying to bring some fusion recipes into the taco world to vary things a bit.  I'd say he was quite successful with today's special – coconut curry chicken with shredded red cabbage and toasted coconut – but more on that later.
The other thing that makes Tribeca Taco Truck stand out are Percy's sauces.  Nicole raved about his Peruvian style salsa verde, and I had 3 different sauces that were all exceptional, too – a spicy mango salsa on the coconut chicken curry taco, a barbecue pineapple salsa on the al pastor taco, and a spicy red salsa on the Tribeca taco.  They were all thick and very tasty.  They also have an avocado crema, chipotle crema, and a few other sauces that we haven't tried yet.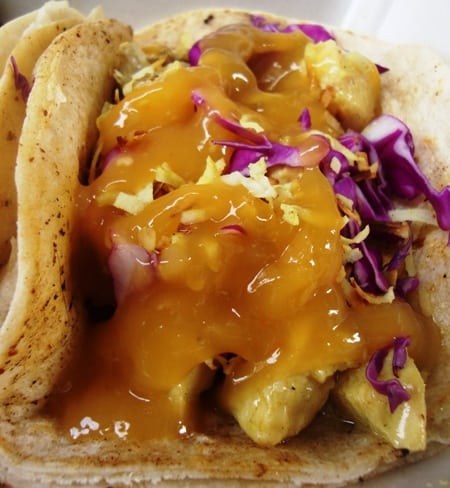 The first taco I was tried was today's special – a coconut curry chicken taco (above).  This consisted of chicken breast marinated in coconut milk and cut into large chunks with shredded red cabbage and toasted coconut on top.  Percy told me he added curry powder and a little sugar when he toasted the coconut flakes to give them a little extra flavor.
I asked Percy which sauce he suggested for this taco, and he said the spicy mango.  This added some tropical fruit flavor, as well as plenty of heat.  It had the Thai/Malaysian thing going on, and with the spicy, fruity mango sauce, all we can say is – wow!
The coconut curry chicken taco was my favorite of the three tacos, possibly because it was so different, but more likely because it was amazing!  This taco was on the same level as Mexicue, who were nominated for a Vendy Award in the Rookie of the Year category in 2010.  If Percy keeps coming up with tacos as good as this, a Vendy Award nomination is not out of the question.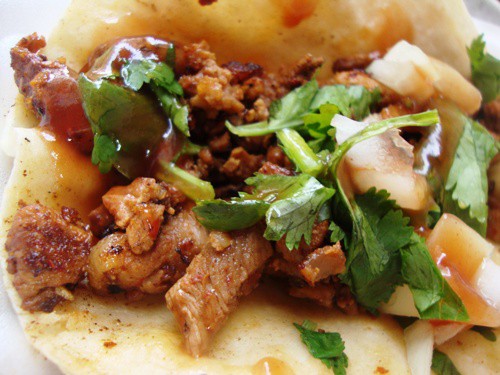 The next taco I tried was their namesake Tribeca taco (above, although this picture doesn't do it justice).  The Tribeca taco is a combination of chorizo and carne enchilada (pork marinated in a spicy red sauce).
There was a lot of meat, both chorizo and pieces of pork, with fresh cilantro, raw onions and a tangy red sauce.  This one comes with the sauce, so you don't have to choose, although I'm sure you could choose a different sauce if you want.  It was a bit spicy, but not nearly as much as the mango sauce on the first taco.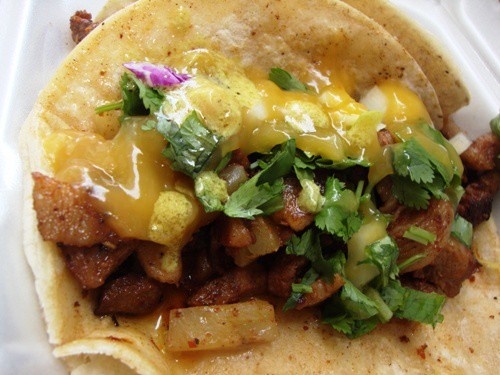 The last taco I tried was the al pastor (above), which is marinated pork with pineapple and cilantro.  The obvious sauce choice here was barbecued pineapple sauce, and it worked beautifully.  The pork was tender and moist with some spiciness, which the pineapple offset just right.  Some people get pretty exacting about whether an al pastor taco is traditional or not.  I don't know if this was a traditional al pastor, but it was delicious!
The tacos were $2.50 each, and I probably could have gotten away with 2 for lunch, but it was the first time I was trying the Tribeca Taco Truck, and wanted to get a good selection.
I definitely want to try some of their more unusual items next time – either the grilled cactus or tofu chipotle (or both).   Grilled cactus is pretty popular in the southwest, but you don't see it a lot in New York.
They also use 2 tortillas for each taco.  It would have been disastrous if they tried using only one with the amount of meat in the tacos.
If you see a turquoise taco truck on Broadway below Houston Street, check it out.  You won't be sorry!  With food like this, the Tribeca Taco Truck should be around for quite some time.
They don't have a website, but you can follow them on twitter @TribecaTaco.