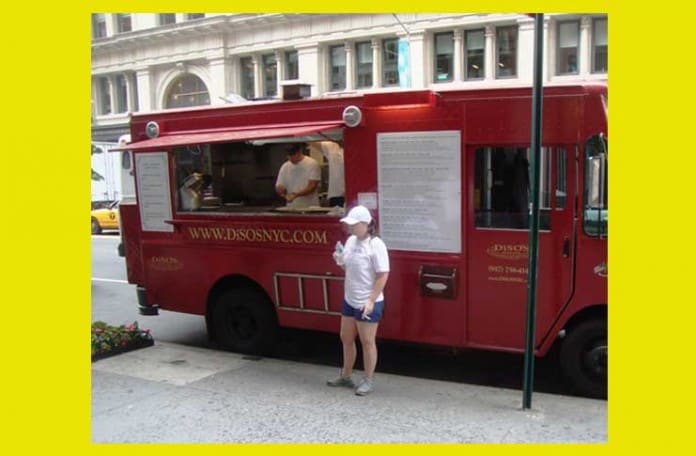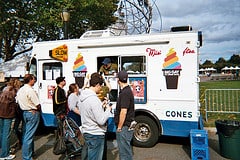 It's brutal out there, but most of the vendors are working.  A few trucks are in the shop for repairs, but many more are on the street.  Cool down with great New York Street Food from the vendors on the right and the trucks below.
As always, check the Mobile Munchies twitter feed before heading out, in case anyone had to move at the last minute.
BenJerrysTruck
Holy heat wave batman! It's a scorcher in
#NYC
& we're on a mission to keep the city from melting! On to our first requested stop!
LukesLobsterNY
Whelp… We're parked on 39th between 5th & 6th. After we recover from the drive we'll open up.
lobstertruckny
Red Hook Lobster You know what Big Red is? The Feel Good Hit of the Summer! Fight the heat @ 46th btw 5th & 6th . Service starts at 11:45
morristruck Good morning @DumboNYC. We are back! We found a nice shady spot on Front and Washington. First five customers get free Watermelon Gazpacho.
KorillaBBQ Korilla 2.0 is at Flatiron on 25th and Park, 3.0 is at FiDi on Front St. & Gouveneur!
Mexicue The truck is going to be feeding some of the hardworking folks at @foodnetwork today! #chopped
cakeandshake Refreshing Milkshakes for all the tastes! Haitian Mango and White Peach for a tropical thirst!
EddiesPizzaNY Happy friday. Catch us on Hudson/King and at highline on 30th/10th. We've got Eggplant Ricotta, Salads, hero's and… http://fb.me/TfJAQiMz
joyridetruck Joyride is open today. We'll be at Stuytown.
SweeteryNYC Hudson/King St until 11:15a then Park & 52 12p til 4p. More Major League Soccor All Star Game & Fan Fest tix to b given away latter this AM.
juicepirate brave the heatwave again today and juice for the masses? you bet we do! whats better then fresh juice on a hot Summer day? fresh watermelon? coconut water? YES YES! Location TBD
bigdsgrub Buenos Dias! It's gonna be a HOT one today but we're coming out for YOU! 53rd & Lex. Beat the heat by pre-ordering! Call us @ 646-543-BIGD
waffletruck Fahrenheit Friday!  Le truck is @ 49th & 3rd until 4:29! Carts on the loose! Le Goesting @ 52nd betw. 6&7th Le Bierbeek @ the Guggenheim museum Le Vedette @ 60th & 5th La Kotmadam @ the Great Lawn! Come up with a poem that has the words hot & dinges in it to get your free dinges!
New Jersey
TwoPitasInAPod Hoboken. Lunch. The Podsters have some of their Banh-mi. We will be closing by 2pm also. Will post when docked.
LaBellaTorte the heat is on and the iced coffee is cold see you soon hoboken