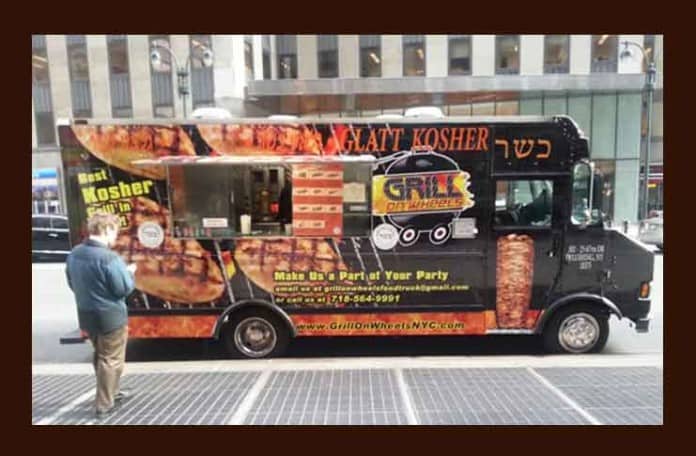 It's not exactly a beautiful day in the neighborhood, but the food trucks are out, so give them a whirl.  Here's where:
CalexicoCart – Both carts are out and bringing the heat. Come and get it!
RickshawTruck – Midtown east: 52 & lex and also at worldtrade: greenwich & barclay cozied up with @waffletruck too much yummy!
schnitzeltruck – Morning all.. What a great sunny day ;). Truck is fixed.. We're @ water and broad today @ 11:30: c u then
VLAIC – Kangaroo is at 5th ave 15th panda is at 23rd at 5th ave 🙂
laspicetruck – The "little white truck" is cruising to the Whitney Museum in NY. with 710 dessert cups and other goodies! C U there
TheTreatsTruck – today, 38th & 5th Ave 12-3:30, then 4:30-10pm at the Whitney Museum (75th St & Madison). Also,Kim in Sunday NYTimes! http://s.nyt.com/u/BUV
waffletruck – Happy Tuesday! We're on Grenwich & Park pl til 4:30pm. If there was such thing as a dinges frog, what sound would it make for 1 dinges.
StreetSweets – Street Sweets will b off the road on Tuesday 4 some general truck maintenance, & will be back at it on Wednesday. Until then, we'll miss you
New Jersey Food Trucks
TheTacoTruck – Lunch in Jersey City today @ Hudson St & Sussex St from 11:30-2:30. Call ahead
201.577.4214
http://fb.me/5Sv8Sx2
1 new tweet.
thekrave – Location 1: Hudson and Essex, Inside Liberty Towers Gourmet, 11:45-2:30 http://tumblr.com/xl16qeon1
We're off to an appointment, so please check the pink Mobile Munchies twitter feed on our homepage for the most up-to-date information.