There is an infinite number of elements that make Egypt an ideal travel destination. The abundance of incredible ancient monuments and artifacts reveal a legendary history and culture of more than 5000-year-old. However, there is one delicious element that can't be missed, and that's the wonders of Egyptian foods and dishes. 
Egyptian cuisines are among the finest expression of culinary arts all across the Middle East. Why? because it's extremely diverse and ancient. 
If you plan a trip to the country of Pharaohs, I recommend doing it with a professional travel agency. One good example is Egypt Tours, as they will get your hands on a number of magical tours to Egypt. They specialize in making it a unique local experience. This means you'll get to try the diverse Egyptian foods located across the immortal cities of Egypt. 
Many civilizations and cultures from all over the world were able to influence the Egyptian culinary scene. Every Egyptian dish is like tasting a piece of the heavens, filled with bliss and grace. 
There are countless delicious foods and cuisines in Egypt. However, in this post, we've chosen our favorite ten Egyptian dishes that always steal the show, so here they are.
10 Egyptian Foods and Dishes You Should Try:
1. Kushari
This is probably the most delicious and popular dish of all Egyptian foods. It dates back to the times of the early days of the Islamic empire in Egypt. 
Kushari is a totally vegan dish filled with all four main sources of carbohydrates making it an ideal lunch meal. It is a beautiful mixture of rice, small round macaroni, spaghetti, vermicelli, black lentils, fried onions, hummus with a vinegar sauce, and garlic. On top comes a thick tomato sauce with an optional chili sauce. Don't miss this yummy old dish.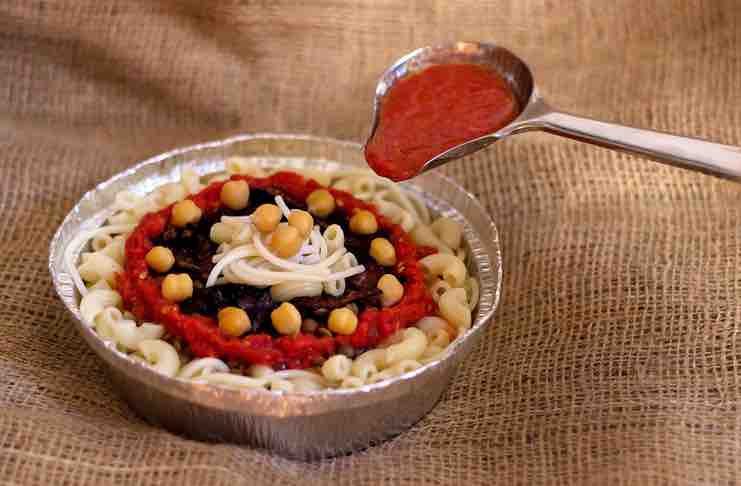 2. Ful & Tamiya
This is the most common and primary food in Egypt. Ful & Tamiya are being consumed by Egyptians on a daily basis, usually for breakfast. 
They are usually served together, the Tamiyais is mainly prepared from crushed fava beans mixed with other vegan ingredients. It's then deep-fried and served with tahini, Egyptian bread, and salad. 
The Ful is an ancient Egyptian dish believed to be cooked in ancient Egypt. It is also made of lava beans prepared with oil and lemon juice. Ful can then can be served with garlic and onion. There are many ways to make it with butter, olive & spicy oil, tomato sauce, parsley, and more.
A similar famous vegan dish called Besarah is made of ground fava beans, spices, fried onions, dill, parsley, green pepper, and fried onions  
3. Hawawshi
This is a traditional Egyptian food made of spiced ground beef stuffed and cooked in a whole loaf of bread. It comes with onion, garlic, and pepper and is then baked in a regular oven and served with a special sauce and salad. 
When it comes to stuffed food then hammam "Pigeons" are stuffed with seasoned rice, then baked or grilled like Hawawshi.
4. Shawarma
This is probably one of the most famous middle eastern dishes. With native Egyptian and Syrian roots dating all the way to the ottoman empire, Shawarma is made of the meat mutton, turkey, chicken, veal beef, or lamb. 
It is cut into very thin slices then stacked in a cone-like shape. Then it is roasted on a slow rotating spit vertical rotisserie to be fully cooked.
5. Kebab & Kofta ("Grilled Meatballs")
Kebab is another one of those "most famous and popular Egyptian foods". It's a dish for true meat lovers made of grilled meat cubes. Sheesh kebabs are made out of veal, chicken, or lamb and prepared on a natural grill. They are then served with Egyptian bread, tahini, and salads. It can also be served with Baba ganoush, which is a cream of roasted eggplant, lemon, garlic, olive oil, and sesame paste known as tahini.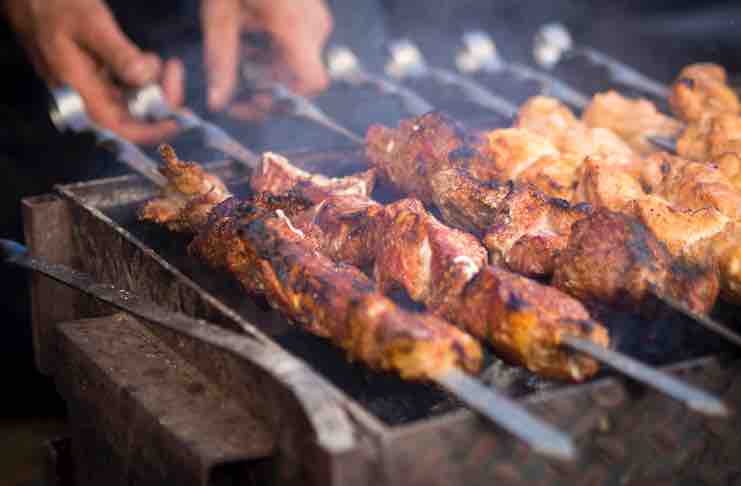 6. Alexandria Liver and Sausages
This is one of the finest Egyptian street foods you'll find in the land of the Pharaohs. It's basically sliced liver prepared with spicy pepper, onion, and garlic. 
As for your typical sausage, it is usually cooked mostly with tomato sauce and served with pickles. 
7. Mulukhiya
This is a famous lunch dish dating to before the 10th century. Mulukhiya comes in the shape of soap made of a green vegetable called mallow leaves. These are chopped and cooked with garlic with rabbit, beef, or chicken stew. 
They are then served with rice and bread. It has a green color with a thick and viscous texture. This dish is commonly served with Mahshi which is baked vegetables like peppers, zucchini, or aubergine stuffed with rice merged with herbs like parsley and more.    
8. Fatta
Fatta is an ancient Nubian dish prepared for religious occasions. The dish consists of layers of rice and fried bread with tomato sauce. It's cooked with garlic and vinegar on top, meat soup, and large pieces of meat with yogurt and nuts.
9. Sayadiyah Fish
Sayadiyah is an Egyptian dish cooked in coastal cities like Suez, Alexandria, Port Said, and the resorts of the red sea. It is made of white fish using sea bass, bluefish, and cooked with onions, spices, yellow rice, and tomato sauce.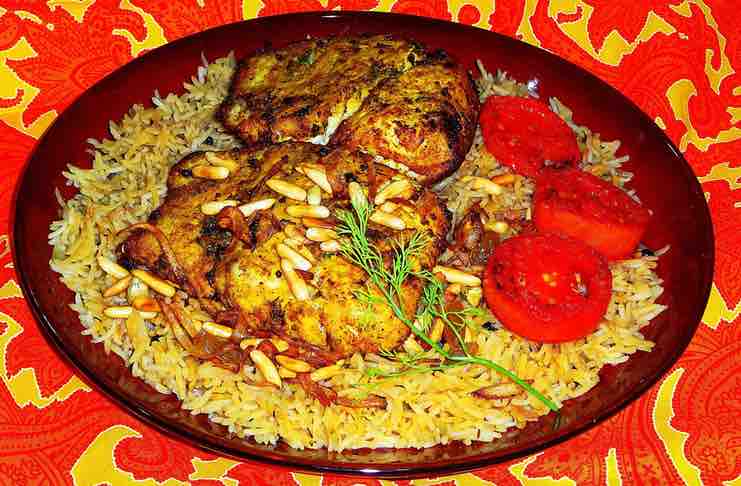 10. The Heavenly Egyptian Desserts
The Egyptian desserts department is a whole different story filled with delicious pieces of sweets that come in many shapes and sizes. Here are just a few…
Mahalabiya
Mahalabiya is a sweet ground rice dessert with a rosewater flavor that is topped with toasted cinnamon and nuts.
Umm Ali
Umm Ali is a traditional Egyptian dessert similar to a pudding made of layers of puff pastry. This is put completely in milk and mixed with coconut flakes, Sugar raisins, and nuts. It's then baked and complemented with several other delicious ingredients.
Kanafeh
Kanafeh is one of my top favorite Egyptian desserts. It's a delicious syrup-drenched, nut-filled filo pastry prepared with semolina noodles that are rolled and flattened. These are cooked with cream cheese and butter over low heat soaked in syrup with few groundnuts.
Basbousa
Basbousa is an ottoman dessert that has crossed borders which are found in different countries. It is usually thin, covered completely with sweet syrup, from the inside very soft then covered with fresh cream and almonds. 
Harissa
Harissa is another top favorite Egyptian dessert, and very similar to Basbousa. However, it's thicker and slightly different in texture and taste.
Feteer Meshaltet
Feteer Meshaltet is one of the traditional Egyptian desserts made in local villages. It's a flaky and layered pastry with no stuffing that is served with fresh cream, white and black honey, tahini, or Egyptian white cheese. It can be stuffed with banana, chocolate, caster cream, and nuts.
Sweet goulash
Sweet goulash is one of the most delicious Egyptian dishes I ever tasted. It actually originated from Morocco and Turkey. It's made of small canapé portions which are stuffed with sweet cream, pistachios, and nuts then soaked in syrup.
Rice Pudding
Rice Pudding is another popular Egyptian dessert made by mixing rice, water, and milk. It also includes raisins, cinnamon, and nuts which are then boiled and put in the fridge. They are then topped with nuts and pistachio. 
Zalabya
Zalabya is an ancient Turkish and greek dessert in the shape of small fried balls. These are made of dough which is soaked in syrup and honey. It's then sprinkled with sugar powder and brown or white chocolate.  
Qatayef
Qatayef is an Egyptian dessert with a Fatimid origin, made during the holy month of Ramadan. It's actually a mini pancake stuffed with cream and nuts or chocolate. It looks like dumplings which are then deep-fried and soaked in syrup.
Baked sweet potato
Baked sweet potato is an all-natural dessert baked in front of you. It's then sometimes stuffed with ice cream, chocolate, caramel sauce, and nuts.
Kahk
Kahk is probably the oldest dessert in Egypt, dating to the Pharaonic times. It's been drawn on ancient Egyptian temples in northern Egypt and became part of its tradition. These butter baked cookies are stuffed with dates, nuts, and Malban, and then sprinkled with white sugar powder.
Did you enjoy this article? Share it with your friends!
Want to read more of our middle eastern food posts? Check out our guide to street food in Dubai.