A delicious Review by Christina Maldonado
Nestled in the heart of Harlem, on Amsterdam Ave. is a little slice of Mexico City, wrapped in the effortlessly cool exterior that screams NYC (Watch the Video clip above!). Oso restaurant is the brain baby of Matthew Trebek and Nodar Mosiashvili, who wanted to bring not simply Mexican food, but authentic Mexican street food to the city. Breaking the stereotype of "traditional Mexican Food" ala Chipotle burritos, Oso has a traditional menu with a modern presentation.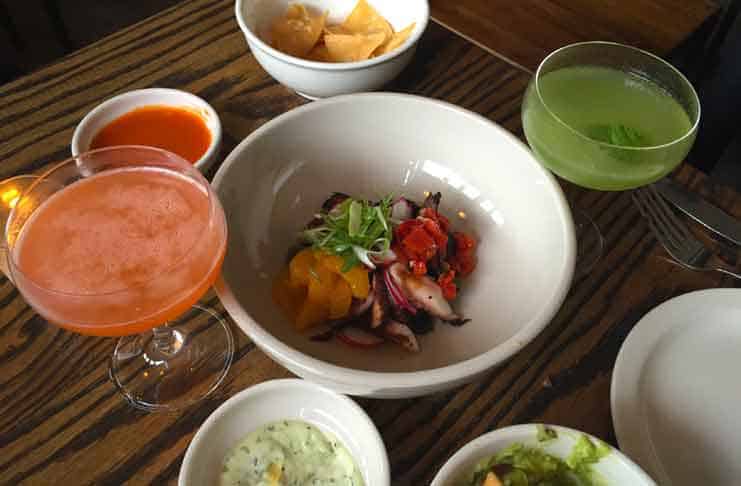 The atmosphere is effortlessly cool, from the beautiful mural that dominated the dining room, to the original score by Coup de Khan that delivers a jazz funk and hip hop combination that graces the restaurants speakers. While effortless isn't fitting for the way these decisions were made, Oso restaurant is definitely the place all hipster spots around the city would kill to be, a neighborhood hang out that sticks to its roots, a hotspot deserving of the title, with the food to back it up.
Oso owners ensured they were serving the best on their tables not only by having a kick ass Mexican chef, but by actually spending time in Mexico City, picking up cooking tricks, and getting exposed to the culture and architecture that influences the restaurant and make it such an original experience.
"The tamales are a staple"
The food is not only authentic, but so delicious I could guarantee it would make some abuelas that spent their lives in the kitchen eager to get their hands on the recipes. The tamales are a staple, and a must have. Filled with peppers and queso oaxaca, these tamales are made perfectly and serve as the perfect starter, to get your engines going for what's yet to come. I had the pleasure of having it served with a cilantro and green pepper aioli that I would swim in if I could. But since I couldn't, I just simply doused everything I ate in it. The flavors that mingle in your mouth for this dish establish an expectation that is exceeded as your dining adventure at Oso restaurant continues.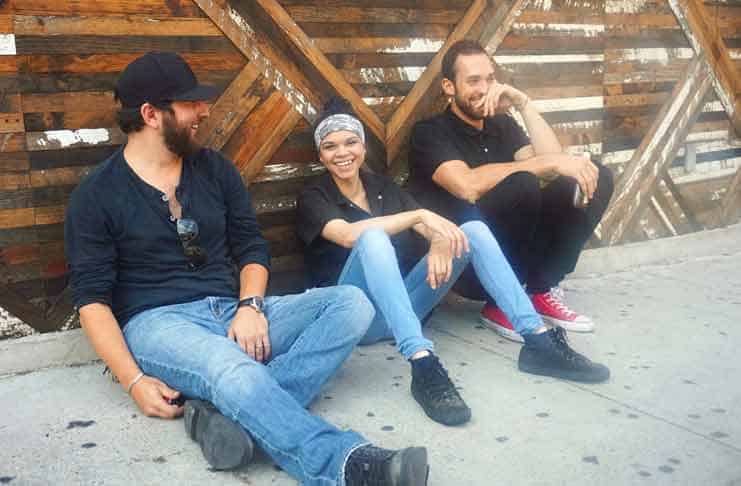 Before I got to indulge in the tacos, which were an event in themselves, another main component of Oso came into play. Their bar. Since it's one of the focal points in the aesthetically pleasing room, the bar offers the triple threat you'd want with a delicious meal. Beauty, substance and mezcal. Their drinks pack the punch that their food deserves, while still being refined. Don't be surprised if your pinky perks up when you're sipping on the Coup de Khan.
But on to the more important things. Tacos.
It might be weird to call tacos attractive, but the carnitas and fish tacos at Oso deserve it. Just looking at the dishes, you can tell that the ingredients are fresh, but it's when you take your first bite that you really get it. Basically Oso tacos are the tacos you get to treat yourself. The carnitas are succulent, and the soda pop marinade was surprising, but tasty. The fish tacos have a perfect pickle. These tasty meats are lovingly wrapped in freshly made tortillas. It would seem excessive to suggest that these tacos should be named bundles of joy instead, but it's well warranted.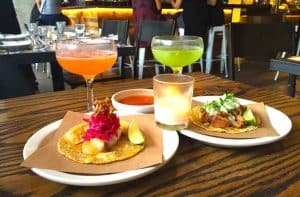 The Papas Rajas stole the show…
After tacos, and just when I was thinking things couldn't get any better, the Pulpo was brought to the table and I was proven completely wrong. First of all, any place that can cook octopus well deserves praise, it was perfectly cooked and not at all the chewy mess that can be dangerously common with the eight legged entrée. But what stole the show for me was the papas rajas. How does one make a potato so well that it overshadows the main meat on a dish, I have no idea, but the combination of the two, and the surprising mandarin that made a striking appearance not only made a stunning plate, but a delicious meal. To call the Pulpo simply tasty would be an understatement, but the simple word captures the resonance of the dish completely.
While my self control and waist line was begging me to reconsider, I was lucky enough to have Oso dessert. The lightly undercooked churros literally have no words that do them justice. There have been about three drafts attempting to do so already. Just go get 12, and enjoy.
The review of Oso restaurant would not be complete without the praise of the chips and guac. While it might be painfully simple, to have a common starter that leaves quite the impression is not a simple feat Job well done Oso, because I was getting tired of avocados as a whole. And if a new level of chips and dip don't do it for you, Oso is more than accommodating for the more wild at heart, with their beef tongue, and the fried crickets that could possibly make an appearance on their menu.
Oso gives traditional street food a stunning home in Harlem, from the establishment itself to the beautiful dishes it creates, and it was not only a pleasure to dine there, but I am nothing but excited to see what is to come of this place, because one dinner was enough to know that Oso is destined for nothing but greatness…. and five star yelp reviews.