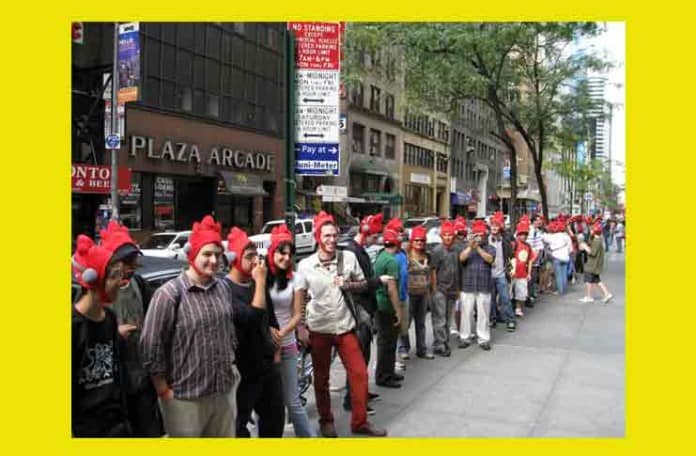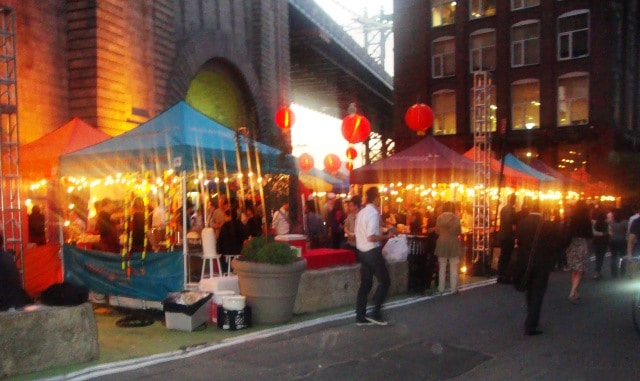 In the encore presentation of an event we attended back in April in DUMBO, a Malaysian Night Market will be held Tues, Sept 14th in the Meatpacking District.  The event is being held in the Chelsea Triangle at 14th St & 9th Ave.
Local restaurants including Fatty Crab, Laut, Cafe Asean, Betel, Nyonya, New Malaysia and Spice Market will sell Malaysian street food at a pavilion reminiscent of Kuala Lumpur and Penang open-air markets.  With colorful tents, umbrellas and lanterns inspired by the open-air markets of Kuala Lumpur and Penang, the Malaysian Night Market will offer an array of traditional Malaysian street food such as roti canai, curry laksa and nasi lemak.  All food will be on for $4 to $8.  In addition to Malaysian street food, the event will feature Malaysian cultural dances on a dedicated stage.
As we mentioned in April, the cuisine of Malaysia is an amalgam of Malay, Chinese and Indian cuisines, with a smattering of Portuguese, Thai, Indonesian and even Middle Eastern influences thrown in for good measure.  Click here to read our account of the Malaysian Festival back in April.  This one's a lot closer to home, so we'll probably stop by.