Thinking of styling your kitchen in black? You've reached the right place. Black is a color that has always been associated with elegance and sophistication. It's also the perfect choice for anyone who wants to create an elegant yet modern interior design in their kitchen.
Many people are hesitant to go all black because they believe it will make the room feel too dark or gloomy. However, there are many ideas you can incorporate black into your kitchen without making it too dark! In this blog, we'll discuss how to style your kitchen in black-and-white so that you can enjoy both the sleek look of white cabinets and countertops as well as the more edgy appeal of a bolder black finish on cabinetry, appliances, and decor.
Black and White Kitchen Interior
Black and white kitchens are a classic design choice that never gets old. When you add black accents to your kitchen, it's easier to update the look without replacing everything in your room. Black appliances create a modern contrast with light countertops or cabinets, and black and white areas rugs on the floor add an edge of sophistication. There are many ways to incorporate different shades of black in your kitchen without making it look dark, gloomy, or boring.
Black and white kitchens are timeless and never go out of style. With a little creativity, you can create the perfect kitchen atmosphere that embodies sleek sophistication and edgy refinement without losing any functionality!
9 Tips on Styling Your Kitchen in Black:
1. Choose Appliances with Black or Silver Finishes
Black appliances are a timeless kitchen trend. Appliances are typically the most expensive part of a dishwasher, stovetop, and oven, so they're an important consideration when making your purchase. Opt for black or silver finishes to create a unified look.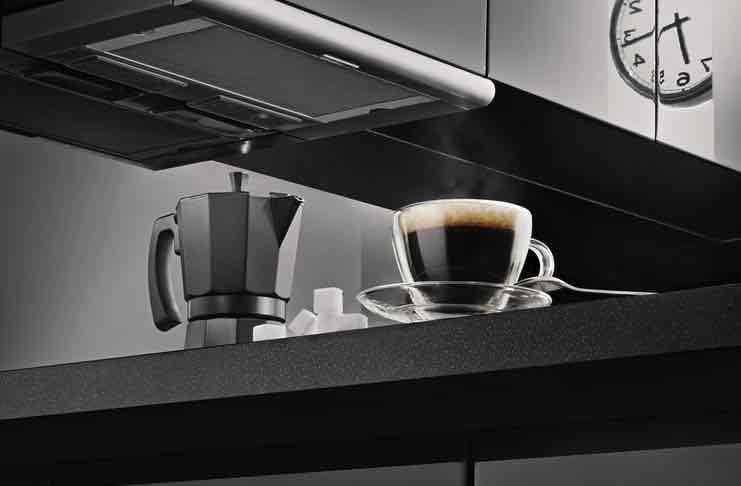 2. Upgrade Countertops and Backsplash
Upgrade your countertops and backsplash with black Granite, Marble, or Quartz. Countertops are also an important consideration when designing your kitchen layout. If you're looking for a sophisticated feel without the cost of expensive stainless steel appliances, then consider upgrading your countertop surfaces and backsplash.
Re-tile your countertop with a sleek and modern choice like Black Subway Tile. This will not only give you the look of expensive granite but will also be easy to clean! If you want some traditional design, then consider installing White Marble, Travertine, or Limestone as an upgrade.
A backsplash is also an important consideration when designing your kitchen layout. For a modern look that will last the test of time, consider installing Black Calcutta Marble or Carrara White Marble on your backsplash tile surfaces.
3. Light Wood Floor And Dark Cabinets
A simple and trendy way to create a modern kitchen with dark cabinets is by pairing them with light wood floors. A beautiful black kitchen that is modern but still has some traditional elements from our past; wood floors with dark cabinets in addition to stainless steel appliances and white backsplash tile makes this space feel like home.
This combination creates the perfect backdrop for your black and white themed kitchen while also providing contrast in your space. To break up the monotony of this color scheme, you can add pops of reds or gold accents which will help make it balance and not too black. You can lay natural material like wool rugs in contrasting hues on the floor to add a hint of warmth and playfulness.
Check out this video for a few black and white kitchen ideas:
4. Wallpaper or Paint on Walls
Use patterned wallpaper or paint to add some dimension and interest, but keep it light enough so that you don't feel like the walls are closing in on you! Do match the paint color to one of your wallpapers or accent pieces. For example, if you have a wallpaper with red geometric shapes on it, use that same red shade for an accent piece such as a decorative vase or a rug. If the black and white theme is too monotonous, add a pop of color.
5. A Touch of Contrast
Use a contrasting touch in the decor to balance out all the white and black – whether it's with your furniture or art on the wall. Try adding pops of reds, gold accents, and blues for variety! Contrasting shades can also make your kitchen feel more spacious. You can use blue pottery or a blue accent piece on the kitchen island to make it feel like a sky – and white cabinets will seem lighter.
6. Lighting Matters
A dark or gloomy space can be remedied with proper lighting, so don't forget to consider that when decorating your kitchen as well! Try adding more overhead lights (or even just placing lamps around).
Design a kitchen window to a monochromatic color scheme is an excellent way of adding dimension and personality to your kitchen. Darker colors can make any space feel gloomy or a little dull. Also, lighter shades will help you create the illusion that there's plenty of natural light coming in from the windows – even if they're darkly tinted.
7. Maintaining Simple Lines
It's also important to maintain simple lines when you're designing a kitchen. This will contribute to your design's modern and minimalistic style, which is perfect for most people. Utilizing sleek appliances and furniture with clean lines can make an airy space that feels light on its feet without being too bright or glossy.
When it is too dark or huge, the room can feel cluttered and claustrophobic. Another way to maintain clean lines is by using plenty of white space around those simple yet sleek fixtures in your kitchen. This will break up the black color scheme into more manageable chunks that are still interesting enough for anyone's eye – no matter how tired they are.
8. A Splash of Black
Add a splash of black with your shelving units or plates for contrast and decoration. You're not just limited to using dark colors when styling your kitchen interior. You can use a mix of colors to create an interesting yet cohesive look. You can experiment with different shades and hues that will give your kitchen interior the pop it needs without going overboard or being too dull.
9. Keep it Clean and Organized
Whatever style your kitchen is, keeping it clean and organized will make your cooking space feel less chaotic. This way, you'll be able to find what you're looking for without the added annoyance of a cluttered kitchen interior.
On a Nutshell
Now that you've seen how to style your kitchen in black without it being too dark or gloomy, what do you think? Have any other ideas for decorating with a color palette that might seem difficult at first glance? Share them below, and we can help provide some tips.
If you are looking for the perfect rug to make your home more beautiful, visit RugKnots today! We have everything from traditional rugs made of wool to contemporary rugs made of synthetic materials like jute. Check out our website now to browse through our selection and find the right fit for your space. If you want to read more – check out our article about kitchen decor ideas.