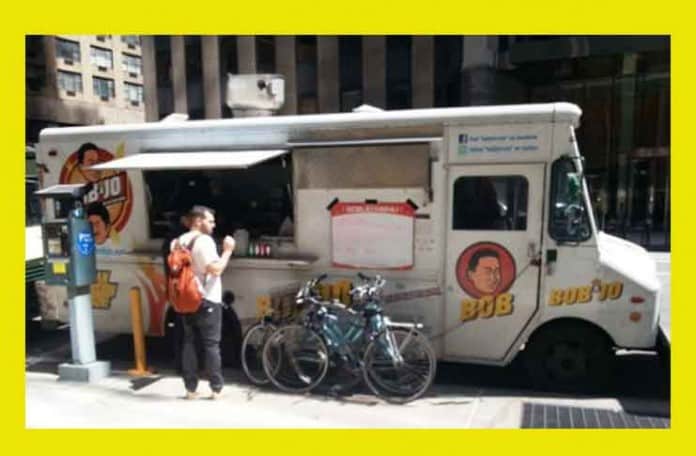 Spring is here, and winter menus are now in hibernation. One of the more interesting new spring menu items we've seen is the Crispy Rice Burger from Bob & Jo's.
The Crispy Rice Burger is Bob & Jo's take on the Ramen Burger that took Smorgasburg by storm last summer. The Ramen Burger used crispy ramen noodles as a hamburger bun. Bob & Jo's Crispy Rice Burger is similar to the Ramen Burger, but uses crispy rice as the "bread".
You can get beef, pork, chicken or spicy tuna. Normally, we would go for the spicy tuna, but since this is ostensibly a burger, we went for the beef. They all cost $8.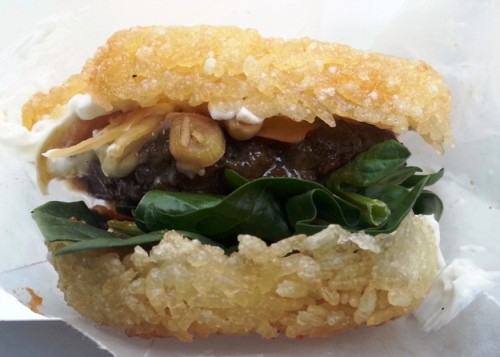 If you've ever made rice, had it stick to the bottom of the pot, and scraped off a layer of rice, you get the concept behind the Crispy Rice Burger. I'm sure it took a lot more than that to get the rice into bun form, but you get the idea.
Between the crispy rice buns, there was a burger topped with mozzarella cheese, marinated onions, spinach leaves, mayo and Bob & Jo's "secret sauce".
The whole thing was oval shaped, not round. That included the crispy rice buns and the burger.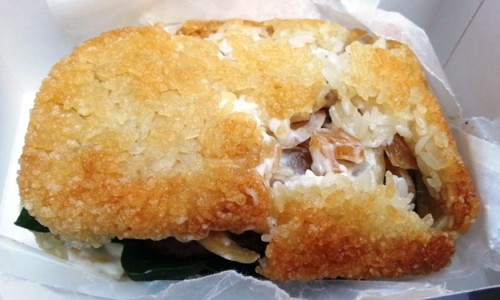 Opening the box, there were a couple of small gherkins. Under the pickles was the sandwich.
The crispy rice buns can be fragile. About half of the top bun was broken into a few pieces, but 1½ of the crispy rice buns were fine.
They weren't kidding about the "crispy" part of the dishes' name. This was one crunchy, crispy critter, but it was a bit unusual eating a burger with such a crispy bun.
The burger was a decent quality beef, cooked to medium, and juicy. The juices mixed nicely with the special sauce, but we could have done without the mayo. That's more of a personal preference than it not going with the dish.
We've always been more of a noodle person than a rice person, but this was still an interesting lunch. It's obviously not an original idea (as the Ramen Burger was), but the execution was good and it was tasty. Messy, but tasty.
You can try one for yourself by locating the Bob & Jo Truck on Twitter here or on the Mobile Munchies Twitter Feed.
Next time we want to try the Spicy Tuna Crispy Rice Burger. That could be even more interesting than the burger was.