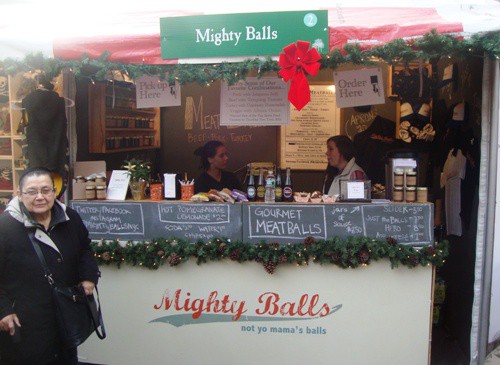 We felt for Meatball Sliders. So, we were by Union Square last week and had heard there were some pretty good food vendors at the Holiday Market. Although the holiday market stands are not exactly "food trucks", they certainly qualify as "street food". Artisanal market stands have become so popular, the Vendy Awards even started a Best Market Vendor category this year.
After perusing the options, we decided to stop at Mighty Balls, who make gourmet Meatball Sliders. What got us was their slogan "Not Yo' Mama's Balls". Pretty amusing.
There are several choices in meats – beef, pork, turkey and veggie, and a number of sauces and cheeses. You can see the full menu here.
In order to sample a couple of different balls, we decided to get 2 sliders for $3.50 each.
The first Meatball Sliders was a large pork meatball with jalapeño jelly. This was one tasty morsel, although it was considerably larger than a morsel. The combination of sweet and spicy is always enjoyable, and it was really delicious here.
There was enough heat that you knew you were dealing with jalapeño, but the jelly made a nice, sweet glaze on the meatball. Ground pork doesn't have too strong a flavor, but it provided a good base for the sauce.
The second Meatball Sliders was a bit off, but that was because we made a mistake in ordering. They usually recommend tomato sauce with beef meatballs, but we weren't in the mood for tomato sauce.
Another sauce choice was cranberry horseradish. We like horseradish with beef, but the sauce was predominantly cranberry sauce. The horseradish wasn't readily apparent.
Obviously, the cranberry horseradish sauce was meant to go with the turkey meatballs, not the beef. We like cranberry sauce, and this one tasted good, even if it was made with turkey in mind. The sauce was well-spiced, although as we said, more horseradish flavor would have been to our liking.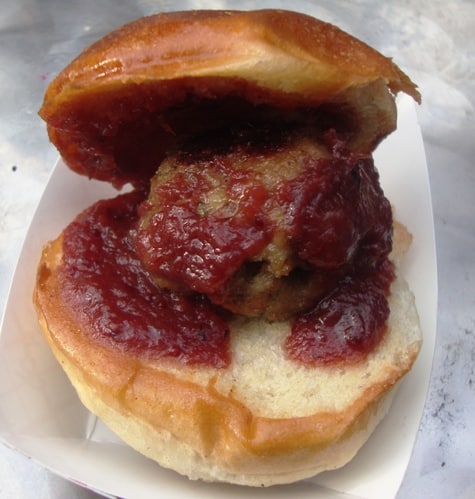 The buns were nice and soft, but hardy enough to take the big balls and sauce without breaking apart.
After eating lunch, we noticed a sign with their recommended meatball/sauce combinations. Don't know how we missed it. The sign was hanging front and center. Sometimes we don't see things right in front of our face, both literally and figuratively.
Mighty Balls is currently at the Union Square Market, which runs December 24th. Click here for hours and additional details. You can also check out the Mighty Balls website here, their facebook is here, and twitter is here.