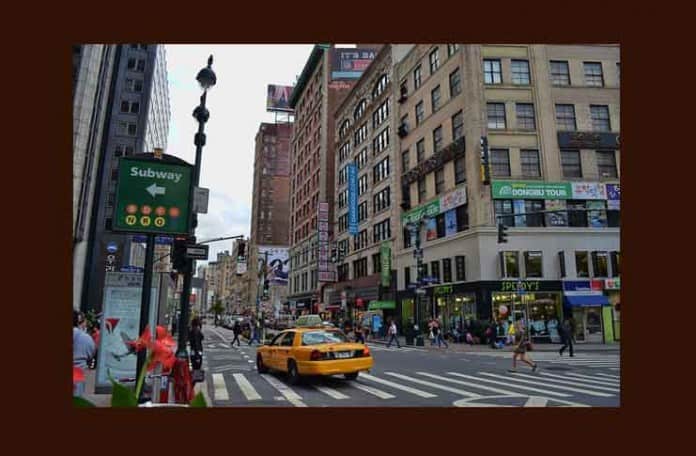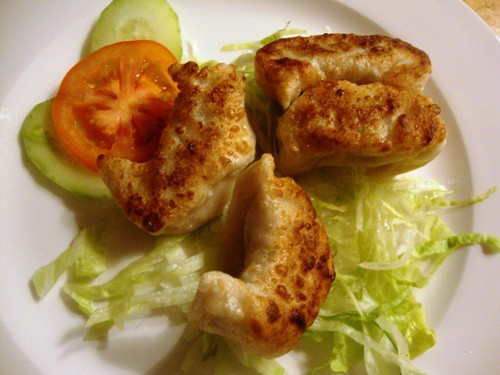 There are a few restaurants at my hotel, and I had a lot of work to do, so I ordered in room service from the Indonesian restaurant in the hotel, Bugis Street.  Although Today's Lunch was from a restaurant, it was nasi goreng and fried meat dumplings, both well-known street foods.
First up were the pan fried dumplings.  They were fried to a nice golden brown color.  The dumpling skin was a little thicker than I usually have in New York, but it was good.  The filling was meaty, but fairly bland.  OK, but nothing special.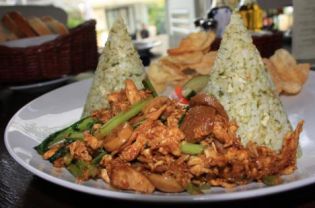 Nasi goreng is similar to fried rice, and when it's made locally, it can be a "kitchen sink" dish, where the cook basically puts in whatever happens to be around.  This one had carrots, peas, onions, string beans, chicken, small shrimp – and they topped it with a fried egg.
One surprise was that the dish was pretty peppery and spicy, but other than that, it was basically a glorified fried rice dish.  I love eggs, but the fried egg was overcooked.  It would have been nice with some runny yolk seeping into the rice, but alas, it was not to be.
Today's Lunch was acceptable for room service when I had a lot of work to do, but that's about the extent of it.  The dumplings were ok, but next time I would try something other than the nasi goreng.