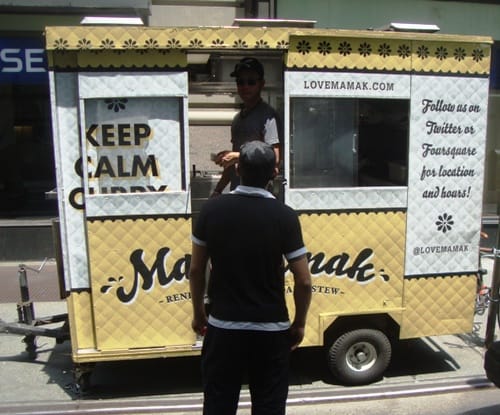 How about a delicious Pineapple Tart? Last week we checked out Mamak, the new street food vendor that specializes in rendang, a Malaysian stew popular throughout Southeast Asia.
The beef rendang was so good, we wanted to get back there asap to try some other things on the menu.
Our second choice was chicken rendang for $10. They also gave us a small pineapple tart to sample for dessert.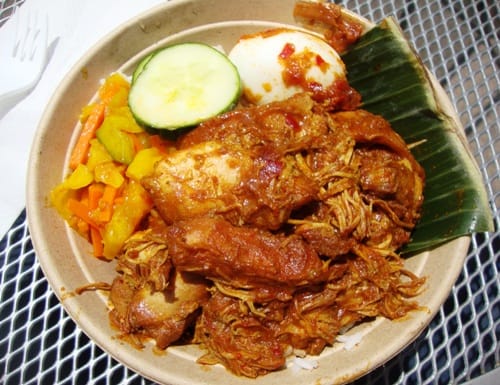 From the photo, it looks like shredded barbecue chicken, but as it says right on the cart, it's more of a stew.
The chicken is a combination of shredded chicken and large chunks, and it was fall-apart tender. But what made it so good was the sauce.
Rendang is rich in spices, and while every chef has their own recipe, you can expect coconut milk, ginger, garlic, lemongrass, chilies and turmeric, among others. The sauce was semi-spicy, with a small amount of heat (or a medium amount, if you're not into spicy food).
In addition to the rendang stew, there was pineapple achat, a salsa-type condiment with pineapple, carrots, cucumbers, cabbage and more with a sweet and vinegary flavor. Very tasty!
There's also a hard-boiled egg included in the dish, and it's all served over rice and on a bamboo leaf.
Oh yeah, they serve the rendang in a recycled bowl, so it's better for the environment than all those plastic and styrofoam containers some street vendors use because they're cheap.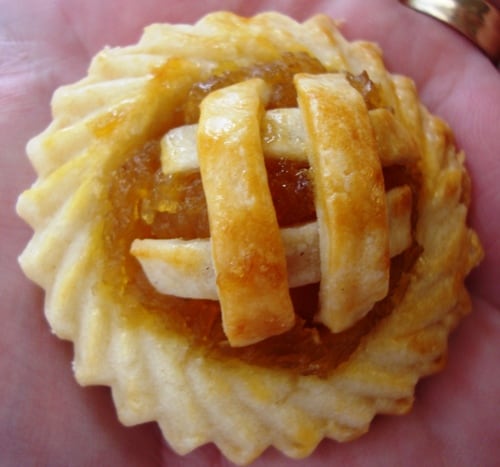 The pineapple tart was small, only a couple of bites, but it was good. The crust was flaky and buttery, and the filling was pure pineapple jam.
Mamak is one of the better new vendors we've tried recently. Lunch consisted of a bunch of different tastes and textures, many of which you don't see often on the NYC streets.
You can find Mamak on twitter here (their handle is @lovemamak) or on our Mobile Munchies twitter feed. There are currently two carts, one parked on 21st St & 5th Ave and one at 7 Hanover Place in FiDi.