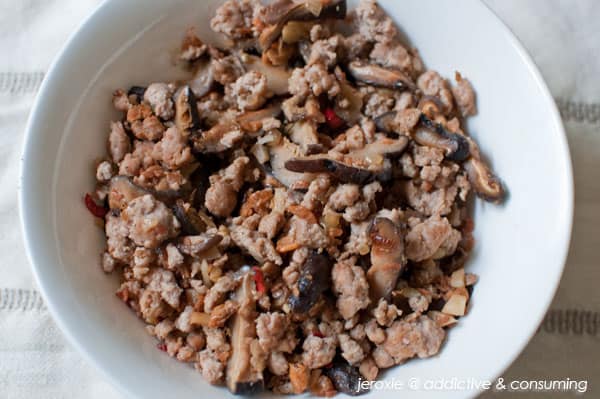 About a month ago, we posted a Friday's Recipe for Moo Shu Chicken Lettuce Wraps.  Another recipe that uses lettuce to wrap the food is Indonesian Minced Pork, a popular dish in that part of the world.  It's a fairly simple recipe that's pretty interesting and tasty to eat.
2 pounds pork sausage, removed from casing
2 cloves garlic, minced
1 tsp. ginger
1 can water chestnuts, minced
3 tbsp. soy sauce
1 tsp. sugar
1 tbsp. dry sherry or vermouth
1 cup chicken broth
enough cornstarch to thicken, about 1 Tbsp.
1 can mushrooms, chopped
1 cup diced walnuts
1/2 cup green onions (scallions) , chopped
1 head of lettuce
Brown sausage and drain grease.  Add garlic, ginger, water chestnuts, soy sauce, sugar, sherry or vermouth, beef or chicken broth and cornstarch; simmer about 15 minutes.  Turn off heat; allow mixture to sit for about an hour to let flavors blend.
Heat to serve; add mushrooms and walnuts.  Sprinkle with green onions.  Serve hot with lettuce leaves by putting a spoonful of mixture into a lettuce leaf and gently rolling it up.
Enjoy!