It is unseasonably warm outside, and the air feels humid and sticky. The façade of Honest Indian Restaurant is bright yellow and dramatic against the sea of hugely expensive, pre-war, Greenwich Village buildings. The inside, however, is far more subdued, with airy wicker chandeliers and exposed wooden beams. The natural light at the far end of the restaurant is a luxury, as is the huge skylight. 
Welcome to Honest Indian Restaurant 
The inside is empty when we arrive, a quarter after four in the afternoon; however, by the time we leave, several tables have been repeatedly filled and emptied. We make our menu selections, grab drinks, and seat ourselves.
The Drinks 
They are unassuming, pre-made, and out on display in open refrigerated shelving, and we choose a rose lassi and a mango lassi. The former is yogurt-heavy but pleasantly fragrant, with enough rose to imbue the drink but not enough to turn the entire beverage into a perfume. 
The latter is classic, with the intense flavor of mango nectar cradling the otherwise creamy texture. Both are quite sweet but inherently addictive; I end up ordering a second mango lassi once the rest of the meal begins to arrive.
The Starters
My eyes are almost always bigger than my stomach, but even I'm surprised at the vastness of the masala dosa when it arrives at our table – from afar, it looks like the staff is bringing us a large tree branch. 
It is served with sambhar and chutneys and is stuffed with potato, onion, and various spices. It is also delicious, both alone and in combination. The dosa itself is a wonder –  perfectly crisp and light, with the slightest bit of chew on the inside – and it is the ideal complement to the stuffing of heavily spiced, flavorful potatoes. 
I eat it mostly with my hands after giving up with the plastic utensils, breaking it apart and dipping it in the various accouterments. One is springy and herbaceous, one is cold and tastes like garbanzo beans, and one is warm and spicy, with big chunks of onion in a largely tomato-based sauce.
The pani puri arrive, eight to an order, and the airy semolina shell crackles, then dissolves, as it hits your tongue. Then the heat begins to seep through, as the filling of boiled potatoes and black garbanzo makes its entrance. 
This, too, comes with dipping sauces – one is refreshing, with mint and cilantro, and the other is a sweet and savory chutney. The pani puri are good with both and are also pleasant to eat with your hands (I tried using a fork and the puffs kept falling off). 
The texture is the star of this dish, with the lightning crisp puff yielding to a rich, creamy filling that is brightened with a dip in something either herbaceous or vaguely citrusy.
The Things on Bread
When I order the vada pav, I am expecting what the description says – a dumpling. We are, therefore, fairly surprised when it arrives, dressed as a pair of sliders, with yet another pair of sauces. 
The bread is excellent; deeply toasted, generously buttered, with a lovely crumb and chewy texture. The dumpling, made from garlicky potatoes and deep-fried in a chickpea batter, is an extremely tasty cannonball.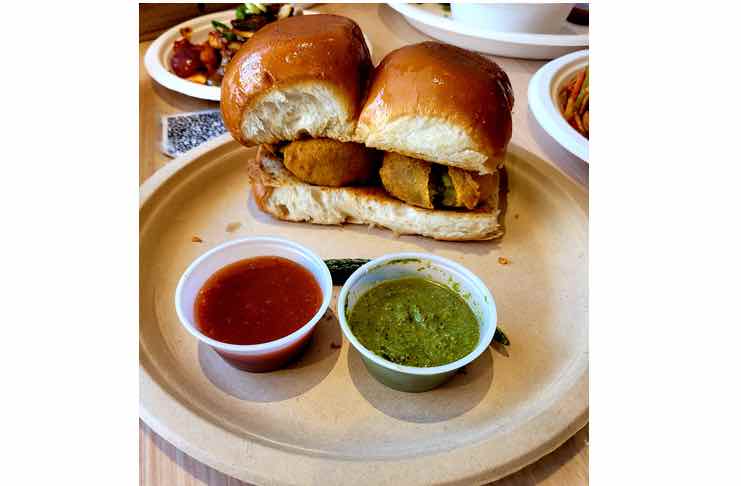 One of the sauces is the same sweet, citrusy, savory chutney that was served with the pani puri, but the other is a salsa verde delight, heavy on the cilantro and incredibly good with both the vada pav and the masala dosa.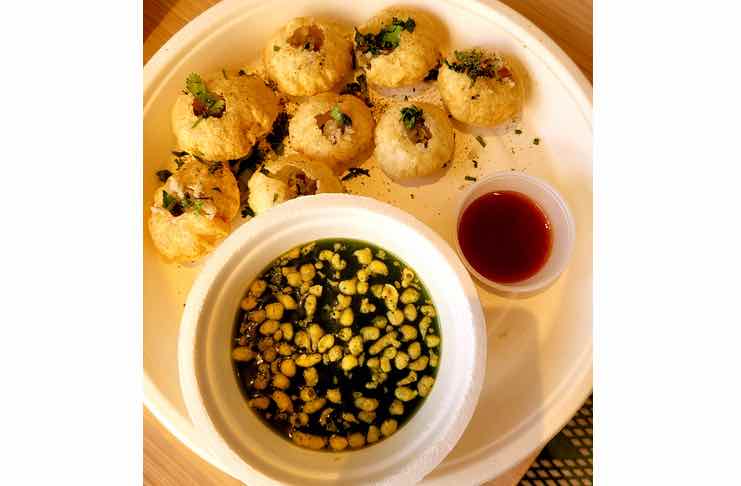 The Honest Special Sandwich
We also order an Honest special sandwich, and when it arrives I feel unreasonably excited. It is a double-decker sandwich, with fairly standard white bread, but is stuffed with such an intriguing motley that I immediately take a huge bite.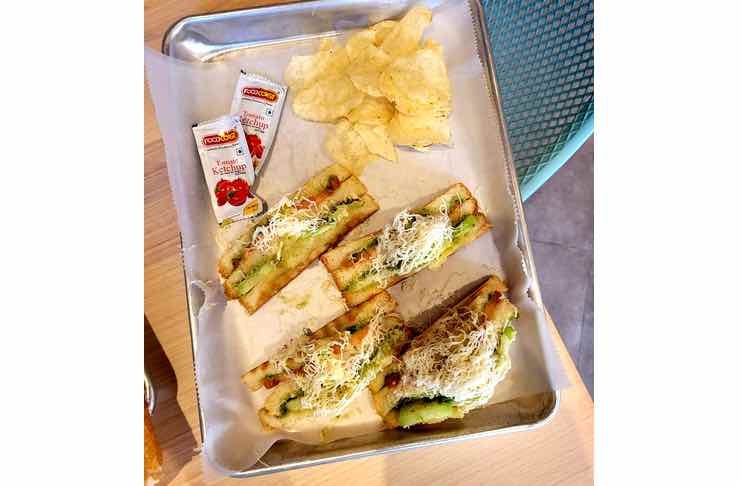 Green chutney, tomatoes, cucumbers, and pineapple jam all jumble together, and the entire thing is covered in cheese. It is juicy, fresh, strangely sweet and creamy, and warm, and this combination should not work but somehow it does. 
The sandwich is initially served with salt and vinegar potato chips, but we are brought a superior chip – the Balaji Masala Masti, which is spicy, heavily flavored, and wonderfully crunchy. It is marvelous with the sandwich. 
My eating partner is delighted, and nostalgic, as the pineapple jam brings back memories of childhood foods. I succumb to curiosity and continue eating, finding that the fruity sweetness is not overwhelming but instead heightens the mouthfeel of the cheese, and the juiciness of the tomato and cucumber. It is equal parts exhilarating and terrifying, but mostly just delicious, so I accept this brave new world and forage on.
The Mains
After the first bite of their Schezwan noodle, the only coherent thought I have is that the taste is remarkably clean. It is spicy, garlicky, filled with stir-fried vegetables, and has a glossy sheen of oil, but does not taste oily. 
On the contrary, it tastes like spicy, garlicky noodles. It is supremely tasty (and not terribly spicy either). It also comes in a fried rice version, which I failed to see upon my initial menu inspection and would eventually deeply regret not ordering, so please learn from my mistakes.
The Chinese Bhel
We are recommended to try the Chinese bhel, which ends up being an excellent suggestion. It is a large plate of crispy noodles that are stir-fried with mix-ins – we get Manchurian, which are deep-fried vegetable fritters, and we also get paneer, which is the sole reason I could even contemplate existence as a vegetarian.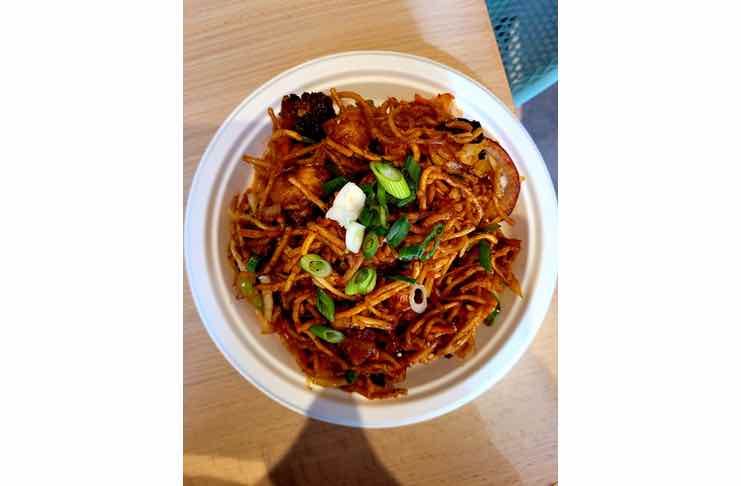 This is a heavier dish than the Schezwan noodles, with a bigger, bolder, spicier flavor. The noodle texture is divisive; my eating partner felt they weren't crispy enough, but I happened to enjoy them immensely. 
I do, however, enjoy eating stale popcorn, so perhaps take this preference with a grain of salt. Overall, we both agree that if the same Manchurian fritters and paneer were mixed with the Schezwan noodles, it would be a smashing success.
The Paneer Chili Dry
The dish I'm most excited about is their paneer chili dry (we ask which is better, the one that is dry or the one that has gravy, and the answer from the staff was overwhelmingly the former). It arrives and I somehow grow even more excited – the triangles of paneer cheese coated with spicy, tangy sauce are enchanting.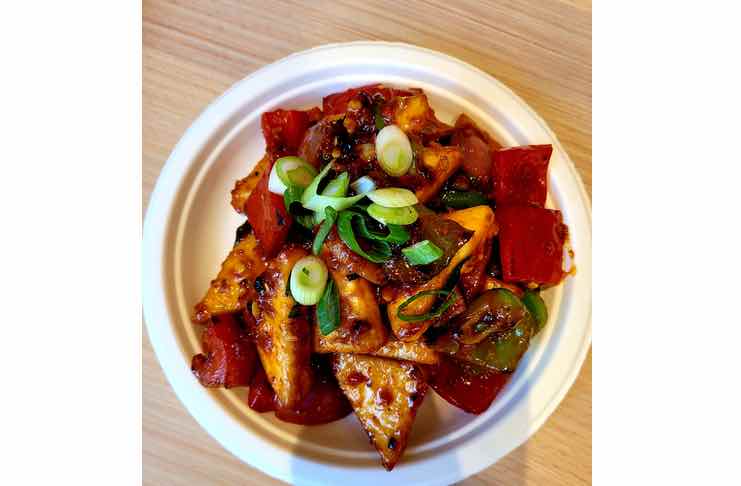 One bite and I'm in love: the paneer is perfect, slightly crispy but mostly providing that intoxicating, cheesy flavor without turning into a melty mess; the vegetables are crunchy and fresh; the sauce is both light and heavy, zippy and luxurious, tangy and rich. It is masterful and would only be improved with rice. Tragically, I do not think to order any and eat it with my remaining dosa, which is absolutely not bad at all, but next time – rice. 
Overall Thoughts
Honest Indian Restaurant doesn't revolutionize Indian cuisine, but their menu is compact and well-executed. There is something for everyone here – even meat lovers can accept the masterful flavor combinations at play. They will also be getting their beer and liquor license soon, so this will be a great spot to relax with friends, grab a drink, and indulge in anything on their menu. Just don't forget to ask for rice.
Three Best Bites
The paneer chili dry, hands down.

The dosa, with or without stuffing.

The mango lassi. But not the first sip, which I found too sweet. After the fourth or fifth, that is when I really sank into the mango bath and started to enjoy it.
Bathroom Corner
Unisex bathroom, which is completely fine, but major points docked for not having soap. I had to douse my hands in sanitizer when I left. Otherwise acceptably clean.
Check out Honest Indian Restaurant reviews here on Yelp.
Want to read more of our latest posts? Check out these yummy Orgeat Syrup Cocktails Recipes.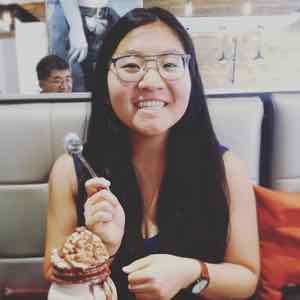 Katherine Chin was raised in upstate New York and grew up with the mindset that good food can, and does, exist anywhere. Now living and working around Manhattan, she spends most of her breakfasts pondering what she'll eat for dinner. She advocates for food that tastes good, and believes that sharing is caring – the best food is often eaten together. You can find her either walking or eating anywhere in Manhattan, when she's not planning her next food-centric adventure.