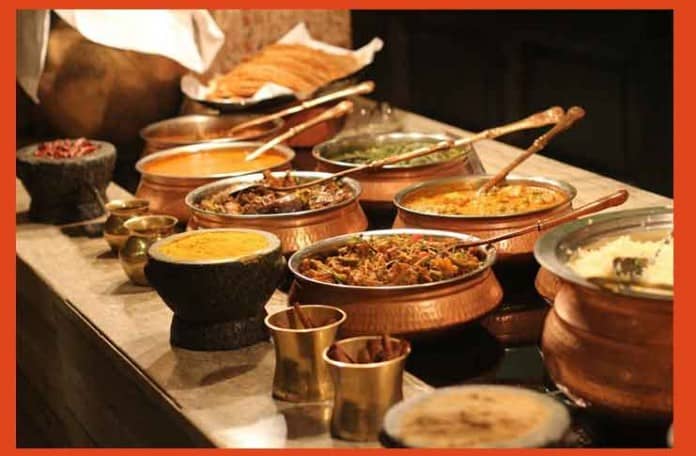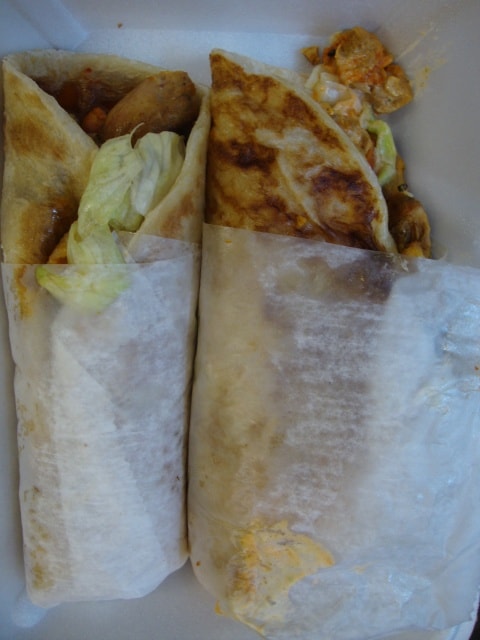 Today's Lunch is the kati roll combo from the award-winning Biryani Cart at the SW corner of 6th Ave and West 46th Street.  Biryani Cart was the People's Choice Vendy Award Winner for 2009 and 2008.  You can't win the People's Choice award two years running without something great, so here I go.
The owner, Meru Sikder, was in the cart, so I asked him which kati rolls he suggested, and he recommended the chennai roll and the spicy buradi roll.
First up, the chennai kati roll, which had grilled chicken in a sweet chili sauce, with a little lettuce, onion and sweet pepper.  There were chunks of both white and dark meat, and none of the chopped chicken I'm not crazy about.  It had some heat from the chili sauce, but the sweet and hot was a great combination.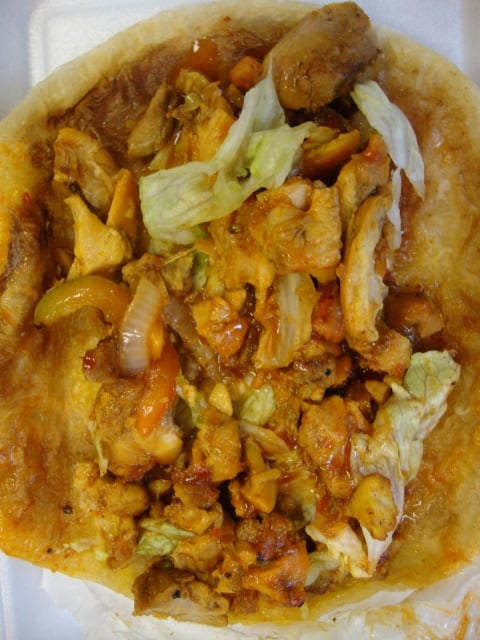 The sweet chili sauce was reminiscent of the sauce I've gotten in the past from Chinese restaurants listed on the menu as "shrimp with chili sauce", but this was better.  It wasn't swimming in the sauce; the sauce was a complement to the chicken.  The naan bread was good, too.  It held up to the fillings, but was not overly chewy.  Very nice.
Next up was the spicy buradi roll. It was listed one the menu as grilled chicken with a spicy mint habanero sauce.  It had the same high-quality grilled chicken, also with lettuce, peppers and onions, but with habanero peppers instead of sweet peppers, and a spicy mint sauce which was a little creamy.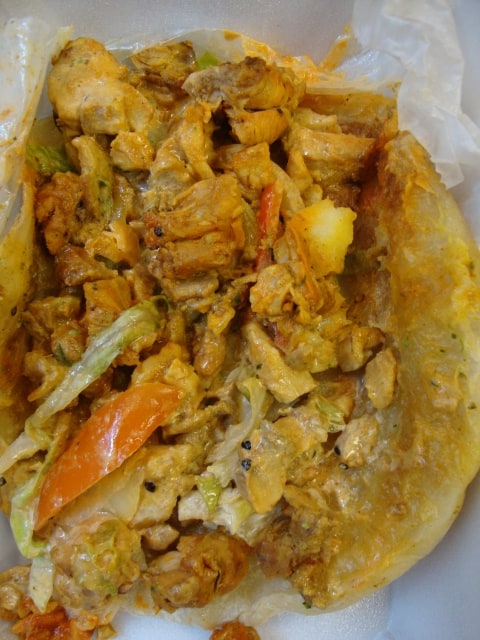 The mint flavor came through the habanero peppers nicely, and the sandwich was definitely spicy.  At first I thought the chennai roll was spicier, but about halfway through the buradi roll, the heat turned up a notch, and it lived up to its name.  It wasn't a sweet heat like the chennai roll, it was more of a straight-up heat.  Wonderful!
Don't ask me which was better, because they were two very different tastes.  I also had their chicken tikka kati roll at the 2009 Vendy Awards, and it was very good, but not spicy.  I definitely enjoyed these more, but the chicken tikka roll would be a good choice for someone who does not like spicy food.
At $6 for your choice of two kati rolls, I can't think of a better quality lunch for the price.  Today's Lunch was a definite winner.