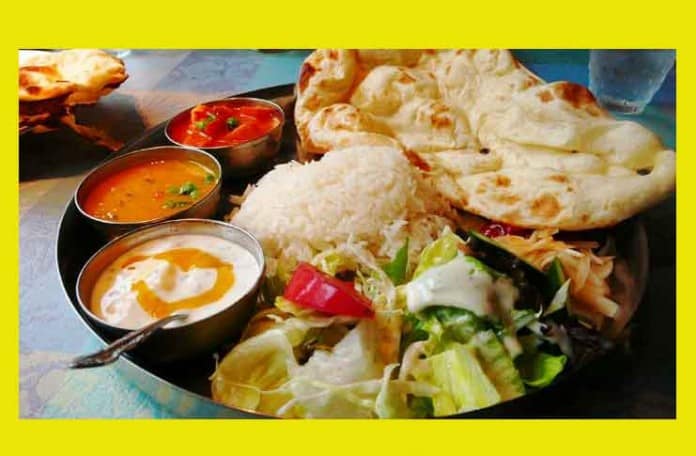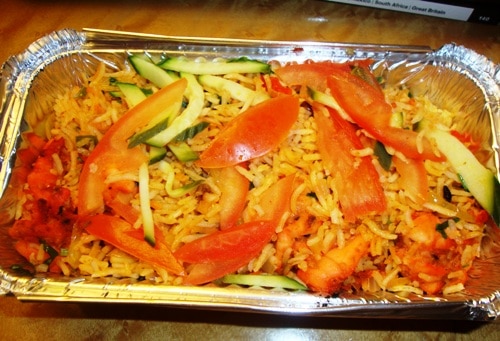 As I said earlier this week, there's not much (or any) street food around Kensington High Street in London.  But one thing London has in spades is good Indian food.  I can't stay in London without trying some local Indian food.
Today's Lunch is tandoori king prawn biryani from Kensington Tandoori at 1 Abington Road, just off Kensington High Road.  (They have a website address, but no content yet, so I didn't link to it.)  Today's Lunch doesn't fit in with our street food theme, but when in Rome (er, London)…eat Indian food.
Getting right to the point, this was an excellent biryani.  There were tons of different things in it besides basmati rice – onions, scallions, minced carrots, red bell pepper, cucumber, tomato, a few nuts and raisins, and spices like cardamom pods and clove.
The king prawns were large, juicy, and had that great, deep tandoori flavor.  There was also some spiciness to the prawns, which was a bit of a surprise.  And there were plenty of them too, around 8 large grilled prawns tucked away in the rice.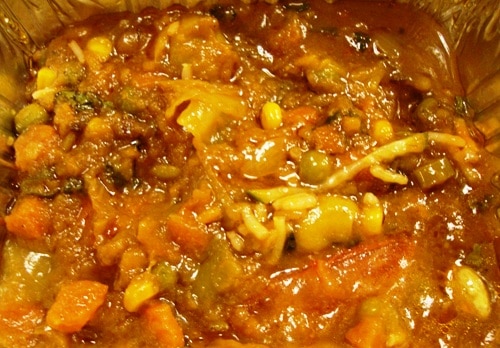 As a side dish, they served a vegetable curry with peas, carrots, potatoes and other veggies in a mild brown curry sauce.  It was decent and filling, but I didn't eat much of it because it wasn't nearly as good as the biryani, and I couldn't eat both.
Today's Lunch was delicious, if a bit pricey at £13.95 (around $22), but this was a special treat that I won't be having every day – and it was very enjoyable.  With the biryani and veg curry, it could easily be split by 2 people, especially if you get a nan bread or two.  I just can't eat that much by myself.