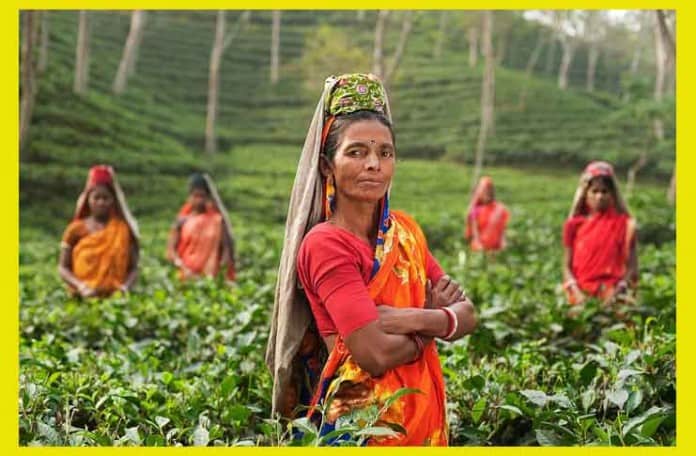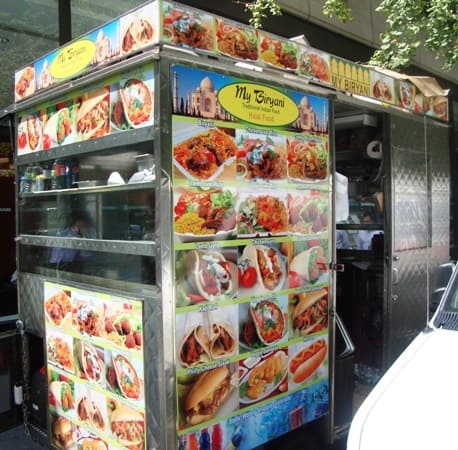 I was in the mood for Indian food, and have recently been to Biryani Cart a few times to check out some new items, so I headed 2 blocks south to the My Biryani cart on the SW corner of 6th Ave & 44th St for a change of pace.  I previously had a really nice lunch of chicken kati rolls at My Biryani, and now it was time to try their namesake dish, biryani.
Today's Lunch is Bombay spicy biryani ($6) from the My Biryani cart.
The first thing I noticed when I opened the container (it was hard to miss) was a hard boiled egg right in the center with Indian seasonings on it.  Around the egg was the biryani – basmati rice with chicken and lots of different spices.  They also offer a vegetable biryani.  On the side was a salad with tomato slices over lettuce, and that was on top of even more biryani.  The salad was in addition to, not instead of, biryani.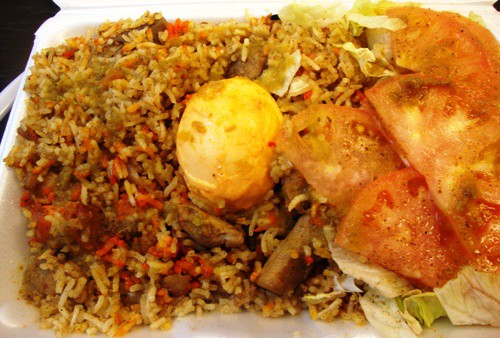 The chicken was mainly dark meat, but there was no funky stuff in there, like fat or gristle.  Each piece (and they were large) was pure meat, and it was nice and tasty.
In the biryani, there were whole cloves, onions, peppercorns and cinnamon (among other things) and I asked for some of their spicy green sauce on top, which I remembered was made with jalapenos and was pretty herby and spicy.  They also shook some of their special seasonings on top.
Overall, this was a decent biryani.  The chicken was tender and tasty, the rice was good (if a tad overcooked), and I always love hard boiled eggs, especially spiced ones.
This dish was quite spicy, but I'm pretty sure that was from the green sauce.  By itself, it didn't seem to be that spicy.  At the end of the meal, there was a little more oil on the bottom than I expected to see, but not a discomfiting amount.
My Biryani will not displace Biryani Cart as the go-to place in the neighborhood for Indian food, but it was nice for a change of pace.  The food was fresh, and for $6, you can get either biryani or two kati rolls.  That's a good deal for lunch in midtown any way you look at it.