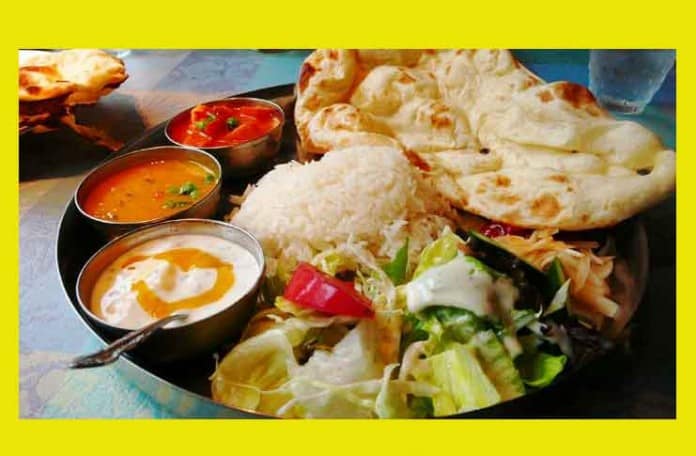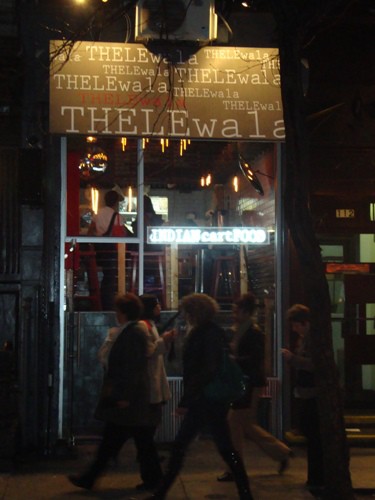 I live in the Village, and walking down Macdougal St last week, I saw a new storefront called Thelewala at #112 that caught my eye because of the neon sign in the window that said "Indian Cart Food".  I love Indian food and cart food, so we went in to investigate.  Luckily, it was dinner time.
Thelewala is a good candidate for our Honorary Street Food category, which are storefronts with few or no seats serving what is considered to be street food in their country.  There were only a few stools at counters, but the interior was pretty cool, with spices and grains lining the walls, and interesting lights hanging from the ceiling.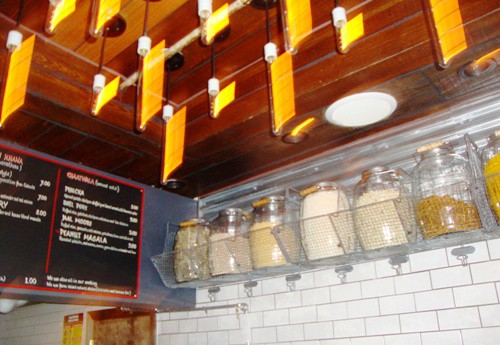 They specialize in Nizami Rolls, which are Kolkata (Calcutta)-style rolls that are similar to kati rolls.  They also have bhel pori, which we made last year at the Indian street food cooking class that we attended, as well as a bunch of other interesting dishes.  Everything on the menu looked so good, it was tough deciding what to order.
I needed dinner for 3, and decided on a thelewala chicken roll, chapli roll, ghugni, tawa chicken fry, and bhel pori.  This provided a nice rounded assortment.
By the way, Thelewala means "street food vendor", which is what we here at New York Street Food know and love.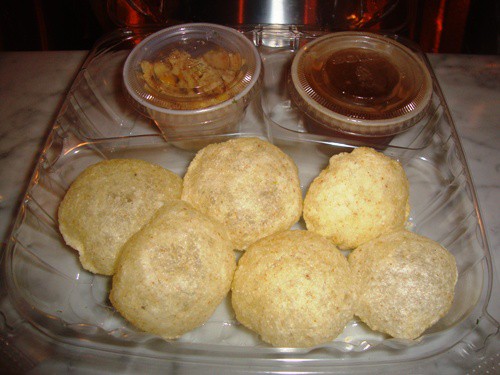 The first dish we tried was puri bhaji ($5), a cold appetizer of puffed dough that you poke a hole in with your finger, and then fill with a potato mixture and sauce.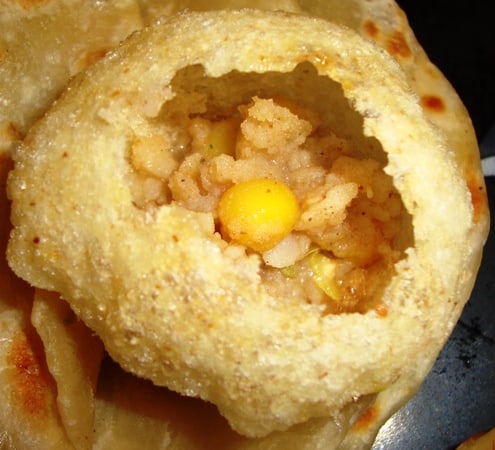 You need a pretty big mouth to eat bhel pori, because you can't bite it – you have to put it all into your mouth at once.  When you do, you get an explosion of flavor in your mouth.  It's an interesting sensation crunching the dough and getting the potato and sauce in your mouth all at once.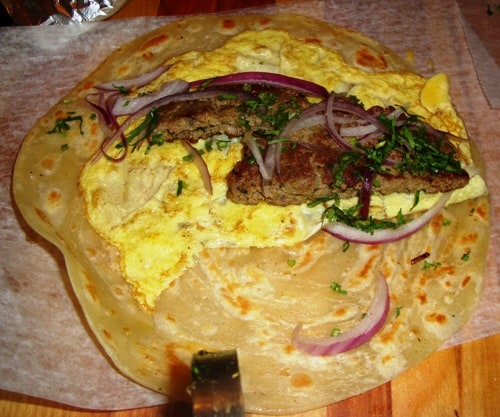 Next up was a chapli roll (above, $4.50).  This consisted of a fried egg, minced spiced lamb (similar to kofta), red onion and fresh cilantro on paratha bread.  The owner told me they have 3 different types of paratha bread that are used in nizami rolls – one with curry and one without curry, but I forgot the 3rd type.
The chapli roll was very good.  Nicely spiced meat with egg and onions rolled up into a tasty dish.  Indian street food, indeed.
The next dish I tried was the tawa chicken fry (above, $8), which was chunks of grilled white meat chicken with a blend of masala spices, cilantro, red onion, and what appeared to be caramelized onion, too.  This dish comes with 2 pieces of paratha bread, so you basically make your own rolls.
This was probably my favorite dish of the evening. Big chunks of chicken with plenty of Indian spices, and some heat, too.  Not crazy heat, but it definitely got spicy over time.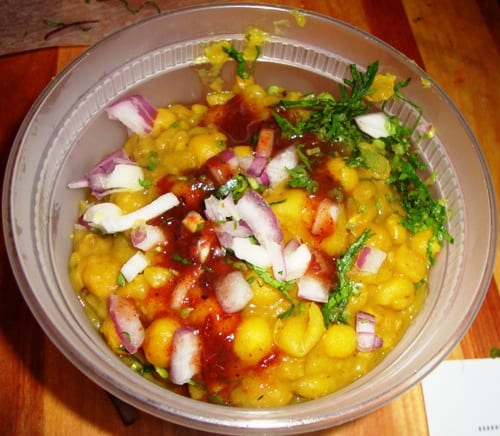 My wife asked for the ghughni (above, $7).  She tends to like more vegetarian-oriented fare, and this fit the bill.  Ghughni was chickpeas in a sauce with red onions and cilantro, and a slightly sweet and spicy red sauce as an accent.
The chickpeas were almost what Italians call al dente.  They were not soft and mushy like most chickpea dishes.  These chickpeas still had a firmness to them.
The last dish was the thelewala chicken roll, which was grilled white meat chicken, again with fried egg, red onions and cilantro.  My daughter got this dish and really liked it. I tried a bite and really liked it too, but forgot to take a picture.  You can see it on the bottom right of the picture below, as they were assembling the various dishes.  You can also see the chapli roll in the back, before they added anything else to the roll.
We really enjoyed Thelewala, and will definitely add them to our Honorary Street Food category.  The food was very clean tasting and fresh.
While some of the dishes are pretty similar, with fried egg, red onion and fresh cilantro, it's an enjoyable combination.  You can get it with chicken, minced lamb or without meat.  The spices are slightly different in each, but I'm not enough of an Indian food expert to describe the differences.  Nevertheless, there are plenty of other dishes that I want to try in the future. including a grilled cheese roll.
I have a feeling we are going to be eating from Thelewala regularly.  The prices are right, and they deliver within a 10 block area, which I think we are just inside of.  Nice!