By Faith Rein
Searching for a thorough review of Badshah NYC? I visited this modern Indian restaurant and I'll tell you about it in a sec, but let's start with its location. Hell's Kitchen hasn't always been so trendy and fun. It's called Hell's Kitchen for a reason. 
Once upon a time, this was not the most desirable area in Manhattan. Some referred to a tenement on 54th Street as the first "Hell's Kitchen."
About Hell's Kitchen
The history of Hell's Kitchen is part of its present. 
Immigrants working for little and living in railroad apartments overcrowded situations. Coldwater flats. 
Hell's Kitchen has become an increasingly upscale neighborhood of affluent young professionals as well as residents from the old-timers with rents in the neighborhood having increased dramatically above the average in Manhattan. Many Chelsea residents moving north adding to the popularity. 
Theatre had always had a great presence.  Chorus girls living in Hell's Kitchen from the '40s to even now. Dance studios and dance stores made up the neighborhood. While working in midtown I found myself spending many evenings in the Theatre district especially Hell's Kitchen. 
My Favorite Street
A Variety of restaurants and diverse businesses are as colorful as the residents. 
My favorite street was 9th Ave. Many memories of meeting Friends, Nehemiah, and Corey on a Thursday. 
Years of a friendship that began at Capezio, the dance store. Nehemiah and Corey, both dancers doing what they do in NYC as young men. Dance b Brought us all together while working our day jobs. 
As life happens, they stepped away from that dance store to go on tours, other jobs, and new opportunities.  We would reunite to now and then on Thursdays. 
Our meeting place was always Hell's Kitchen we would have been at a corner table at Badshah's if we knew. 
Badshah NYC: Modern Indian Cuisine 
Badshah has been on 9th Ave for a few years as our lovely server/greeter/host Andrew, informed us. 
While this was a Tuesday afternoon, we walked in into a bright fun space with graphics overload. 
Every wall is painted in gorgeous murals. Graffiti has been elevated and recognized and respected by the artistic community as it also is becoming more commercial.
Now Badshah is bringing modern Indian Fusion to Hell's Kitchen. 
On this Tuesday we were alone to my delight. I never need to be in a crowded space. 
Not sure though if they were ready and just opened. Yet we were greeted pleasantly. 
Our cocktail order was put in as soon as we sat. Always a nice thing. 
Unfortunately, the delay to get these cocktails came halfway through our appetizers. 
We probably did arrive sooner than they were completely ready. 
What could have been a question in my mind of service or preparation disappeared with each bite of our starters. Then finally receiving lovely cocktails that were almost worth waiting.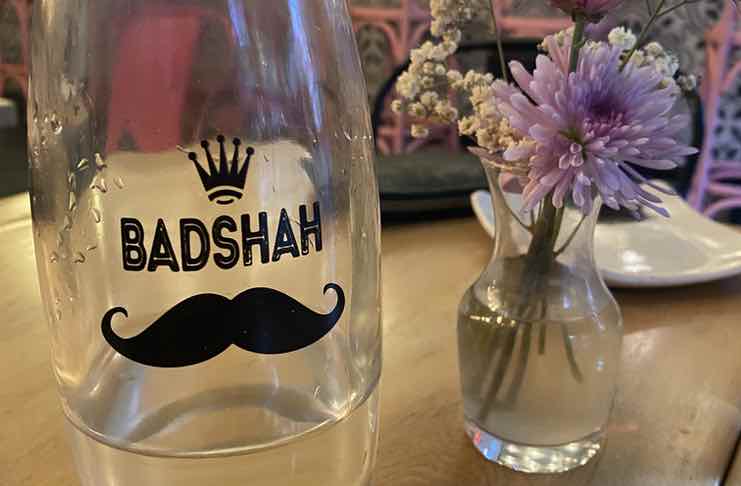 King of Cauliflower – crispy cauliflower in a sauce worthy of plate licking. By far my favorite of the evening. 
Kale and Moot Chet – a surprising texture with a burst of flavors. 
Chelsea to Katmandu – Mandu Indian fusion style. A bit of a crunch to this mandu with a nice filling.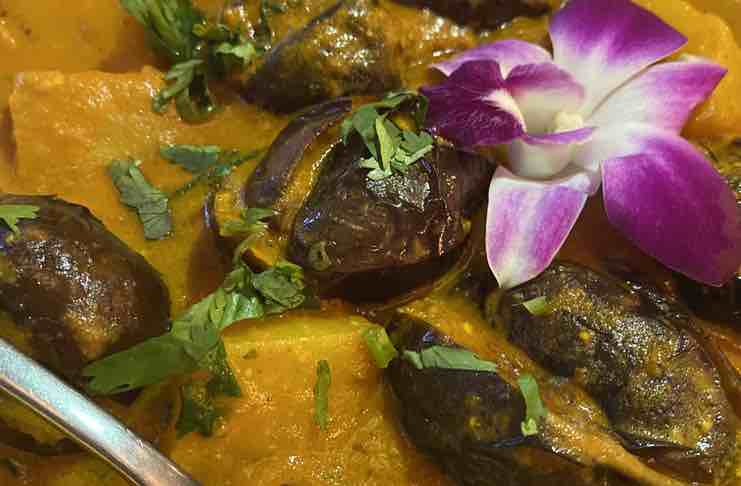 Bangin Baigain – Baby eggplant. Adorable as any baby. Eggplant is a staple to me. The sauce was lovely yet as nicely prepared as this was, I may skip it next time to make way for a different taste in this varied menu. 
Chattinad Chops – Lamb chops. My grandma Jessie loved lamb. We would have a leg of lamb on special Sundays when she would be over. As lamb is not my pick normally this was amazing. A perfect portion of lamb chops with a nice grill swimming in a sauce I would bottle.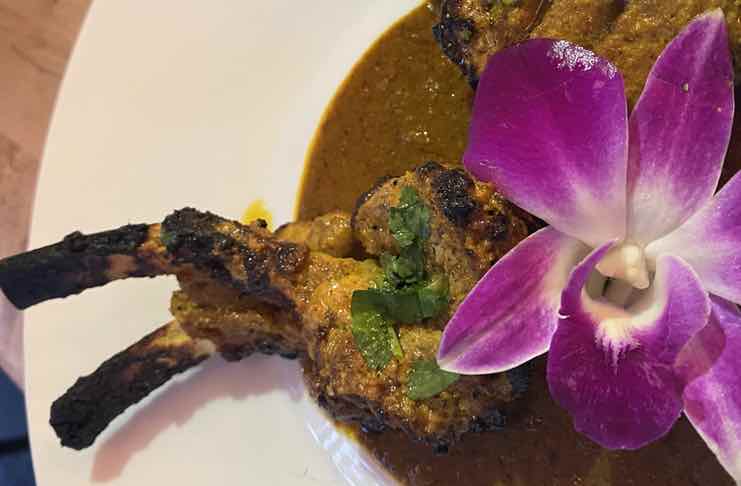 Emperors Kofta – spinach sitting in yet another sauce I could have every day. 
When I go to these tastings, I take a guest photographer. Eileen, one of my best friends came along to this tasting. She has impeccable taste as well as is very knowledgeable of modern Indian cuisine. 
Her expertise was invaluable as my experience had been the typical chicken tikka masala. 
Always good. But I never ventured too far from the basics. 
Love Naan Bread? This will send you to a place you never dreamt of. 
This beautiful perfect Naan was what sent Badshah as a place to go. Of course, the sauces are the thing. 
Nothing overbearing. I like spice and I love the heat. 
Spices are abundant but balanced. The heat was controlled but not stifled. 
Perfect for Naan dipping. 
My conclusion is this is a great pre-theatre after-dinner spot in a fun area. 
The décor is meant to attract the locals with the neighborhood feel.
The menu seems to be designed to catch that edge of Hell's Kitchen's past and the inventiveness of Hell's Kitchen now and in the future. 
This is a place you need to seek out when you don't want another gourmet burger.
Want to read more of our reviews? Check out our review of this Italian Restaurant in Roslyn.
Living and loving in NYC, food has been a passion of hers. East Coast to West, Faith's goal is to explore and learn with the contribution of other like-minded foodies. Faith Rein has written for 2Girlsfromabar@blogspot.com. Youtube channel – faith.rein, love food love faith. You can find her @: Faith.rein/facebook (always looking to add friends) / faith rein@twitter / faith.rein@instagram / faith.rein@gmail.com