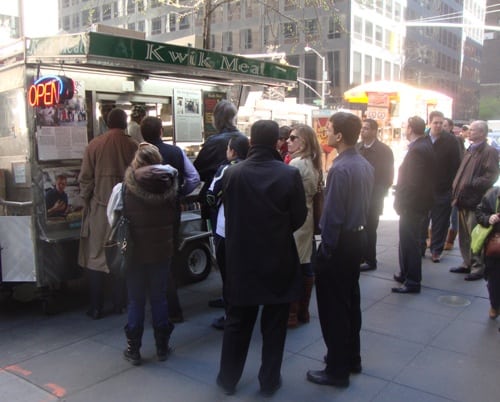 One of the excellent vendors who doesn't get a lot of press these days is the Kwik Meal cart, on the SW corner of 45th St and 6th Ave.  Muhammad Rahman, owner of Kwik Meal, was a Vendy Award finalist in 2008 and the People's Choice winner in 2007.  There are tons of articles on the cart from 2007-2009, but not much from the past few years.  Judging from the crowd at the cart, they still have a steady, loyal following.
As I often do, I went for the Daily Special, a combination of fish and shrimp biryani for $9.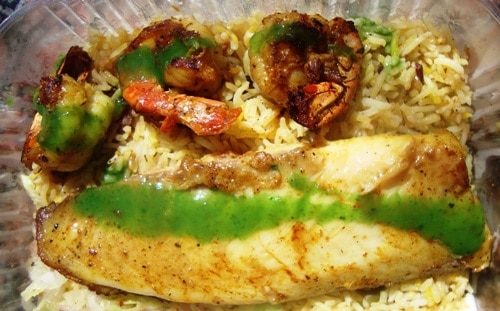 When I got back to the office and opened the container, there was a nice piece of grilled fish and 3 pieces of grilled shrimp, but they were served on top of the biryani.
When you order chicken or veggie biryani, the chicken or veggies are cooked within the biryani as part of the dish.  This was actually fish & shrimp over biryani, but it still looked pretty darn good.
I started with the shrimp.  They had that grilled flavor we all know and love, but were still nice and juicy. A dash of green hot sauce on top was the perfect accompaniment.
The grilled fish was a mild white fish that was cooked perfectly.  It flaked when you stuck a fork into it, and I dipped it into the white yogurt sauce that was included on the side.  The combination of green hot sauce and creamy yogurt sauce was just right for the fish.
Under the shrimp and fish was a very tasty biryani.  Cooked along with the basmati rice were cinnamon stick, cloves, berries, red onion, bay leaves, and probably a few other spices I couldn't pick out.  As biryanis go, this one was light and slightly fruity.
This was a very enjoyable lunch.  Meals at Kwik Meal are a couple of dollars more than at other street carts, but the food is definitely a cut above the usual street fare.
They are one of the very few street vendors who serve real lamb instead of that processed gyro meat everyone calls lamb.  Several people have told me how much they love the falafel at Kwik Meal, and it's obviously fine to order the fish here.  In fact, I would recommend it.
They don't tweet or have a website, but if you go to the SW corner of 6th Ave & 45th St, you will get one of the better street food lunches in NYC.